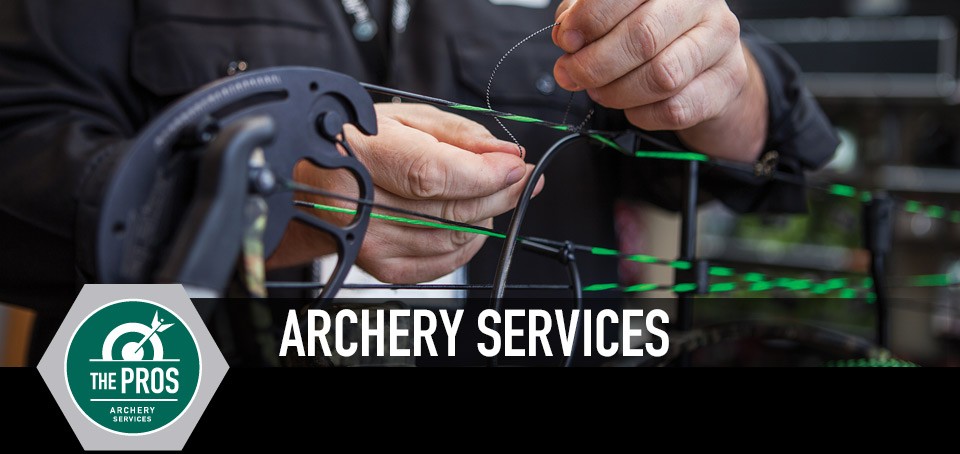 ARCHERY SERVICES
You rely on your bow to help you perform at your best, and can rely on our Archery PROS to give you the confidence you need. Whether fitting and cutting arrows, tuning or setting up your bow, or installing accessories that best prepare you for a great day in the field, our certified technicians will get you ready for your next trophy chance.
TRAINED TECHNICIANS
Archery Technicians are trained to perform a variety of services, helping you to maximize your enjoyment of the sport. They are passionate about Archery and are ready to determine the products and services that best meet your needs.
BOW SERVICES
A tune-up is designed to make your bow shoot more accurately and safely. Improve your practice sessions with properly tuned equipment, giving you more confidence in the field. As part of tuning, a properly fit bow is the first step towards being a more efficient archer. Adjusting the draw length, draw weight, and peep sights of your bow allows shooting accuracy to improve.
BOW ACCESSORY INSTALLATIONS
Take advantage of professional installation services for a number of bow accessories. Our technicians get you set up correctly, so that you can maximize your shooting experience.
PRICING
service packages

(free with bow purchase)

basic bow set-up
includes: installation of sights, rest, peep and kisser

$15.00

basic tune
includes: centershot rest, check weight & draw length, check nock point, peep and wax string

$15.00

arrow services

(free with arrow purchase)

cut to length

$1.00

install inserts

$0.50

bow services

(free with purchase of associated product)

d loop or nock set installation

$3.00

kisser button installation

$3.00

sight installation

$5.00

quiver installation

$3.00

draw weight adjustment

$5.00

draw length adjustment

$8.00

peep sight installation

$5.00

silencer installation

$5.00

wax string (includes material use)

$2.00

rest installation (capture)

$5.00

rest installation (drop-away)

$10.00

crossbow services

mount and sight-in scope

$20.00
ALL ONLINE PURCHASES QUALIFY FOR IN-STORE SERVICES WITH PROOF OF PURCHASE.
*All prices listed are for labor only. Parts are additional unless otherwise noted.
*Services vary by location.