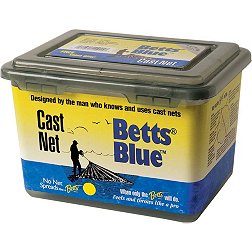 Betts Blue Cast Nets
Find what you are looking for?
Learn More About Cast Nets
Catch Your Own Bait with Cast Nets
Avoid a trip to the bait store by catching your own fresh bait with cast nets from DICK'S Sporting Goods. Every good fisherman has a secret or two for landing that big catch, but nothing entices a trophy fish to bite a hook more than fresh local bait. Without having to purchase bait, over time these strong reusable bait cast nets pay for themselves.
Whether you're looking for seine nets to set up in a pond or estuary, or a cast net to throw from a pier or boat, DICK'S Sporting Goods carries fishing nets from the industry leading brands fishermen trust most.
Designed to spread and sink quickly, thus giving bait fish no time for escape, cast nets are available in sizes ranging from 6' to 10' in diameter.
Love angling? Check out more fishing gear & tackle at DICK'S Sporting Goods.