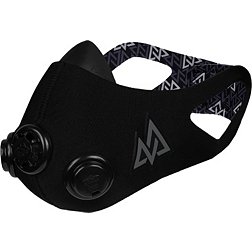 Elevation Training Mask 2.0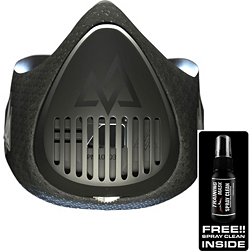 Elevation Training Mask 3.0
Find what you are looking for?
Learn More About Elevation Training Masks
Take Your Training to the Next Level with a High-Altitude Training Mask
Help maximize your performance with elevation training masks from DICK'S Sporting Goods.
Many training masks come with different levels of intensity, so you can turn up or down resistance as needed. Most training masks are neoprene in construction for a breathable, comfortable fit during use. A sleek, form-fitting design ensures you can move and train without distraction. Shop the Elevation Training Mask 3.0 and Elevation Training Mask 2.0 to help you perform your best in any altitude.
Customize your training with elevation mask sleeves in a variety of colors, styles and prints. DICK'S also sells elevation mask replacement valves that feature an easy snap-on and snap-off design.
The size of your elevation training mask is typically determined by your weight. Always consult product and manufacturer guidelines for specifics. Generally, if you weigh under 150 pounds you should use a small mask. If you weigh more than 250 pounds, try a large.
If you find a lower price on an elevation training mask somewhere else, we'll match it with our Best Price Guarantee.
Outfit for your training with the full collection of fitness accessories and exercise equipment at DICK'S Sporting Goods.
How Elevation Training Masks Can Help Support Your Workout
Elevation training masks simulate the effects of training at high altitudes, conditioning your lungs and body to perform more effectively under pressure.
When the air is thin, your body works harder to increase its oxygen processing. Adding an elevation mask to your regular training regimen can help increase lung capacity, improve lung stamina and oxygen efficiency. It can also support your overall mental focus.
Elevation training masks work by controlling the flow of air delivered to your body by creating resistance through the mask's flux valves. This trains your body to take deeper breaths and work more efficiently.
Learn more about elevation training and elevation training masks with DICK'S Pro Tips article What Is Elevation Training?
If you're a runner, shop the full assortment of running accessories at DICK'S Sporting Goods.