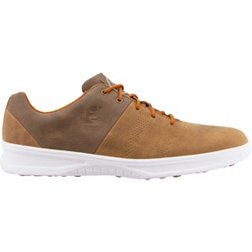 FootJoy Men's Contour Casual Golf Shoes
$76.97 - $95.99
WAS: $119.99*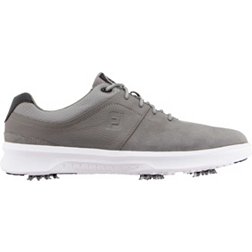 FootJoy Men's Contour Golf Shoes
$90.97 - $129.99
WAS: $129.99*
Find what you are looking for?
Maximize comfort on the green with Contour by FootJoy® golf footwear.
Contour golf shoes from FootJoy are designed with a construction technique often found in running shoes, translating to a golf shoe with a contoured underfoot platform and easy flexibility. Contour shoes feature an underfoot base that closely resembles the natural shape of the foot for a natural feel and added comfort.
Contour golf shoes seamlessly transition from the course to the concrete with a classic, sporty look. This footwear includes Pulsar® cleats from Softspike, the top selling cleat in golf. With Pulsar® cleats, golfers gain a comfortable, natural-feeling stride and green-friendly pads.
Contour is engineered for golfers who seek out exceptional comfort and a movement in their shoe.
Find cushioned comfort and a supportive fit with FootJoy's® Contour shoe.
Contour footwear delivers an EVA midsole for lightweight cushioning underfoot. EVA cushioning does not take a set, so the shoe remains comfortable as long as the golfer wears it.
The shoe also features a slip-resistance inner liner for a soft, light feel and added comfort and stability on every swing. The shoe is constructed to deliver maximum stability on the green. Shop all golf shoes or men's FootJoy shoes from DICK'S Sporting Goods.
Golfers should ensure that their shoe stands up to the elements: FootJoy® golf shoes provide a weather-resistant finish and protective construction that shields from water seepage. Never let Mother Nature get in the way.
A proper fit allows for a smooth heel-toe transition and lateral stability. Look for additional cushioning and support in the shoe construction for shock absorption. In addition, the shoe should offer optimal grip and traction on the green, so golfers can make the most of their swing.
A shoe needs to provide optimal balance, flexibility and grip on the course. Consider these factors when making the purchase:
Look for a secure fit in the golf shoe that will provide sturdy lateral support.
A low-profile heel construction keeps the foot closer to the ground for added stability when swinging.
Sock liner and moisture-wicking materials within the shoe lifts perspiration from the foot for added comfort on the course.