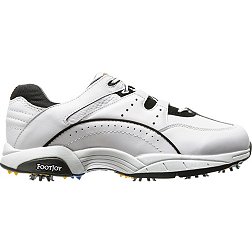 FootJoy SuperLite Athletic Golf Shoes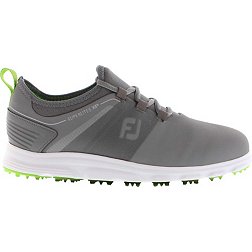 FootJoy Men's 2019 SuperLites XP Golf Shoes
$69.97 - $89.99
WAS: $99.99*
Find what you are looking for?
Grip and traction meet an ultimate lightweight feel with FootJoy® SuperLite footwear.
Experience movement and comfort on the green with SuperLites' superior combination of support and breathable, flexible fit.
Look to FootJoys® to deliver the game-winning edge golfers desire. SuperLites are the lightest shoe in FootJoy's® collection of men's golf footwear. The shoe is engineered to deliver all-day comfort but maintain superior traction with the green, so golfers maximize power through their swing.
With a light feel on the green, golfers can move and flex naturally and comfortably. Find SuperLites that match any golfer's look – from sporty and modern designs to footwear inspired by the traditional golf saddle shoe. Look for SuperLites that transition from the club to the office for classic golf style on or off course.
Browse SuperLites or shop all FootJoy shoes to find your perfect pair of golf shoes.
Seek out a shoe that delivers all-day comfort from beginning to end of your round.
The SuperLite provides golfers with the light, flexible feel they need to maximize their performance. SuperLights offer a lightweight feel and unbeatable traction on the green. Constructed with a soft, breathable mesh upper, the shoe stretches for a custom-like fit. An EVA midsole provides cushioning underfoot, without weighing the shoe down.
FootJoy® SuperLite shoes are constructed with Pulsar cleats from Softspikes®, which deliver enhanced strength, grip and smooth movement on the green. Softspikes® technology offers an unmatched blend of stability and comfort by reacting to a golfer's movement and angle.
The SuperLite's inner construction includes a protective lining that is soft to the touch and slip resistant.
Golfers need a shoe that can keep up: Look for durability, comfort and easy mobility on the green.
The FootJoy® SuperLite combines comfort with function. EVA cushioning in the SuperLites' midsole does not take set, so cushioning in the shoe will remain constant, no matter how many rounds a golfer plays.
SuperLite footwear provides golfers with superior protection from whatever Mother Nature has in store. Abrasion-resistant materials ensure durability and the shoe's protective construction blocks out water seepage for a dry, comfortable feel on difficult course conditions.