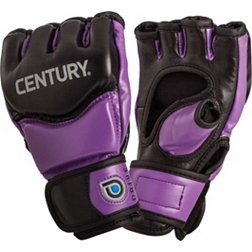 Century Drive Women's Training Gloves
$34.99 - $39.99
$34.99 - $49.99*
Find what you are looking for?
Stay Protected With Kickboxing Gloves
Kick-start your workout and support your strikes with kickboxing gloves from DICK'S Sporting Goods.
Kickboxing gloves come in adult and youth sizes. Browse top brands like Century® and Everlast®.
Look for these details in your kickboxing gloves:
Protective padding across knuckles
Wrist straps to help customize fit and keep gloves secure
Durable constructions from high-quality materials, including leather, polyurethane and vinyl
Breathable materials for airflow and comfort
Some styles feature open finger and open palm designs for enhanced mobility
Check out individual product pages for specific details and sizing info. If you find a lower price on kickboxing gloves somewhere else, we'll match it with our Best Price Guarantee.
Looking for more? Check out the full collection of kickboxing gear and support your training with punching bags from DICK'S Sporting Goods.