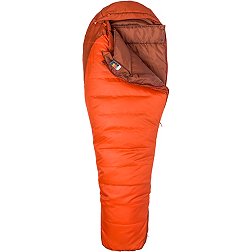 Marmot Trestles 0° Sleeping Bag
Find what you are looking for?
Learn More About Marmot Sleeping Bags
For the avid adventurer and Marmot® enthusiast, DICK'S Sporting Goods is your resource to discover your ideal Marmot sleeping bag. Marmot is known for crafting the highest quality outdoor products, and the assortment available at DICK'S Sporting Goods is no exception.
The selection of Marmot sleeping bags includes options for a variety of seasons and activities, offering bags that have temperature ratings from a mild 55° F down to a chilly 15° F.
Bag shapes range from semi-rectangular to mummy style and feature different insulation compositions to provide the optimal amount of warmth in any situation.
With choices of longer lengths to fit heights up to 6'6 and women-specific designs with additional insulation in key areas, you will find the perfect sleeping solution for everyone.
Marmot® bags are constructed to provide you with a comfortable sleeping experience no matter where adventure takes you. Several models come in multiple temperature ratings so you are able to select the comfort level you need with the style you want.
The Marmot NanoWave bags offer a variety of temperature options. The 45° F, the 50° F, and the 55° F bags are all designed to be ultra-light, making them suitable for biking, kayaking, or backpacking. They are highly compressible, allowing you to save on space. They each feature a blanket construction with layers of insulation stitched together to avoid gaps where air could get through, and they have two-way zippers that allow for ventilation or for the joining of two bags. With less insulation than their winter-suited counterparts, these bags have a lower price point and are perfect for short summer excursions.
The Trestles Elite bags feature a unisex 30° F bag as well as women's-specific bags in 20° F and 30° F varieties. Created for chillier nights, these bags boast plenty of synthetic insulation with a combination blanket and wave construction. The blanket bottom provides maximum warmth by preventing cold air from reaching the body from underneath, while the wave top traps warm air by utilizing a longer piece of insulation in a smaller space to create the wave texture.
At the top of the price range, the stand-alone Hydrogen 30° F bag weighs just over one pound and features Marmot's Down Defender specially-treated water resistant down insulation. It prevents clumping, maintaining 150% more loft than untreated down in damp conditions, and stays drier 10 times longer than untreated down, increasing its ability to provide warmth when wet. It is small enough to tote along on climbing trips or backcountry journeys, yet cozy enough to keep you comfortable in cool weather.