Mizuno Classic Pro Soft Series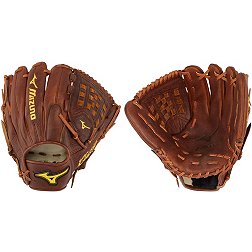 Mizuno 12'' Classic Pro Soft Series Glove
See Price In Cart
WAS: $199.99*
Find what you are looking for?
Learn More About Mizuno Classic Pro Soft Series Gloves
Flash Some Leather on the Diamond with Mizuno® Pro gloves
Snare that hard-hit line drive with Mizuno Classic Pro soft series gloves from DICK'S Sporting Goods. Whether you are a young player who is just learning the ropes on the field or a seasoned pro leading your team to a championship, you know the importance of playing with a comfortable, responsive glove. Every Mizuno Pro glove is made from high-quality, pre-oiled leather. This gives them a soft feel, makes them easy to break in and offers superior shape retention.
When you are competing against your crosstown rivals, you deserve a glove that feels like an extension of your body. Time-tested designs, including the popular Mizuno Classic Pro soft 12.75 inch outfielder's gloves, offer a natural fit that will allow you to concentrate on the game.
Looking for more top designs from leading brands? Check out the large selection of baseball gloves from DICK'S Sporting Goods.
Mizuno Classic Pro: Find the Right Glove for Your Position
At DICK'S Sporting Goods, explore Mizuno Classic Pro gloves. Choose the appropriate design for your preferred position on the field and get ready for a successful season on the diamond. Glove types in this line include:
Infielder's or Pitcher's Gloves: For these positions, agility and a quick transfer to your throwing hand are key. Infielder's gloves are perfect for second basemen, shortstops, third basemen and pitchers.
Outfielder's Gloves: In the outfield, an extra inch can mean the difference between making an out and giving up a game-tying double. These mitts are slightly bigger than infielder's designs.
First Basemen's Gloves: First basemen's gloves are large and ideal for digging a low throw out of the dirt.
Catcher's Mitts: Give your pitcher a big target with an oversized, padded catcher's mitt.
Getting ready for the coming season? Discover pro-quality baseball equipment and gear from DICK'S Sporting Goods.