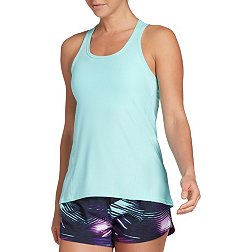 DSG Women's Open Back Performance Tank Top
$9.97 - $11.97
WAS: $20.00*
CALIA by Carrie Underwood Women's Flow Open Back Ruched Long Sleeve Shirt
$12.97 - $13.97
WAS: $40.00*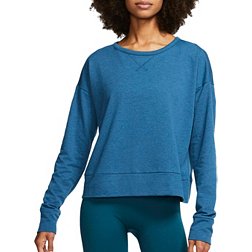 Nike Women's Yoga Long Sleeve Open Back Training Top
$16.97 - $19.97
WAS: $65.00*
Find what you are looking for?
Discover a Great New Top for the Gym
Shop this large collection of performance open back shirts from DICK'S Sporting Goods and bring home an amazing new top. Whether you're a fitness fanatic, or just enjoy a weekend jog around the neighborhood, you'll find these lightweight tops are perfect for your favorite athletic activities. Open back gym shirts offer increased breathability, which makes them well-suited for high-intensity workouts like spin class, running, and other popular aerobics.
Open back workout shirts also make wonderful loungewear or athleisure wear. These sporty-chic, hyper-casual designs are ideal for wearing around the house or while you run errands on a balmy summer afternoon. Browse this inspired line today, and add a fashionable and functional option to your active wardrobe.
Find incredible bottoms to match your new top in the women's yoga pants, leggings & capris selection at DICK'S Sporting Goods.
Choose the Right Tank for You
All open back yoga shirts and tanks from DICK'S Sporting Goods are manufactured by industry-leading brands and made with only choice materials. There are still some important differences to consider while you shop. Here are some design features that may influence your decision:
Style: Though all open back tanks and tees offer improved air flow, there are several different styles from which to choose, including scoop back, V-backs, multi-strap designs, and more.
Sleeve Length: Choose from a variety of both long and short sleeve tops.
Color: Pick a light hue for working out under the sun, select your school's colors, or go with always trendy black.
With improved air circulation and attractive looks, these garments live up to the hype.
Looking for new threads for the studio? Both beginner students and seasoned yogis will appreciate the non-restrictive fit and airy feel of premium yoga clothes for women from DICK'S Sporting Goods.