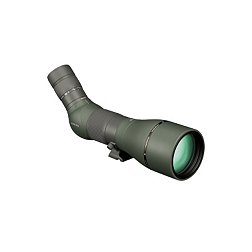 Vortex Razor HD 27-60x85 Spotting Scope - Angled
See Price In Cart
$1699.99*
Find what you are looking for?
Learn More About Spotting Scopes
Spotting Scopes: Maximize Your Outdoor Experience
Big game hunters, target shooters and wildlife photographers alike can step up their game with the right spotting scope and hunting optics.
Identify your next target from a greater distance and determine if an animal is worthy of pursuit. Spotting scopes come in various magnifications and can be vital when hunting.
Shock-proof spotting scopes are rubber-armored to handle anything your hunt has in store. Always ensure that your scope is both waterproof and fog-proof. Compact models easily fit into your tactical vest. High-quality, high-definition models offer increased resolution and color reproduction.
Discover spotting scopes that deliver crisp clear views at home, at the target range or in the wild. Shop popular brands like Barska®, Leupold®, Nikon®, ZEISS® and more.
Decide between a straight spotting scope and an angled spotting scope. Consider an angled scope if you're tall or plan to share with people of different heights. Consider the weight of the scope. If you will be traveling with the spotting scope or carrying it around in the field, choose something lightweight. Think about these factors when making your selection.
Field of view is the measure of how much you can see through your scope at 1,000 yards. The higher the magnification of your scope, the lower your field of view
Eye relief indicates the distance between the user's eye and the scope
Power of your scope, like that of binoculars, is indicated by two numbers. There are two basic kinds of scopes, fixed power and variable power
Specialized chemical coatings applied to the surface of a spotting scope lens enhance view. Shop scopes that have coated, fully-coated, multi-coated or fully multi-coated lenses to reduce glare and the amount of available light lost during transmission.
Binoculars and riflescopes are great, but if you really want to spot game from a long distance, or get an up-close and personal look at a potential wall-hanger before you start a stalk, a spotting scope is the right choice for you.