adidas Kids' adiZERO 5-Star 7.0 Football Cleats
The price of the product might be updated based on your selection
{ "warrantyData" : [ { "ProductSKU" : "18677126", "ProductUniqueId" : "3983907", "warrantySKUS" : [ ] }, { "ProductSKU" : "18677129", "ProductUniqueId" : "3983908", "warrantySKUS" : [ ] }, { "ProductSKU" : "18677130", "ProductUniqueId" : "3983909", "warrantySKUS" : [ ] }, { "ProductSKU" : "18677133", "ProductUniqueId" : "3983910", "warrantySKUS" : [ ] }, { "ProductSKU" : "18677136", "ProductUniqueId" : "3983911", "warrantySKUS" : [ ] }, { "ProductSKU" : "18677138", "ProductUniqueId" : "3983912", "warrantySKUS" : [ ] }, { "ProductSKU" : "18677141", "ProductUniqueId" : "3983913", "warrantySKUS" : [ ] }, { "ProductSKU" : "18677142", "ProductUniqueId" : "3983914", "warrantySKUS" : [ ] }, { "ProductSKU" : "18677144", "ProductUniqueId" : "3983915", "warrantySKUS" : [ ] }, { "ProductSKU" : "18677146", "ProductUniqueId" : "3983916", "warrantySKUS" : [ ] }, { "ProductSKU" : "18677149", "ProductUniqueId" : "3983917", "warrantySKUS" : [ ] }, { "ProductSKU" : "18677156", "ProductUniqueId" : "3983918", "warrantySKUS" : [ ] }, { "ProductSKU" : "18677158", "ProductUniqueId" : "3983919", "warrantySKUS" : [ ] }, { "ProductSKU" : "18677159", "ProductUniqueId" : "3983920", "warrantySKUS" : [ ] }, { "ProductSKU" : "18677163", "ProductUniqueId" : "3983921", "warrantySKUS" : [ ] }, { "ProductSKU" : "18677165", "ProductUniqueId" : "3983922", "warrantySKUS" : [ ] }, { "ProductSKU" : "18677171", "ProductUniqueId" : "3983925", "warrantySKUS" : [ ] }, { "ProductSKU" : "18677173", "ProductUniqueId" : "3983926", "warrantySKUS" : [ ] }, { "ProductSKU" : "18677175", "ProductUniqueId" : "3983927", "warrantySKUS" : [ ] }, { "ProductSKU" : "18677177", "ProductUniqueId" : "3983928", "warrantySKUS" : [ ] }, { "ProductSKU" : "18677432", "ProductUniqueId" : "3983940", "warrantySKUS" : [ ] }, { "ProductSKU" : "18677434", "ProductUniqueId" : "3983941", "warrantySKUS" : [ ] }, { "ProductSKU" : "18677435", "ProductUniqueId" : "3983942", "warrantySKUS" : [ ] }, { "ProductSKU" : "18677438", "ProductUniqueId" : "3983943", "warrantySKUS" : [ ] }, { "ProductSKU" : "18677440", "ProductUniqueId" : "3983944", "warrantySKUS" : [ ] }, { "ProductSKU" : "18677442", "ProductUniqueId" : "3983945", "warrantySKUS" : [ ] }, { "ProductSKU" : "18677443", "ProductUniqueId" : "3983946", "warrantySKUS" : [ ] }, { "ProductSKU" : "18677445", "ProductUniqueId" : "3983947", "warrantySKUS" : [ ] }, { "ProductSKU" : "18677448", "ProductUniqueId" : "3983948", "warrantySKUS" : [ ] }, { "ProductSKU" : "18677449", "ProductUniqueId" : "3983949", "warrantySKUS" : [ ] }, { "ProductSKU" : "18677452", "ProductUniqueId" : "3983950", "warrantySKUS" : [ ] }, { "ProductSKU" : "18677481", "ProductUniqueId" : "3983951", "warrantySKUS" : [ ] }, { "ProductSKU" : "18677483", "ProductUniqueId" : "3983952", "warrantySKUS" : [ ] }, { "ProductSKU" : "18677485", "ProductUniqueId" : "3983953", "warrantySKUS" : [ ] }, { "ProductSKU" : "18677487", "ProductUniqueId" : "3983954", "warrantySKUS" : [ ] }, { "ProductSKU" : "18677490", "ProductUniqueId" : "3983955", "warrantySKUS" : [ ] }, { "ProductSKU" : "18677492", "ProductUniqueId" : "3983956", "warrantySKUS" : [ ] }, { "ProductSKU" : "18677494", "ProductUniqueId" : "3983957", "warrantySKUS" : [ ] }, { "ProductSKU" : "18677495", "ProductUniqueId" : "3983958", "warrantySKUS" : [ ] }, { "ProductSKU" : "18677497", "ProductUniqueId" : "3983959", "warrantySKUS" : [ ] }, { "ProductSKU" : "18677500", "ProductUniqueId" : "3983960", "warrantySKUS" : [ ] }, { "ProductSKU" : "18677502", "ProductUniqueId" : "3983961", "warrantySKUS" : [ ] }, { "ProductSKU" : "18677505", "ProductUniqueId" : "3983962", "warrantySKUS" : [ ] }, { "ProductSKU" : "18677507", "ProductUniqueId" : "3983964", "warrantySKUS" : [ ] }, { "ProductSKU" : "18677509", "ProductUniqueId" : "3983965", "warrantySKUS" : [ ] }, { "ProductSKU" : "18677511", "ProductUniqueId" : "3983966", "warrantySKUS" : [ ] }, { "ProductSKU" : "18677514", "ProductUniqueId" : "3983967", "warrantySKUS" : [ ] }, { "ProductSKU" : "18677515", "ProductUniqueId" : "3983968", "warrantySKUS" : [ ] }, { "ProductSKU" : "18677517", "ProductUniqueId" : "3983969", "warrantySKUS" : [ ] }, { "ProductSKU" : "18677520", "ProductUniqueId" : "3983970", "warrantySKUS" : [ ] }, { "ProductSKU" : "18677521", "ProductUniqueId" : "3983971", "warrantySKUS" : [ ] }, { "ProductSKU" : "18677523", "ProductUniqueId" : "3983972", "warrantySKUS" : [ ] }, { "ProductSKU" : "18677510", "ProductUniqueId" : "3983973", "warrantySKUS" : [ ] }, { "ProductSKU" : "18677512", "ProductUniqueId" : "3983974", "warrantySKUS" : [ ] }, { "ProductSKU" : "18677513", "ProductUniqueId" : "3983975", "warrantySKUS" : [ ] }, { "ProductSKU" : "18677518", "ProductUniqueId" : "3983977", "warrantySKUS" : [ ] }, { "ProductSKU" : "18677519", "ProductUniqueId" : "3983978", "warrantySKUS" : [ ] }, { "ProductSKU" : "18677522", "ProductUniqueId" : "3983979", "warrantySKUS" : [ ] }, { "ProductSKU" : "18677524", "ProductUniqueId" : "3983980", "warrantySKUS" : [ ] }, { "ProductSKU" : "18677525", "ProductUniqueId" : "3983981", "warrantySKUS" : [ ] }, { "ProductSKU" : "18677526", "ProductUniqueId" : "3983982", "warrantySKUS" : [ ] }, { "ProductSKU" : "18677527", "ProductUniqueId" : "3983983", "warrantySKUS" : [ ] } ] }
PROTECTION PLAN
(optional)
Info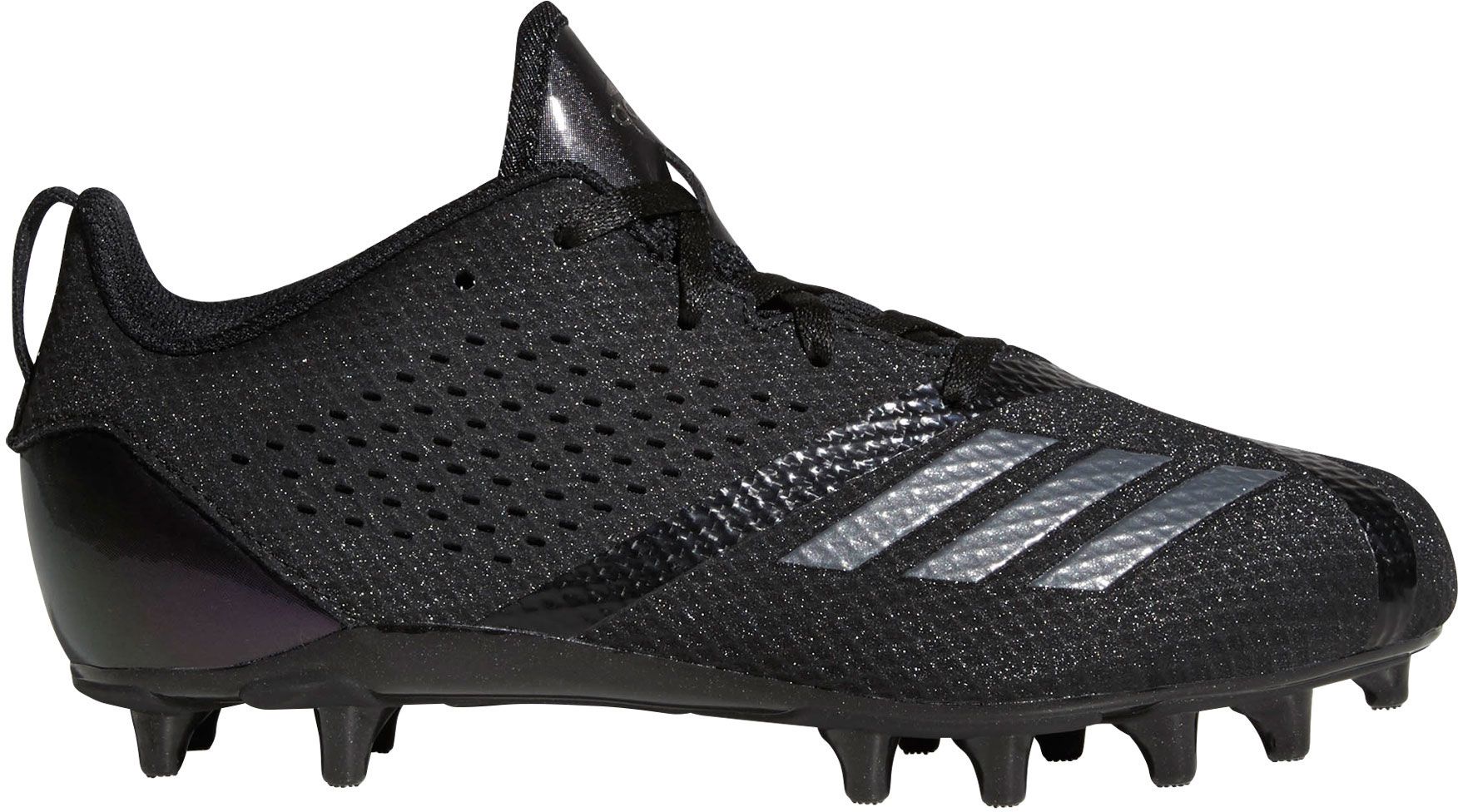 adidas Kids' adiZERO 5-Star 7.0 Football Cleats
Selected Option Not Available to Ship
Selected Option Not Available For Pickup
PDP Sticky bottom AddToCart Section - active and hide position
This product is currently out of stock.
Please choose product options above
Please choose product options above
Bring out the best in their game in the adiZERO 5-Star 7. A Sprintskin upper surrounds their foot for a snug supportive fit and extra comfort while a bootie construction offers a snug comfortable fit. Speed Spat seam tape in the cut back zones improves lockdown and the natural flex of the upper. The adidas® adiZERO 5-Star 7.0 football cleat has a compression molded EVA liner that provides them with lightweight padding and enhanced comfort. A TPU fly plate delivers maximum traction for top notch performance on the field.
FEATURES:
Sprintskin upper is a revolutionary laminated package for incredible support and reduced weight
Bootie construction for a precise, comfortable fit; Anatomical lace structure helps relieve pressure for a comfortable fit
Speed Spat seam tape is tactfully placed to elevate lockdown and promote a natural flex in the upper
Compression-molded EVA lining for lightweight cushioning
Heel cup locks the foot in place; Heel tab for easier entry
TPU fly plate delivers lightweight traction and flexibility
Brand: adidas
Country of Origin: Imported
Web ID: 18ADIYDZR5STR70JBTPU