adidas Men's adiZERO 5-Star 7.0 SK Mid Football Cleats
The price of the product might be updated based on your selection
{ "warrantyData" : [ { "ProductSKU" : "18675049", "ProductUniqueId" : "3984004", "warrantySKUS" : [ ] }, { "ProductSKU" : "18675051", "ProductUniqueId" : "3984005", "warrantySKUS" : [ ] }, { "ProductSKU" : "18675055", "ProductUniqueId" : "3984007", "warrantySKUS" : [ ] }, { "ProductSKU" : "18675058", "ProductUniqueId" : "3984008", "warrantySKUS" : [ ] }, { "ProductSKU" : "18675059", "ProductUniqueId" : "3984009", "warrantySKUS" : [ ] }, { "ProductSKU" : "18675061", "ProductUniqueId" : "3984010", "warrantySKUS" : [ ] }, { "ProductSKU" : "18675063", "ProductUniqueId" : "3984011", "warrantySKUS" : [ ] }, { "ProductSKU" : "18675065", "ProductUniqueId" : "3984012", "warrantySKUS" : [ ] }, { "ProductSKU" : "18675067", "ProductUniqueId" : "3984013", "warrantySKUS" : [ ] }, { "ProductSKU" : "18675069", "ProductUniqueId" : "3984014", "warrantySKUS" : [ ] }, { "ProductSKU" : "18675071", "ProductUniqueId" : "3984015", "warrantySKUS" : [ ] }, { "ProductSKU" : "18675073", "ProductUniqueId" : "3984016", "warrantySKUS" : [ ] }, { "ProductSKU" : "18675076", "ProductUniqueId" : "3984017", "warrantySKUS" : [ ] }, { "ProductSKU" : "18675089", "ProductUniqueId" : "3984021", "warrantySKUS" : [ ] }, { "ProductSKU" : "18675090", "ProductUniqueId" : "3984022", "warrantySKUS" : [ ] }, { "ProductSKU" : "18675092", "ProductUniqueId" : "3984023", "warrantySKUS" : [ ] }, { "ProductSKU" : "18675094", "ProductUniqueId" : "3984024", "warrantySKUS" : [ ] }, { "ProductSKU" : "18675096", "ProductUniqueId" : "3984025", "warrantySKUS" : [ ] }, { "ProductSKU" : "18675098", "ProductUniqueId" : "3984026", "warrantySKUS" : [ ] }, { "ProductSKU" : "18675100", "ProductUniqueId" : "3984027", "warrantySKUS" : [ ] }, { "ProductSKU" : "18675103", "ProductUniqueId" : "3984028", "warrantySKUS" : [ ] }, { "ProductSKU" : "18675107", "ProductUniqueId" : "3984029", "warrantySKUS" : [ ] }, { "ProductSKU" : "18675109", "ProductUniqueId" : "3984030", "warrantySKUS" : [ ] }, { "ProductSKU" : "18675113", "ProductUniqueId" : "3984031", "warrantySKUS" : [ ] }, { "ProductSKU" : "18675117", "ProductUniqueId" : "3984032", "warrantySKUS" : [ ] }, { "ProductSKU" : "18675121", "ProductUniqueId" : "3984033", "warrantySKUS" : [ ] }, { "ProductSKU" : "18675125", "ProductUniqueId" : "3984034", "warrantySKUS" : [ ] }, { "ProductSKU" : "18675153", "ProductUniqueId" : "3984039", "warrantySKUS" : [ ] }, { "ProductSKU" : "18675158", "ProductUniqueId" : "3984040", "warrantySKUS" : [ ] }, { "ProductSKU" : "18675161", "ProductUniqueId" : "3984041", "warrantySKUS" : [ ] }, { "ProductSKU" : "18675165", "ProductUniqueId" : "3984042", "warrantySKUS" : [ ] }, { "ProductSKU" : "18675167", "ProductUniqueId" : "3984043", "warrantySKUS" : [ ] }, { "ProductSKU" : "18675170", "ProductUniqueId" : "3984044", "warrantySKUS" : [ ] }, { "ProductSKU" : "18675172", "ProductUniqueId" : "3984045", "warrantySKUS" : [ ] }, { "ProductSKU" : "18675174", "ProductUniqueId" : "3984046", "warrantySKUS" : [ ] }, { "ProductSKU" : "18675176", "ProductUniqueId" : "3984047", "warrantySKUS" : [ ] }, { "ProductSKU" : "18675178", "ProductUniqueId" : "3984048", "warrantySKUS" : [ ] }, { "ProductSKU" : "18675180", "ProductUniqueId" : "3984049", "warrantySKUS" : [ ] }, { "ProductSKU" : "18675182", "ProductUniqueId" : "3984050", "warrantySKUS" : [ ] }, { "ProductSKU" : "18675184", "ProductUniqueId" : "3984051", "warrantySKUS" : [ ] }, { "ProductSKU" : "18675186", "ProductUniqueId" : "3984052", "warrantySKUS" : [ ] }, { "ProductSKU" : "18675160", "ProductUniqueId" : "3984057", "warrantySKUS" : [ ] }, { "ProductSKU" : "18675163", "ProductUniqueId" : "3984058", "warrantySKUS" : [ ] }, { "ProductSKU" : "18675166", "ProductUniqueId" : "3984059", "warrantySKUS" : [ ] }, { "ProductSKU" : "18675169", "ProductUniqueId" : "3984060", "warrantySKUS" : [ ] }, { "ProductSKU" : "18675171", "ProductUniqueId" : "3984061", "warrantySKUS" : [ ] }, { "ProductSKU" : "18675173", "ProductUniqueId" : "3984062", "warrantySKUS" : [ ] }, { "ProductSKU" : "18675175", "ProductUniqueId" : "3984063", "warrantySKUS" : [ ] }, { "ProductSKU" : "18675177", "ProductUniqueId" : "3984064", "warrantySKUS" : [ ] }, { "ProductSKU" : "18675179", "ProductUniqueId" : "3984065", "warrantySKUS" : [ ] }, { "ProductSKU" : "18675181", "ProductUniqueId" : "3984066", "warrantySKUS" : [ ] }, { "ProductSKU" : "18675183", "ProductUniqueId" : "3984067", "warrantySKUS" : [ ] }, { "ProductSKU" : "18675185", "ProductUniqueId" : "3984068", "warrantySKUS" : [ ] }, { "ProductSKU" : "18675188", "ProductUniqueId" : "3984069", "warrantySKUS" : [ ] }, { "ProductSKU" : "18675191", "ProductUniqueId" : "3984070", "warrantySKUS" : [ ] }, { "ProductSKU" : "18675265", "ProductUniqueId" : "3984074", "warrantySKUS" : [ ] }, { "ProductSKU" : "18675268", "ProductUniqueId" : "3984075", "warrantySKUS" : [ ] }, { "ProductSKU" : "18675271", "ProductUniqueId" : "3984076", "warrantySKUS" : [ ] }, { "ProductSKU" : "18675275", "ProductUniqueId" : "3984077", "warrantySKUS" : [ ] }, { "ProductSKU" : "18675279", "ProductUniqueId" : "3984078", "warrantySKUS" : [ ] }, { "ProductSKU" : "18675282", "ProductUniqueId" : "3984079", "warrantySKUS" : [ ] }, { "ProductSKU" : "18675284", "ProductUniqueId" : "3984080", "warrantySKUS" : [ ] }, { "ProductSKU" : "18675286", "ProductUniqueId" : "3984081", "warrantySKUS" : [ ] }, { "ProductSKU" : "18675287", "ProductUniqueId" : "3984082", "warrantySKUS" : [ ] }, { "ProductSKU" : "18675289", "ProductUniqueId" : "3984083", "warrantySKUS" : [ ] }, { "ProductSKU" : "18675292", "ProductUniqueId" : "3984084", "warrantySKUS" : [ ] }, { "ProductSKU" : "18675293", "ProductUniqueId" : "3984085", "warrantySKUS" : [ ] }, { "ProductSKU" : "18675295", "ProductUniqueId" : "3984086", "warrantySKUS" : [ ] }, { "ProductSKU" : "18675297", "ProductUniqueId" : "3984087", "warrantySKUS" : [ ] }, { "ProductSKU" : "18675299", "ProductUniqueId" : "3984088", "warrantySKUS" : [ ] }, { "ProductSKU" : "18675302", "ProductUniqueId" : "3984089", "warrantySKUS" : [ ] }, { "ProductSKU" : "18675323", "ProductUniqueId" : "3984096", "warrantySKUS" : [ ] }, { "ProductSKU" : "18675325", "ProductUniqueId" : "3984097", "warrantySKUS" : [ ] }, { "ProductSKU" : "18675327", "ProductUniqueId" : "3984098", "warrantySKUS" : [ ] }, { "ProductSKU" : "18675329", "ProductUniqueId" : "3984099", "warrantySKUS" : [ ] }, { "ProductSKU" : "18675331", "ProductUniqueId" : "3984100", "warrantySKUS" : [ ] }, { "ProductSKU" : "18675333", "ProductUniqueId" : "3984101", "warrantySKUS" : [ ] }, { "ProductSKU" : "18675335", "ProductUniqueId" : "3984102", "warrantySKUS" : [ ] }, { "ProductSKU" : "18675337", "ProductUniqueId" : "3984103", "warrantySKUS" : [ ] }, { "ProductSKU" : "18675339", "ProductUniqueId" : "3984104", "warrantySKUS" : [ ] }, { "ProductSKU" : "18675342", "ProductUniqueId" : "3984105", "warrantySKUS" : [ ] }, { "ProductSKU" : "18675346", "ProductUniqueId" : "3984106", "warrantySKUS" : [ ] }, { "ProductSKU" : "18675350", "ProductUniqueId" : "3984107", "warrantySKUS" : [ ] }, { "ProductSKU" : "18675429", "ProductUniqueId" : "3984111", "warrantySKUS" : [ ] }, { "ProductSKU" : "18675430", "ProductUniqueId" : "3984112", "warrantySKUS" : [ ] }, { "ProductSKU" : "18675432", "ProductUniqueId" : "3984113", "warrantySKUS" : [ ] }, { "ProductSKU" : "18675434", "ProductUniqueId" : "3984114", "warrantySKUS" : [ ] }, { "ProductSKU" : "18675436", "ProductUniqueId" : "3984115", "warrantySKUS" : [ ] }, { "ProductSKU" : "18675438", "ProductUniqueId" : "3984116", "warrantySKUS" : [ ] }, { "ProductSKU" : "18675441", "ProductUniqueId" : "3984117", "warrantySKUS" : [ ] }, { "ProductSKU" : "18675443", "ProductUniqueId" : "3984118", "warrantySKUS" : [ ] }, { "ProductSKU" : "18675445", "ProductUniqueId" : "3984119", "warrantySKUS" : [ ] }, { "ProductSKU" : "18675447", "ProductUniqueId" : "3984120", "warrantySKUS" : [ ] }, { "ProductSKU" : "18675449", "ProductUniqueId" : "3984121", "warrantySKUS" : [ ] }, { "ProductSKU" : "18675450", "ProductUniqueId" : "3984122", "warrantySKUS" : [ ] }, { "ProductSKU" : "18675453", "ProductUniqueId" : "3984123", "warrantySKUS" : [ ] }, { "ProductSKU" : "18675456", "ProductUniqueId" : "3984124", "warrantySKUS" : [ ] }, { "ProductSKU" : "18675501", "ProductUniqueId" : "3984129", "warrantySKUS" : [ ] }, { "ProductSKU" : "18675505", "ProductUniqueId" : "3984130", "warrantySKUS" : [ ] }, { "ProductSKU" : "18675507", "ProductUniqueId" : "3984131", "warrantySKUS" : [ ] }, { "ProductSKU" : "18675511", "ProductUniqueId" : "3984132", "warrantySKUS" : [ ] }, { "ProductSKU" : "18675513", "ProductUniqueId" : "3984133", "warrantySKUS" : [ ] }, { "ProductSKU" : "18675514", "ProductUniqueId" : "3984134", "warrantySKUS" : [ ] }, { "ProductSKU" : "18675517", "ProductUniqueId" : "3984135", "warrantySKUS" : [ ] }, { "ProductSKU" : "18675519", "ProductUniqueId" : "3984136", "warrantySKUS" : [ ] }, { "ProductSKU" : "18675520", "ProductUniqueId" : "3984137", "warrantySKUS" : [ ] }, { "ProductSKU" : "18675523", "ProductUniqueId" : "3984138", "warrantySKUS" : [ ] }, { "ProductSKU" : "18675524", "ProductUniqueId" : "3984139", "warrantySKUS" : [ ] }, { "ProductSKU" : "18675526", "ProductUniqueId" : "3984140", "warrantySKUS" : [ ] }, { "ProductSKU" : "18675528", "ProductUniqueId" : "3984141", "warrantySKUS" : [ ] }, { "ProductSKU" : "18675530", "ProductUniqueId" : "3984142", "warrantySKUS" : [ ] }, { "ProductSKU" : "18675578", "ProductUniqueId" : "3984149", "warrantySKUS" : [ ] }, { "ProductSKU" : "18675581", "ProductUniqueId" : "3984150", "warrantySKUS" : [ ] }, { "ProductSKU" : "18675587", "ProductUniqueId" : "3984151", "warrantySKUS" : [ ] }, { "ProductSKU" : "18675591", "ProductUniqueId" : "3984152", "warrantySKUS" : [ ] }, { "ProductSKU" : "18675594", "ProductUniqueId" : "3984153", "warrantySKUS" : [ ] }, { "ProductSKU" : "18675596", "ProductUniqueId" : "3984154", "warrantySKUS" : [ ] }, { "ProductSKU" : "18675598", "ProductUniqueId" : "3984155", "warrantySKUS" : [ ] }, { "ProductSKU" : "18675601", "ProductUniqueId" : "3984156", "warrantySKUS" : [ ] }, { "ProductSKU" : "18675603", "ProductUniqueId" : "3984157", "warrantySKUS" : [ ] }, { "ProductSKU" : "18675606", "ProductUniqueId" : "3984158", "warrantySKUS" : [ ] }, { "ProductSKU" : "18675610", "ProductUniqueId" : "3984159", "warrantySKUS" : [ ] }, { "ProductSKU" : "18675638", "ProductUniqueId" : "3984164", "warrantySKUS" : [ ] }, { "ProductSKU" : "18675639", "ProductUniqueId" : "3984165", "warrantySKUS" : [ ] }, { "ProductSKU" : "18675641", "ProductUniqueId" : "3984166", "warrantySKUS" : [ ] }, { "ProductSKU" : "18675643", "ProductUniqueId" : "3984167", "warrantySKUS" : [ ] }, { "ProductSKU" : "18675646", "ProductUniqueId" : "3984168", "warrantySKUS" : [ ] }, { "ProductSKU" : "18675647", "ProductUniqueId" : "3984169", "warrantySKUS" : [ ] }, { "ProductSKU" : "18675649", "ProductUniqueId" : "3984170", "warrantySKUS" : [ ] }, { "ProductSKU" : "18675652", "ProductUniqueId" : "3984171", "warrantySKUS" : [ ] }, { "ProductSKU" : "18675653", "ProductUniqueId" : "3984172", "warrantySKUS" : [ ] }, { "ProductSKU" : "18675657", "ProductUniqueId" : "3984173", "warrantySKUS" : [ ] }, { "ProductSKU" : "18675661", "ProductUniqueId" : "3984174", "warrantySKUS" : [ ] }, { "ProductSKU" : "18675665", "ProductUniqueId" : "3984175", "warrantySKUS" : [ ] }, { "ProductSKU" : "18675668", "ProductUniqueId" : "3984176", "warrantySKUS" : [ ] }, { "ProductSKU" : "18675670", "ProductUniqueId" : "3984177", "warrantySKUS" : [ ] }, { "ProductSKU" : "18675676", "ProductUniqueId" : "3984178", "warrantySKUS" : [ ] }, { "ProductSKU" : "18675688", "ProductUniqueId" : "3984186", "warrantySKUS" : [ ] }, { "ProductSKU" : "18675694", "ProductUniqueId" : "3984187", "warrantySKUS" : [ ] }, { "ProductSKU" : "18675696", "ProductUniqueId" : "3984188", "warrantySKUS" : [ ] }, { "ProductSKU" : "18675699", "ProductUniqueId" : "3984189", "warrantySKUS" : [ ] }, { "ProductSKU" : "18675702", "ProductUniqueId" : "3984190", "warrantySKUS" : [ ] }, { "ProductSKU" : "18675704", "ProductUniqueId" : "3984191", "warrantySKUS" : [ ] }, { "ProductSKU" : "18675708", "ProductUniqueId" : "3984192", "warrantySKUS" : [ ] }, { "ProductSKU" : "18675710", "ProductUniqueId" : "3984193", "warrantySKUS" : [ ] }, { "ProductSKU" : "18675713", "ProductUniqueId" : "3984194", "warrantySKUS" : [ ] }, { "ProductSKU" : "18675715", "ProductUniqueId" : "3984195", "warrantySKUS" : [ ] }, { "ProductSKU" : "18675718", "ProductUniqueId" : "3984196", "warrantySKUS" : [ ] }, { "ProductSKU" : "18675731", "ProductUniqueId" : "3984203", "warrantySKUS" : [ ] }, { "ProductSKU" : "18675734", "ProductUniqueId" : "3984204", "warrantySKUS" : [ ] }, { "ProductSKU" : "18675737", "ProductUniqueId" : "3984205", "warrantySKUS" : [ ] }, { "ProductSKU" : "18675739", "ProductUniqueId" : "3984206", "warrantySKUS" : [ ] }, { "ProductSKU" : "18675742", "ProductUniqueId" : "3984207", "warrantySKUS" : [ ] }, { "ProductSKU" : "18675744", "ProductUniqueId" : "3984208", "warrantySKUS" : [ ] }, { "ProductSKU" : "18675746", "ProductUniqueId" : "3984209", "warrantySKUS" : [ ] }, { "ProductSKU" : "18675747", "ProductUniqueId" : "3984210", "warrantySKUS" : [ ] }, { "ProductSKU" : "18675749", "ProductUniqueId" : "3984211", "warrantySKUS" : [ ] }, { "ProductSKU" : "18675752", "ProductUniqueId" : "3984212", "warrantySKUS" : [ ] }, { "ProductSKU" : "18675754", "ProductUniqueId" : "3984213", "warrantySKUS" : [ ] }, { "ProductSKU" : "18675755", "ProductUniqueId" : "3984214", "warrantySKUS" : [ ] }, { "ProductSKU" : "18675760", "ProductUniqueId" : "3984218", "warrantySKUS" : [ ] }, { "ProductSKU" : "18675763", "ProductUniqueId" : "3984219", "warrantySKUS" : [ ] }, { "ProductSKU" : "18675767", "ProductUniqueId" : "3984220", "warrantySKUS" : [ ] }, { "ProductSKU" : "18675770", "ProductUniqueId" : "3984221", "warrantySKUS" : [ ] }, { "ProductSKU" : "18675774", "ProductUniqueId" : "3984222", "warrantySKUS" : [ ] }, { "ProductSKU" : "18675775", "ProductUniqueId" : "3984223", "warrantySKUS" : [ ] }, { "ProductSKU" : "18675777", "ProductUniqueId" : "3984224", "warrantySKUS" : [ ] }, { "ProductSKU" : "18675779", "ProductUniqueId" : "3984225", "warrantySKUS" : [ ] }, { "ProductSKU" : "18675781", "ProductUniqueId" : "3984226", "warrantySKUS" : [ ] }, { "ProductSKU" : "18675783", "ProductUniqueId" : "3984227", "warrantySKUS" : [ ] }, { "ProductSKU" : "18675786", "ProductUniqueId" : "3984228", "warrantySKUS" : [ ] }, { "ProductSKU" : "18675787", "ProductUniqueId" : "3984229", "warrantySKUS" : [ ] }, { "ProductSKU" : "18675789", "ProductUniqueId" : "3984230", "warrantySKUS" : [ ] }, { "ProductSKU" : "18675792", "ProductUniqueId" : "3984231", "warrantySKUS" : [ ] }, { "ProductSKU" : "18675796", "ProductUniqueId" : "3984233", "warrantySKUS" : [ ] }, { "ProductSKU" : "18675853", "ProductUniqueId" : "3984239", "warrantySKUS" : [ ] }, { "ProductSKU" : "18675855", "ProductUniqueId" : "3984240", "warrantySKUS" : [ ] }, { "ProductSKU" : "18675857", "ProductUniqueId" : "3984241", "warrantySKUS" : [ ] }, { "ProductSKU" : "18675859", "ProductUniqueId" : "3984242", "warrantySKUS" : [ ] }, { "ProductSKU" : "18675861", "ProductUniqueId" : "3984243", "warrantySKUS" : [ ] }, { "ProductSKU" : "18675863", "ProductUniqueId" : "3984244", "warrantySKUS" : [ ] }, { "ProductSKU" : "18675864", "ProductUniqueId" : "3984245", "warrantySKUS" : [ ] }, { "ProductSKU" : "18675867", "ProductUniqueId" : "3984246", "warrantySKUS" : [ ] }, { "ProductSKU" : "18675870", "ProductUniqueId" : "3984247", "warrantySKUS" : [ ] }, { "ProductSKU" : "18675873", "ProductUniqueId" : "3984248", "warrantySKUS" : [ ] }, { "ProductSKU" : "18675876", "ProductUniqueId" : "3984249", "warrantySKUS" : [ ] }, { "ProductSKU" : "18675882", "ProductUniqueId" : "3984250", "warrantySKUS" : [ ] }, { "ProductSKU" : "18675886", "ProductUniqueId" : "3984251", "warrantySKUS" : [ ] } ] }
PROTECTION PLAN
(optional)
Info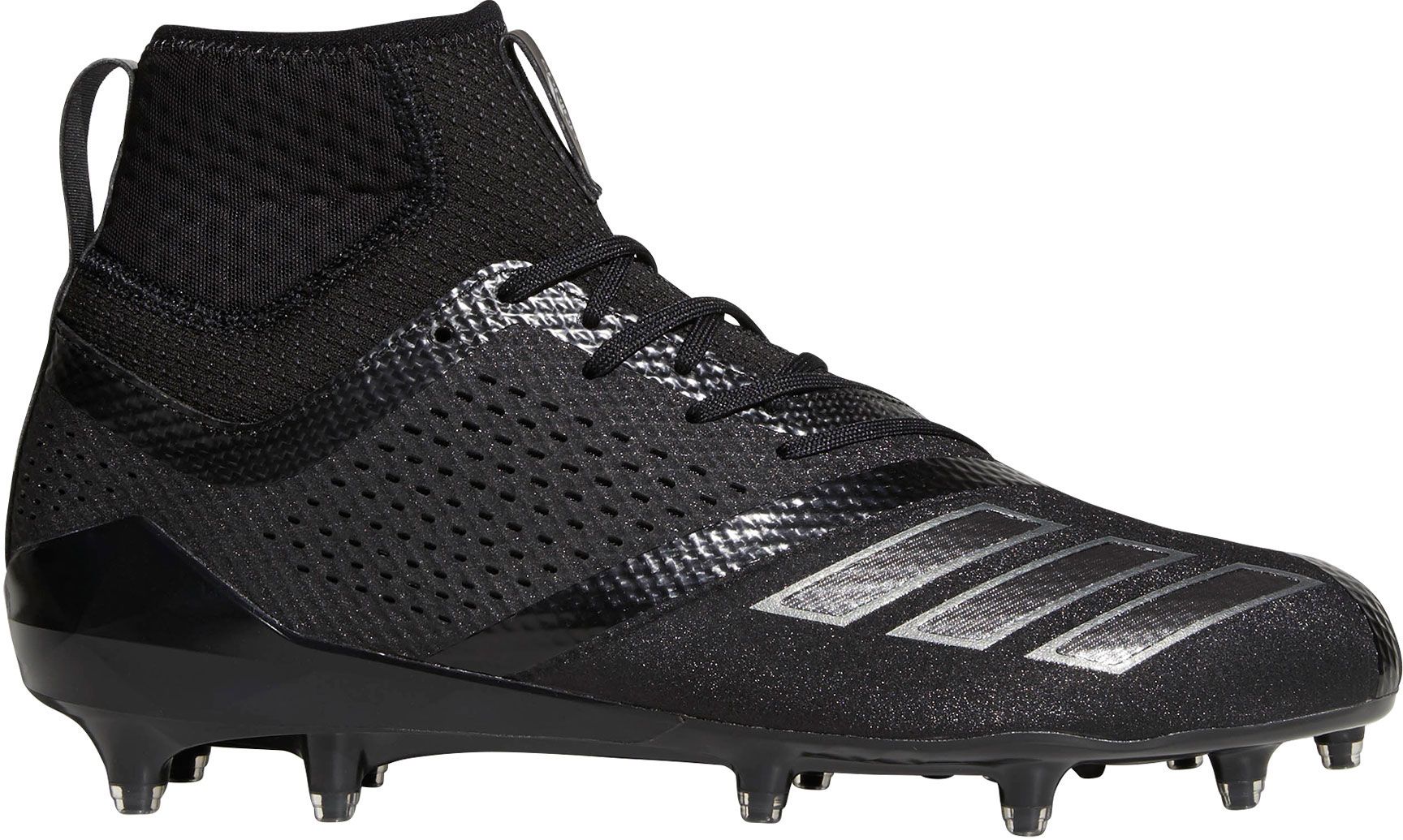 adidas Men's adiZERO 5-Star 7.0 SK Mid Football Cleats
Selected Option Not Available to Ship
Selected Option Not Available For Pickup
PDP Sticky bottom AddToCart Section - active and hide position
This product is currently out of stock.
Please choose product options above
Please choose product options above
Be prepared for the grueling season and everything it demands of you in the adiZERO 5-Star 7 SK. A Sprintskin upper surrounds the foot for a snug supportive fit and extra comfort while a knit collar offers a comfortable secure fit. Speed Spat seam tape in the cut back zones improve lockdown and the natural flex of the upper. The adidas® adiZERO 5-Star 7.0 SK football cleat has a compression molded EVA liner that provides you with lightweight padding and enhanced comfort. A Sprintframe plate with Sprintstud layout and rotational traction zone delivers maximum traction for top notch performance on the field.
FEATURES:
Sprintskin upper is a revolutionary laminated package for incredible support and reduced weight
Knitted collar for lockdown with an EVA insert for enhanced breathability and protection
Anatomical lace structure helps relieve pressure for a comfortable fit
Speed Spat seam tape is tactfully placed in cutting zones to elevate lockdown and promote a natural flex in the upper
Compression-molded EVA lining for lightweight cushioning; Heel cup locks the foot in place; Heel and tongue tabs for easier entry
Sprintframe plate with external heel features Sprintstuds and a rotational traction zone delivering unrivaled traction
Brand: adidas
Country of Origin: Imported
Web ID: 18ADIMDZR5STR70SKDLT