adidas Men's Freak Ultra PK Football Cleats
The price of the product might be updated based on your selection
{ "warrantyData" : [ { "ProductSKU" : "18676074", "ProductUniqueId" : "4073937", "warrantySKUS" : [ ] }, { "ProductSKU" : "18676077", "ProductUniqueId" : "4073938", "warrantySKUS" : [ ] }, { "ProductSKU" : "18676079", "ProductUniqueId" : "4073939", "warrantySKUS" : [ ] }, { "ProductSKU" : "18676081", "ProductUniqueId" : "4073940", "warrantySKUS" : [ ] }, { "ProductSKU" : "18676083", "ProductUniqueId" : "4073941", "warrantySKUS" : [ ] }, { "ProductSKU" : "18676085", "ProductUniqueId" : "4073942", "warrantySKUS" : [ ] }, { "ProductSKU" : "18676087", "ProductUniqueId" : "4073943", "warrantySKUS" : [ ] }, { "ProductSKU" : "18676089", "ProductUniqueId" : "4073944", "warrantySKUS" : [ ] }, { "ProductSKU" : "18676091", "ProductUniqueId" : "4073945", "warrantySKUS" : [ ] }, { "ProductSKU" : "18676093", "ProductUniqueId" : "4073946", "warrantySKUS" : [ ] }, { "ProductSKU" : "18676095", "ProductUniqueId" : "4073947", "warrantySKUS" : [ ] }, { "ProductSKU" : "18676098", "ProductUniqueId" : "4073948", "warrantySKUS" : [ ] }, { "ProductSKU" : "18676101", "ProductUniqueId" : "4073949", "warrantySKUS" : [ ] }, { "ProductSKU" : "18676370", "ProductUniqueId" : "4073950", "warrantySKUS" : [ ] }, { "ProductSKU" : "18676372", "ProductUniqueId" : "4073951", "warrantySKUS" : [ ] }, { "ProductSKU" : "18676376", "ProductUniqueId" : "4073952", "warrantySKUS" : [ ] }, { "ProductSKU" : "18676378", "ProductUniqueId" : "4073953", "warrantySKUS" : [ ] }, { "ProductSKU" : "18676379", "ProductUniqueId" : "4073954", "warrantySKUS" : [ ] }, { "ProductSKU" : "18676382", "ProductUniqueId" : "4073955", "warrantySKUS" : [ ] }, { "ProductSKU" : "18676384", "ProductUniqueId" : "4073956", "warrantySKUS" : [ ] }, { "ProductSKU" : "18676385", "ProductUniqueId" : "4073957", "warrantySKUS" : [ ] }, { "ProductSKU" : "18676388", "ProductUniqueId" : "4073958", "warrantySKUS" : [ ] }, { "ProductSKU" : "18676390", "ProductUniqueId" : "4073959", "warrantySKUS" : [ ] }, { "ProductSKU" : "18676391", "ProductUniqueId" : "4073960", "warrantySKUS" : [ ] }, { "ProductSKU" : "18676393", "ProductUniqueId" : "4073961", "warrantySKUS" : [ ] }, { "ProductSKU" : "18676395", "ProductUniqueId" : "4073962", "warrantySKUS" : [ ] }, { "ProductSKU" : "18676716", "ProductUniqueId" : "4073963", "warrantySKUS" : [ ] }, { "ProductSKU" : "18676718", "ProductUniqueId" : "4073964", "warrantySKUS" : [ ] }, { "ProductSKU" : "18676720", "ProductUniqueId" : "4073965", "warrantySKUS" : [ ] }, { "ProductSKU" : "18676722", "ProductUniqueId" : "4073966", "warrantySKUS" : [ ] }, { "ProductSKU" : "18676723", "ProductUniqueId" : "4073967", "warrantySKUS" : [ ] }, { "ProductSKU" : "18676724", "ProductUniqueId" : "4073968", "warrantySKUS" : [ ] }, { "ProductSKU" : "18676725", "ProductUniqueId" : "4073969", "warrantySKUS" : [ ] }, { "ProductSKU" : "18676726", "ProductUniqueId" : "4073970", "warrantySKUS" : [ ] }, { "ProductSKU" : "18676727", "ProductUniqueId" : "4073971", "warrantySKUS" : [ ] }, { "ProductSKU" : "18676728", "ProductUniqueId" : "4073972", "warrantySKUS" : [ ] }, { "ProductSKU" : "18676729", "ProductUniqueId" : "4073973", "warrantySKUS" : [ ] }, { "ProductSKU" : "18676730", "ProductUniqueId" : "4073974", "warrantySKUS" : [ ] }, { "ProductSKU" : "18676731", "ProductUniqueId" : "4073975", "warrantySKUS" : [ ] } ] }
PROTECTION PLAN
(optional)
Info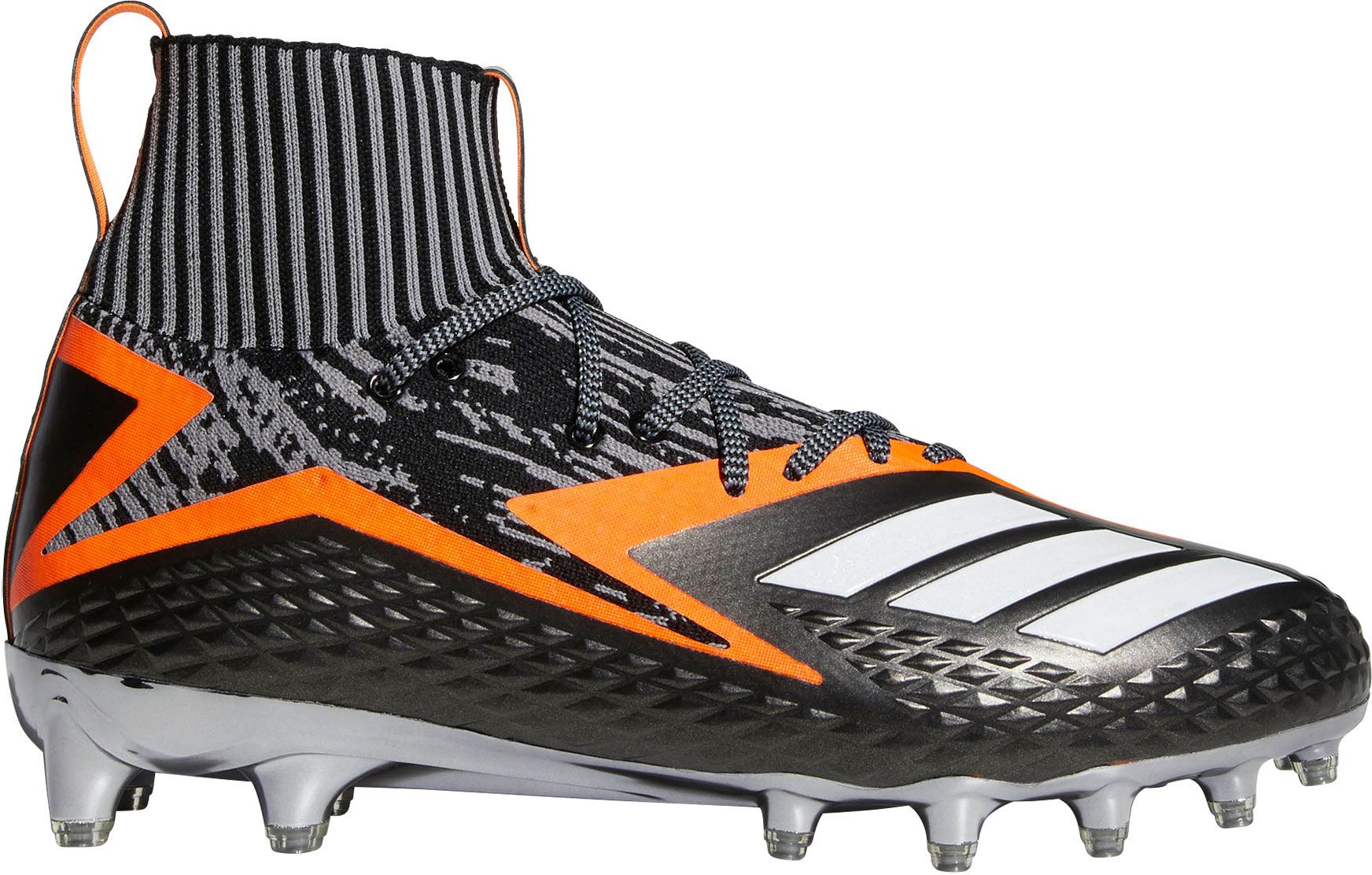 adidas Men's Freak Ultra PK Football Cleats
Selected Option Not Available to Ship
Selected Option Not Available For Pickup
PDP Sticky bottom AddToCart Section - active and hide position
This product is currently out of stock.
Please choose product options above
Please choose product options above
Max out your potential on the field in the Freak Ultra PK. A Primeknit upper with knit stretch collar provides you with lightweight support while an IRONSKIN collar enhances abrasion resistance for added protection. The adidas® Freak Ultra PK football cleat has a anatomically molded EVA insole that delivers exceptional comfort and cushioning. The RAZORFAME with SPRINTSTUD layout that offers you maximum stability, multidirectional speed and traction for game changing play.
FEATURES:
Primeknit upper wraps the foot in adaptive support and ultralight comfort
IRONSKIN provides superior abrasion resistance for added protection
High knit stretch collar for added ankle support and protection; Internal heel and tongue cushion pods enhance lockdown
Anatomically molded EVA insole for perfect comfort; Heel and tongue tabs for easier entry
Stabilizing RAZORFRAME stiffens and resists pressure, with strategically placed SPRINTSTUDS in the forefoot and the heel for multidirectional acceleration and traction
Cleated outsole
Brand: adidas
Country of Origin: Imported
Web ID: 18ADIMFRKLTRPKBLKCLT