adidas Men's Icon 4 Gum Metal Baseball Cleats
The price of the product might be updated based on your selection
{ "warrantyData" : [ { "ProductSKU" : "18948865", "ProductUniqueId" : "4348099", "warrantySKUS" : [ ] }, { "ProductSKU" : "18948867", "ProductUniqueId" : "4348100", "warrantySKUS" : [ ] }, { "ProductSKU" : "18948869", "ProductUniqueId" : "4348101", "warrantySKUS" : [ ] }, { "ProductSKU" : "18948872", "ProductUniqueId" : "4348102", "warrantySKUS" : [ ] }, { "ProductSKU" : "18948873", "ProductUniqueId" : "4348103", "warrantySKUS" : [ ] }, { "ProductSKU" : "18948876", "ProductUniqueId" : "4348104", "warrantySKUS" : [ ] }, { "ProductSKU" : "18948877", "ProductUniqueId" : "4348105", "warrantySKUS" : [ ] }, { "ProductSKU" : "18948879", "ProductUniqueId" : "4348106", "warrantySKUS" : [ ] }, { "ProductSKU" : "18948880", "ProductUniqueId" : "4348107", "warrantySKUS" : [ ] }, { "ProductSKU" : "18948881", "ProductUniqueId" : "4348108", "warrantySKUS" : [ ] }, { "ProductSKU" : "18948948", "ProductUniqueId" : "4348113", "warrantySKUS" : [ ] }, { "ProductSKU" : "18948951", "ProductUniqueId" : "4348114", "warrantySKUS" : [ ] }, { "ProductSKU" : "18948952", "ProductUniqueId" : "4348115", "warrantySKUS" : [ ] }, { "ProductSKU" : "18948955", "ProductUniqueId" : "4348116", "warrantySKUS" : [ ] }, { "ProductSKU" : "18948956", "ProductUniqueId" : "4348117", "warrantySKUS" : [ ] }, { "ProductSKU" : "18948958", "ProductUniqueId" : "4348118", "warrantySKUS" : [ ] }, { "ProductSKU" : "18948961", "ProductUniqueId" : "4348119", "warrantySKUS" : [ ] }, { "ProductSKU" : "18948962", "ProductUniqueId" : "4348120", "warrantySKUS" : [ ] }, { "ProductSKU" : "18948965", "ProductUniqueId" : "4348121", "warrantySKUS" : [ ] }, { "ProductSKU" : "18948966", "ProductUniqueId" : "4348122", "warrantySKUS" : [ ] }, { "ProductSKU" : "18948954", "ProductUniqueId" : "4348127", "warrantySKUS" : [ ] }, { "ProductSKU" : "18948957", "ProductUniqueId" : "4348128", "warrantySKUS" : [ ] }, { "ProductSKU" : "18948959", "ProductUniqueId" : "4348129", "warrantySKUS" : [ ] }, { "ProductSKU" : "18948960", "ProductUniqueId" : "4348130", "warrantySKUS" : [ ] }, { "ProductSKU" : "18948963", "ProductUniqueId" : "4348131", "warrantySKUS" : [ ] }, { "ProductSKU" : "18948964", "ProductUniqueId" : "4348132", "warrantySKUS" : [ ] }, { "ProductSKU" : "18948967", "ProductUniqueId" : "4348133", "warrantySKUS" : [ ] }, { "ProductSKU" : "18948968", "ProductUniqueId" : "4348134", "warrantySKUS" : [ ] }, { "ProductSKU" : "18948970", "ProductUniqueId" : "4348135", "warrantySKUS" : [ ] }, { "ProductSKU" : "18948972", "ProductUniqueId" : "4348136", "warrantySKUS" : [ ] }, { "ProductSKU" : "18948979", "ProductUniqueId" : "4348142", "warrantySKUS" : [ ] }, { "ProductSKU" : "18948982", "ProductUniqueId" : "4348143", "warrantySKUS" : [ ] }, { "ProductSKU" : "18948983", "ProductUniqueId" : "4348144", "warrantySKUS" : [ ] }, { "ProductSKU" : "18948985", "ProductUniqueId" : "4348145", "warrantySKUS" : [ ] }, { "ProductSKU" : "18948987", "ProductUniqueId" : "4348146", "warrantySKUS" : [ ] }, { "ProductSKU" : "18948990", "ProductUniqueId" : "4348147", "warrantySKUS" : [ ] }, { "ProductSKU" : "18948991", "ProductUniqueId" : "4348148", "warrantySKUS" : [ ] }, { "ProductSKU" : "18948993", "ProductUniqueId" : "4348149", "warrantySKUS" : [ ] }, { "ProductSKU" : "18948995", "ProductUniqueId" : "4348150", "warrantySKUS" : [ ] }, { "ProductSKU" : "18948986", "ProductUniqueId" : "4348155", "warrantySKUS" : [ ] }, { "ProductSKU" : "18948988", "ProductUniqueId" : "4348156", "warrantySKUS" : [ ] }, { "ProductSKU" : "18948989", "ProductUniqueId" : "4348157", "warrantySKUS" : [ ] }, { "ProductSKU" : "18948992", "ProductUniqueId" : "4348158", "warrantySKUS" : [ ] }, { "ProductSKU" : "18948994", "ProductUniqueId" : "4348159", "warrantySKUS" : [ ] }, { "ProductSKU" : "18948996", "ProductUniqueId" : "4348160", "warrantySKUS" : [ ] }, { "ProductSKU" : "18948997", "ProductUniqueId" : "4348161", "warrantySKUS" : [ ] }, { "ProductSKU" : "18948999", "ProductUniqueId" : "4348162", "warrantySKUS" : [ ] }, { "ProductSKU" : "18949001", "ProductUniqueId" : "4348163", "warrantySKUS" : [ ] }, { "ProductSKU" : "18949003", "ProductUniqueId" : "4348164", "warrantySKUS" : [ ] }, { "ProductSKU" : "18949047", "ProductUniqueId" : "4348183", "warrantySKUS" : [ ] }, { "ProductSKU" : "18949048", "ProductUniqueId" : "4348184", "warrantySKUS" : [ ] }, { "ProductSKU" : "18949051", "ProductUniqueId" : "4348185", "warrantySKUS" : [ ] }, { "ProductSKU" : "18949052", "ProductUniqueId" : "4348186", "warrantySKUS" : [ ] }, { "ProductSKU" : "18949055", "ProductUniqueId" : "4348187", "warrantySKUS" : [ ] }, { "ProductSKU" : "18949056", "ProductUniqueId" : "4348188", "warrantySKUS" : [ ] }, { "ProductSKU" : "18949058", "ProductUniqueId" : "4348189", "warrantySKUS" : [ ] }, { "ProductSKU" : "18949059", "ProductUniqueId" : "4348190", "warrantySKUS" : [ ] }, { "ProductSKU" : "18949060", "ProductUniqueId" : "4348191", "warrantySKUS" : [ ] }, { "ProductSKU" : "18949061", "ProductUniqueId" : "4348192", "warrantySKUS" : [ ] }, { "ProductSKU" : "18949217", "ProductUniqueId" : "4348239", "warrantySKUS" : [ ] }, { "ProductSKU" : "18949220", "ProductUniqueId" : "4348240", "warrantySKUS" : [ ] }, { "ProductSKU" : "18949221", "ProductUniqueId" : "4348241", "warrantySKUS" : [ ] }, { "ProductSKU" : "18949223", "ProductUniqueId" : "4348242", "warrantySKUS" : [ ] }, { "ProductSKU" : "18949225", "ProductUniqueId" : "4348243", "warrantySKUS" : [ ] }, { "ProductSKU" : "18949227", "ProductUniqueId" : "4348244", "warrantySKUS" : [ ] }, { "ProductSKU" : "18949229", "ProductUniqueId" : "4348245", "warrantySKUS" : [ ] }, { "ProductSKU" : "18949231", "ProductUniqueId" : "4348246", "warrantySKUS" : [ ] }, { "ProductSKU" : "18949234", "ProductUniqueId" : "4348247", "warrantySKUS" : [ ] }, { "ProductSKU" : "18949235", "ProductUniqueId" : "4348248", "warrantySKUS" : [ ] } ] }
PROTECTION PLAN
(optional)
Info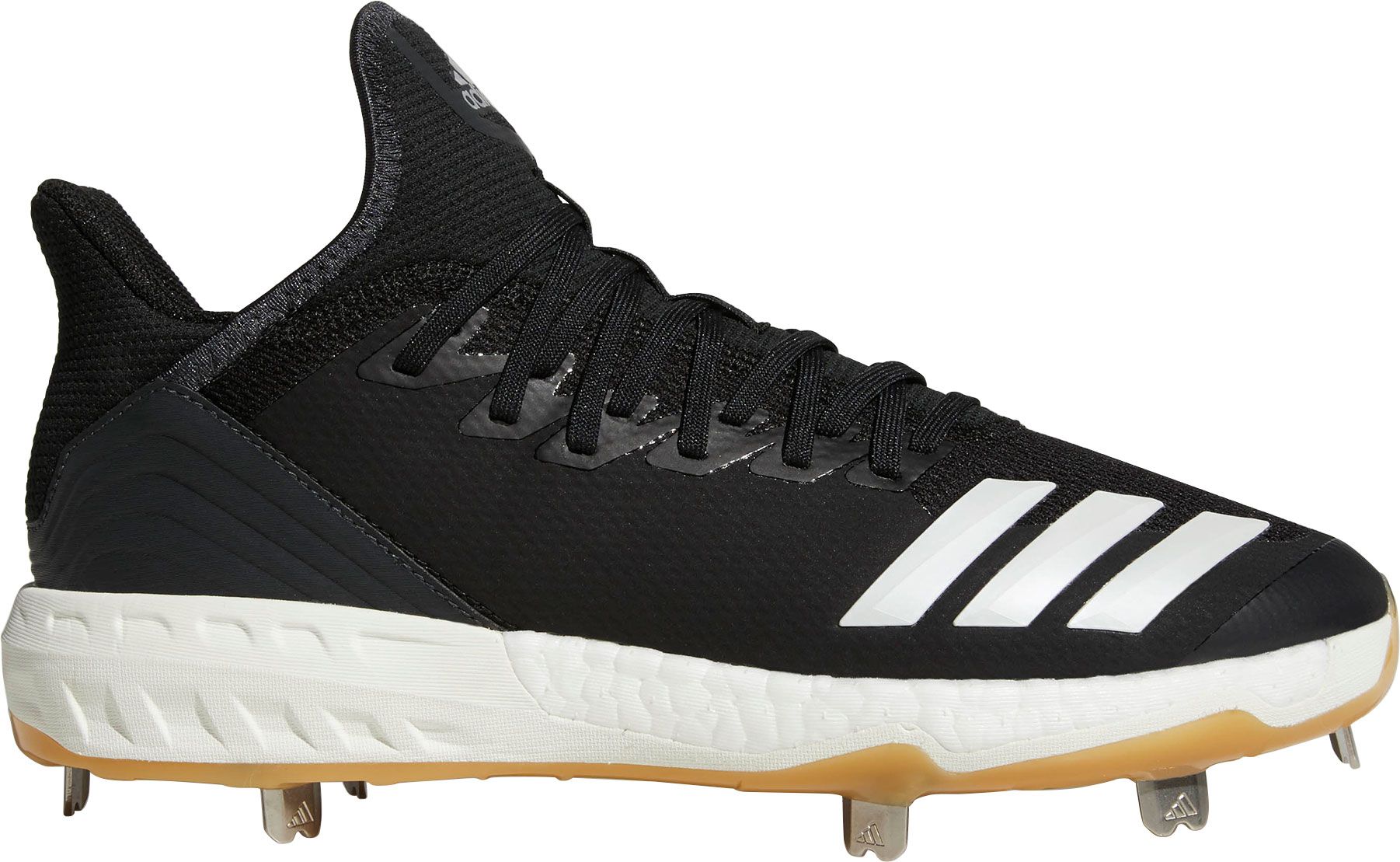 adidas Men's Icon 4 Gum Metal Baseball Cleats
Selected Option Not Available to Ship
Selected Option Not Available For Pickup
PDP Sticky bottom AddToCart Section - active and hide position
This product is currently out of stock.
Please choose product options above
Please choose product options above
Start your MVP season on a hot streak with the Icon IV. A mesh upper with TPU overlays offers you a snug supportive fit and optimum breathability while a tongueless bootie construction locks your foot in for better support. The adidas® Icon 4 Gum baseball cleat has a full-length BOOST™ midsole that eliminates cleat pressure, for sneaker like comfort. A TPU plate with ProTrax 5x3 cleat layout provides you with torsional rigidity, unmatched ground penetration and exceptional acceleration for top notch performance.
FEATURES:
Breathable mesh upper with TPU overlays adds abrasion protection and durability
Tongue-less bootie construction for a lockdown fit
Internal support structures for lateral stability
Modern silhouette is inspired by off-field sneakers
Full-length BOOST midsole provides the comfort of your favorite BOOST sneakers and eliminates cleat pressure
TPU plate provides torsional rigidity in a lightweight package
ProTrax 5x3 cleat configuration allows for excellent dirt penetration, minimal cleat pressure, and explosive acceleration on the field
Brand: adidas
Country of Origin: Imported
Web ID: 18ADIMCN4GMBLKBLXCLT