adidas Men's Mat Wizard 4 Wrestling Shoes
The price of the product might be updated based on your selection
{ "warrantyData" : [ { "ProductSKU" : "19059881", "ProductUniqueId" : "4115434", "warrantySKUS" : [ ] }, { "ProductSKU" : "19059885", "ProductUniqueId" : "4115435", "warrantySKUS" : [ ] }, { "ProductSKU" : "19059887", "ProductUniqueId" : "4115436", "warrantySKUS" : [ ] }, { "ProductSKU" : "19059890", "ProductUniqueId" : "4115437", "warrantySKUS" : [ ] }, { "ProductSKU" : "19059893", "ProductUniqueId" : "4115438", "warrantySKUS" : [ ] }, { "ProductSKU" : "19059896", "ProductUniqueId" : "4115439", "warrantySKUS" : [ ] }, { "ProductSKU" : "19059899", "ProductUniqueId" : "4115440", "warrantySKUS" : [ ] }, { "ProductSKU" : "19059934", "ProductUniqueId" : "4115452", "warrantySKUS" : [ ] }, { "ProductSKU" : "19059936", "ProductUniqueId" : "4115453", "warrantySKUS" : [ ] }, { "ProductSKU" : "19059941", "ProductUniqueId" : "4115454", "warrantySKUS" : [ ] }, { "ProductSKU" : "19059911", "ProductUniqueId" : "4115455", "warrantySKUS" : [ ] }, { "ProductSKU" : "19059914", "ProductUniqueId" : "4115456", "warrantySKUS" : [ ] }, { "ProductSKU" : "19059917", "ProductUniqueId" : "4115457", "warrantySKUS" : [ ] }, { "ProductSKU" : "19059918", "ProductUniqueId" : "4115458", "warrantySKUS" : [ ] }, { "ProductSKU" : "19059924", "ProductUniqueId" : "4115459", "warrantySKUS" : [ ] }, { "ProductSKU" : "19059928", "ProductUniqueId" : "4115460", "warrantySKUS" : [ ] }, { "ProductSKU" : "19059930", "ProductUniqueId" : "4115461", "warrantySKUS" : [ ] }, { "ProductSKU" : "19059933", "ProductUniqueId" : "4115462", "warrantySKUS" : [ ] }, { "ProductSKU" : "19059938", "ProductUniqueId" : "4115463", "warrantySKUS" : [ ] }, { "ProductSKU" : "19059940", "ProductUniqueId" : "4115464", "warrantySKUS" : [ ] }, { "ProductSKU" : "19059943", "ProductUniqueId" : "4115465", "warrantySKUS" : [ ] }, { "ProductSKU" : "19059944", "ProductUniqueId" : "4115466", "warrantySKUS" : [ ] }, { "ProductSKU" : "19059946", "ProductUniqueId" : "4115467", "warrantySKUS" : [ ] }, { "ProductSKU" : "19059949", "ProductUniqueId" : "4115468", "warrantySKUS" : [ ] }, { "ProductSKU" : "19059951", "ProductUniqueId" : "4115469", "warrantySKUS" : [ ] }, { "ProductSKU" : "19059953", "ProductUniqueId" : "4115470", "warrantySKUS" : [ ] }, { "ProductSKU" : "19059957", "ProductUniqueId" : "4115471", "warrantySKUS" : [ ] }, { "ProductSKU" : "19059962", "ProductUniqueId" : "4115472", "warrantySKUS" : [ ] }, { "ProductSKU" : "19059965", "ProductUniqueId" : "4115473", "warrantySKUS" : [ ] }, { "ProductSKU" : "19059969", "ProductUniqueId" : "4115474", "warrantySKUS" : [ ] }, { "ProductSKU" : "19059972", "ProductUniqueId" : "4115475", "warrantySKUS" : [ ] }, { "ProductSKU" : "19060003", "ProductUniqueId" : "4115476", "warrantySKUS" : [ ] }, { "ProductSKU" : "19060004", "ProductUniqueId" : "4115477", "warrantySKUS" : [ ] }, { "ProductSKU" : "19060009", "ProductUniqueId" : "4115478", "warrantySKUS" : [ ] }, { "ProductSKU" : "19060012", "ProductUniqueId" : "4115479", "warrantySKUS" : [ ] }, { "ProductSKU" : "19060017", "ProductUniqueId" : "4115481", "warrantySKUS" : [ ] }, { "ProductSKU" : "19060018", "ProductUniqueId" : "4115482", "warrantySKUS" : [ ] }, { "ProductSKU" : "19060020", "ProductUniqueId" : "4115483", "warrantySKUS" : [ ] }, { "ProductSKU" : "19060022", "ProductUniqueId" : "4115485", "warrantySKUS" : [ ] }, { "ProductSKU" : "19060024", "ProductUniqueId" : "4115487", "warrantySKUS" : [ ] }, { "ProductSKU" : "19060025", "ProductUniqueId" : "4115488", "warrantySKUS" : [ ] }, { "ProductSKU" : "19060027", "ProductUniqueId" : "4115489", "warrantySKUS" : [ ] }, { "ProductSKU" : "19060029", "ProductUniqueId" : "4115490", "warrantySKUS" : [ ] }, { "ProductSKU" : "19060031", "ProductUniqueId" : "4115491", "warrantySKUS" : [ ] }, { "ProductSKU" : "19060033", "ProductUniqueId" : "4115492", "warrantySKUS" : [ ] }, { "ProductSKU" : "19060036", "ProductUniqueId" : "4115493", "warrantySKUS" : [ ] }, { "ProductSKU" : "19060040", "ProductUniqueId" : "4115495", "warrantySKUS" : [ ] }, { "ProductSKU" : "19060042", "ProductUniqueId" : "4115496", "warrantySKUS" : [ ] }, { "ProductSKU" : "19060028", "ProductUniqueId" : "4115497", "warrantySKUS" : [ ] }, { "ProductSKU" : "19060030", "ProductUniqueId" : "4115498", "warrantySKUS" : [ ] }, { "ProductSKU" : "19060032", "ProductUniqueId" : "4115499", "warrantySKUS" : [ ] }, { "ProductSKU" : "19060034", "ProductUniqueId" : "4115500", "warrantySKUS" : [ ] }, { "ProductSKU" : "19060035", "ProductUniqueId" : "4115501", "warrantySKUS" : [ ] }, { "ProductSKU" : "19060037", "ProductUniqueId" : "4115502", "warrantySKUS" : [ ] }, { "ProductSKU" : "19060039", "ProductUniqueId" : "4115503", "warrantySKUS" : [ ] }, { "ProductSKU" : "19060041", "ProductUniqueId" : "4115504", "warrantySKUS" : [ ] }, { "ProductSKU" : "19060043", "ProductUniqueId" : "4115505", "warrantySKUS" : [ ] }, { "ProductSKU" : "19060046", "ProductUniqueId" : "4115506", "warrantySKUS" : [ ] }, { "ProductSKU" : "19060049", "ProductUniqueId" : "4115507", "warrantySKUS" : [ ] }, { "ProductSKU" : "19060053", "ProductUniqueId" : "4115508", "warrantySKUS" : [ ] }, { "ProductSKU" : "19060055", "ProductUniqueId" : "4115509", "warrantySKUS" : [ ] }, { "ProductSKU" : "19060059", "ProductUniqueId" : "4115510", "warrantySKUS" : [ ] }, { "ProductSKU" : "19060062", "ProductUniqueId" : "4115511", "warrantySKUS" : [ ] }, { "ProductSKU" : "19060067", "ProductUniqueId" : "4115512", "warrantySKUS" : [ ] }, { "ProductSKU" : "19060071", "ProductUniqueId" : "4115513", "warrantySKUS" : [ ] }, { "ProductSKU" : "19060075", "ProductUniqueId" : "4115514", "warrantySKUS" : [ ] }, { "ProductSKU" : "19060079", "ProductUniqueId" : "4115515", "warrantySKUS" : [ ] }, { "ProductSKU" : "19060085", "ProductUniqueId" : "4115516", "warrantySKUS" : [ ] }, { "ProductSKU" : "19060087", "ProductUniqueId" : "4115517", "warrantySKUS" : [ ] }, { "ProductSKU" : "19060047", "ProductUniqueId" : "4115518", "warrantySKUS" : [ ] }, { "ProductSKU" : "19060050", "ProductUniqueId" : "4115519", "warrantySKUS" : [ ] }, { "ProductSKU" : "19060054", "ProductUniqueId" : "4115520", "warrantySKUS" : [ ] }, { "ProductSKU" : "19060057", "ProductUniqueId" : "4115521", "warrantySKUS" : [ ] }, { "ProductSKU" : "19060060", "ProductUniqueId" : "4115522", "warrantySKUS" : [ ] }, { "ProductSKU" : "19060063", "ProductUniqueId" : "4115523", "warrantySKUS" : [ ] }, { "ProductSKU" : "19060065", "ProductUniqueId" : "4115524", "warrantySKUS" : [ ] }, { "ProductSKU" : "19060069", "ProductUniqueId" : "4115525", "warrantySKUS" : [ ] }, { "ProductSKU" : "19060076", "ProductUniqueId" : "4115526", "warrantySKUS" : [ ] }, { "ProductSKU" : "19060080", "ProductUniqueId" : "4115527", "warrantySKUS" : [ ] }, { "ProductSKU" : "19060082", "ProductUniqueId" : "4115528", "warrantySKUS" : [ ] }, { "ProductSKU" : "19060088", "ProductUniqueId" : "4115529", "warrantySKUS" : [ ] }, { "ProductSKU" : "19060091", "ProductUniqueId" : "4115530", "warrantySKUS" : [ ] }, { "ProductSKU" : "19060094", "ProductUniqueId" : "4115531", "warrantySKUS" : [ ] }, { "ProductSKU" : "19060099", "ProductUniqueId" : "4115532", "warrantySKUS" : [ ] }, { "ProductSKU" : "19060103", "ProductUniqueId" : "4115533", "warrantySKUS" : [ ] }, { "ProductSKU" : "19060107", "ProductUniqueId" : "4115534", "warrantySKUS" : [ ] }, { "ProductSKU" : "19060109", "ProductUniqueId" : "4115535", "warrantySKUS" : [ ] }, { "ProductSKU" : "19060111", "ProductUniqueId" : "4115536", "warrantySKUS" : [ ] }, { "ProductSKU" : "19060115", "ProductUniqueId" : "4115537", "warrantySKUS" : [ ] }, { "ProductSKU" : "19060117", "ProductUniqueId" : "4115538", "warrantySKUS" : [ ] } ] }
PROTECTION PLAN
(optional)
Info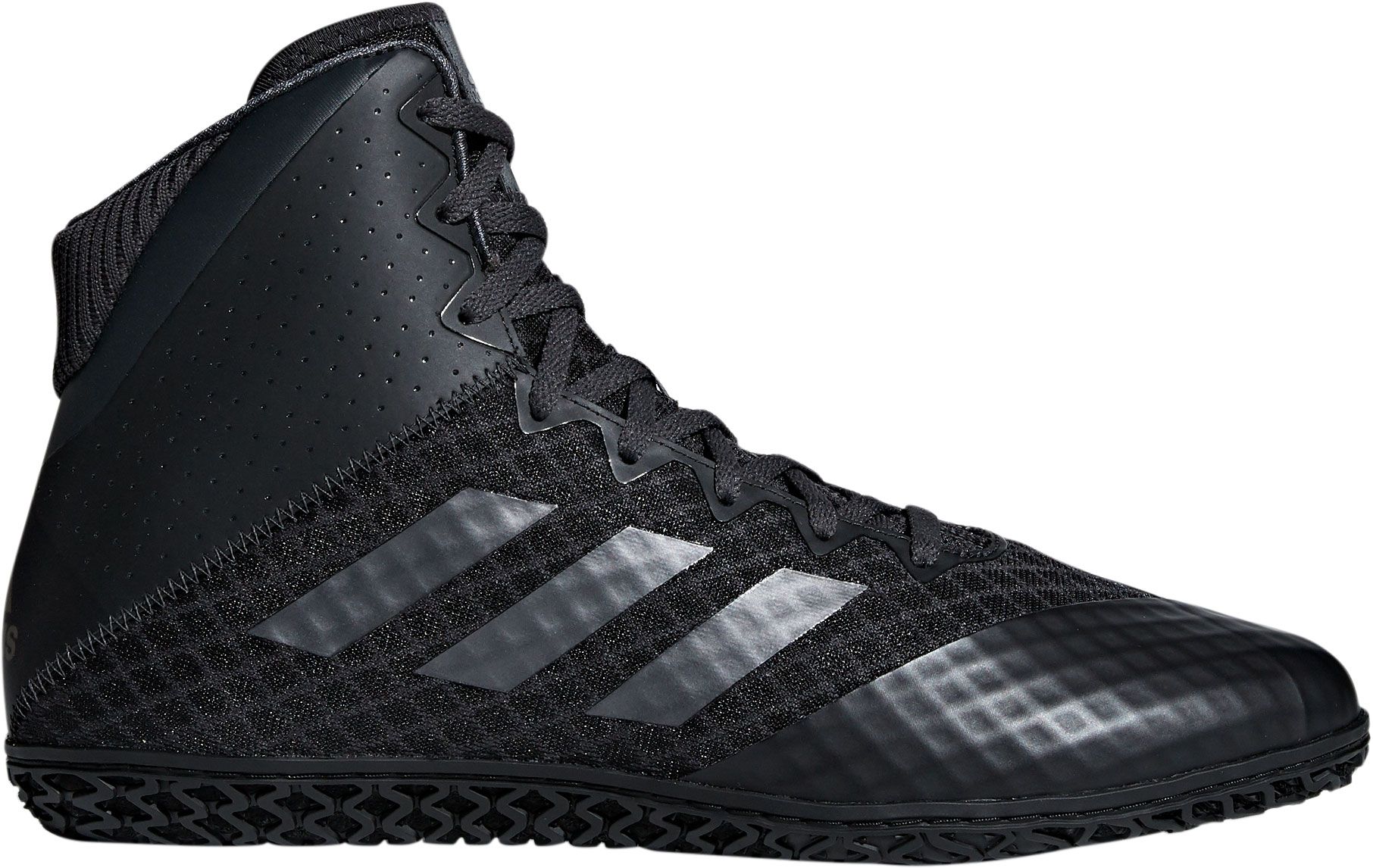 adidas Men's Mat Wizard 4 Wrestling Shoes
This product is currently out of stock.
Please choose product options above
Please choose product options above
PDP Sticky bottom AddToCart Section - active and hide position
Outperform the competition in the Mat Wizard IV. A mesh upper with strategically placed fabrics delivers unmatched support, durability and air flow for maximum breathability. The die-cut EVA midsole enhances your attack stance while TPU stripes offer a sock-like fit and added flexibility. The adidas® Mat Wizard 4 wrestling shoes have a rubber outsole that provides you with exceptional traction and support for top notch wrestling each time you step on the mat.
FEATURES:
Extremely breathable mesh body and strategically placed synthetic performance fabrics
Flexible, supportive TPU stripes reinforces the 'sock-like' fit
Internal, die-cut EVA midsole assists perfect attack stance
Superior rubber outsole overlays molded to the flexible fabric base layer create amazing grip and flexibility
Brand: adidas
Country of Origin: Imported
Web ID: 18ADIAMTWZRD4BLKBCLT