adidas Men's Poweralley 5 Metal Baseball Cleats
The price of the product might be updated based on your selection
{ "warrantyData" : [ { "ProductSKU" : "18134717", "ProductUniqueId" : "3404883", "warrantySKUS" : [ ] }, { "ProductSKU" : "18134731", "ProductUniqueId" : "3404890", "warrantySKUS" : [ ] }, { "ProductSKU" : "18134735", "ProductUniqueId" : "3404891", "warrantySKUS" : [ ] }, { "ProductSKU" : "18134749", "ProductUniqueId" : "3404899", "warrantySKUS" : [ ] }, { "ProductSKU" : "18134753", "ProductUniqueId" : "3404901", "warrantySKUS" : [ ] }, { "ProductSKU" : "18134755", "ProductUniqueId" : "3404902", "warrantySKUS" : [ ] }, { "ProductSKU" : "18134757", "ProductUniqueId" : "3404903", "warrantySKUS" : [ ] }, { "ProductSKU" : "18134760", "ProductUniqueId" : "3404904", "warrantySKUS" : [ ] }, { "ProductSKU" : "18134761", "ProductUniqueId" : "3404905", "warrantySKUS" : [ ] }, { "ProductSKU" : "18134769", "ProductUniqueId" : "3404908", "warrantySKUS" : [ ] }, { "ProductSKU" : "18134759", "ProductUniqueId" : "3404920", "warrantySKUS" : [ ] }, { "ProductSKU" : "18134770", "ProductUniqueId" : "3404924", "warrantySKUS" : [ ] }, { "ProductSKU" : "18134773", "ProductUniqueId" : "3404925", "warrantySKUS" : [ ] }, { "ProductSKU" : "18134782", "ProductUniqueId" : "3404936", "warrantySKUS" : [ ] }, { "ProductSKU" : "18134783", "ProductUniqueId" : "3404937", "warrantySKUS" : [ ] }, { "ProductSKU" : "18134784", "ProductUniqueId" : "3404938", "warrantySKUS" : [ ] }, { "ProductSKU" : "18134785", "ProductUniqueId" : "3404939", "warrantySKUS" : [ ] }, { "ProductSKU" : "18134787", "ProductUniqueId" : "3404941", "warrantySKUS" : [ ] }, { "ProductSKU" : "18134788", "ProductUniqueId" : "3404942", "warrantySKUS" : [ ] }, { "ProductSKU" : "18134789", "ProductUniqueId" : "3404943", "warrantySKUS" : [ ] }, { "ProductSKU" : "18134808", "ProductUniqueId" : "3404959", "warrantySKUS" : [ ] }, { "ProductSKU" : "18134815", "ProductUniqueId" : "3404967", "warrantySKUS" : [ ] }, { "ProductSKU" : "18134817", "ProductUniqueId" : "3404969", "warrantySKUS" : [ ] }, { "ProductSKU" : "18134818", "ProductUniqueId" : "3404970", "warrantySKUS" : [ ] }, { "ProductSKU" : "18134819", "ProductUniqueId" : "3404971", "warrantySKUS" : [ ] }, { "ProductSKU" : "18134820", "ProductUniqueId" : "3404972", "warrantySKUS" : [ ] }, { "ProductSKU" : "18134821", "ProductUniqueId" : "3404973", "warrantySKUS" : [ ] }, { "ProductSKU" : "18134822", "ProductUniqueId" : "3404974", "warrantySKUS" : [ ] }, { "ProductSKU" : "18134825", "ProductUniqueId" : "3404976", "warrantySKUS" : [ ] }, { "ProductSKU" : "18134837", "ProductUniqueId" : "3404982", "warrantySKUS" : [ ] }, { "ProductSKU" : "18134838", "ProductUniqueId" : "3404983", "warrantySKUS" : [ ] }, { "ProductSKU" : "18134847", "ProductUniqueId" : "3404987", "warrantySKUS" : [ ] }, { "ProductSKU" : "18134849", "ProductUniqueId" : "3404988", "warrantySKUS" : [ ] }, { "ProductSKU" : "18134851", "ProductUniqueId" : "3404989", "warrantySKUS" : [ ] }, { "ProductSKU" : "18134856", "ProductUniqueId" : "3404992", "warrantySKUS" : [ ] }, { "ProductSKU" : "18134859", "ProductUniqueId" : "3404993", "warrantySKUS" : [ ] }, { "ProductSKU" : "18134853", "ProductUniqueId" : "3405007", "warrantySKUS" : [ ] }, { "ProductSKU" : "18134858", "ProductUniqueId" : "3405009", "warrantySKUS" : [ ] }, { "ProductSKU" : "18134860", "ProductUniqueId" : "3405010", "warrantySKUS" : [ ] }, { "ProductSKU" : "18134874", "ProductUniqueId" : "3405023", "warrantySKUS" : [ ] }, { "ProductSKU" : "18134879", "ProductUniqueId" : "3405027", "warrantySKUS" : [ ] }, { "ProductSKU" : "18134880", "ProductUniqueId" : "3405028", "warrantySKUS" : [ ] }, { "ProductSKU" : "18134895", "ProductUniqueId" : "3405043", "warrantySKUS" : [ ] }, { "ProductSKU" : "18134912", "ProductUniqueId" : "3405058", "warrantySKUS" : [ ] }, { "ProductSKU" : "18134914", "ProductUniqueId" : "3405059", "warrantySKUS" : [ ] }, { "ProductSKU" : "18134917", "ProductUniqueId" : "3405060", "warrantySKUS" : [ ] }, { "ProductSKU" : "18134918", "ProductUniqueId" : "3405061", "warrantySKUS" : [ ] }, { "ProductSKU" : "18134974", "ProductUniqueId" : "3405079", "warrantySKUS" : [ ] } ] }
PROTECTION PLAN
(optional)
Info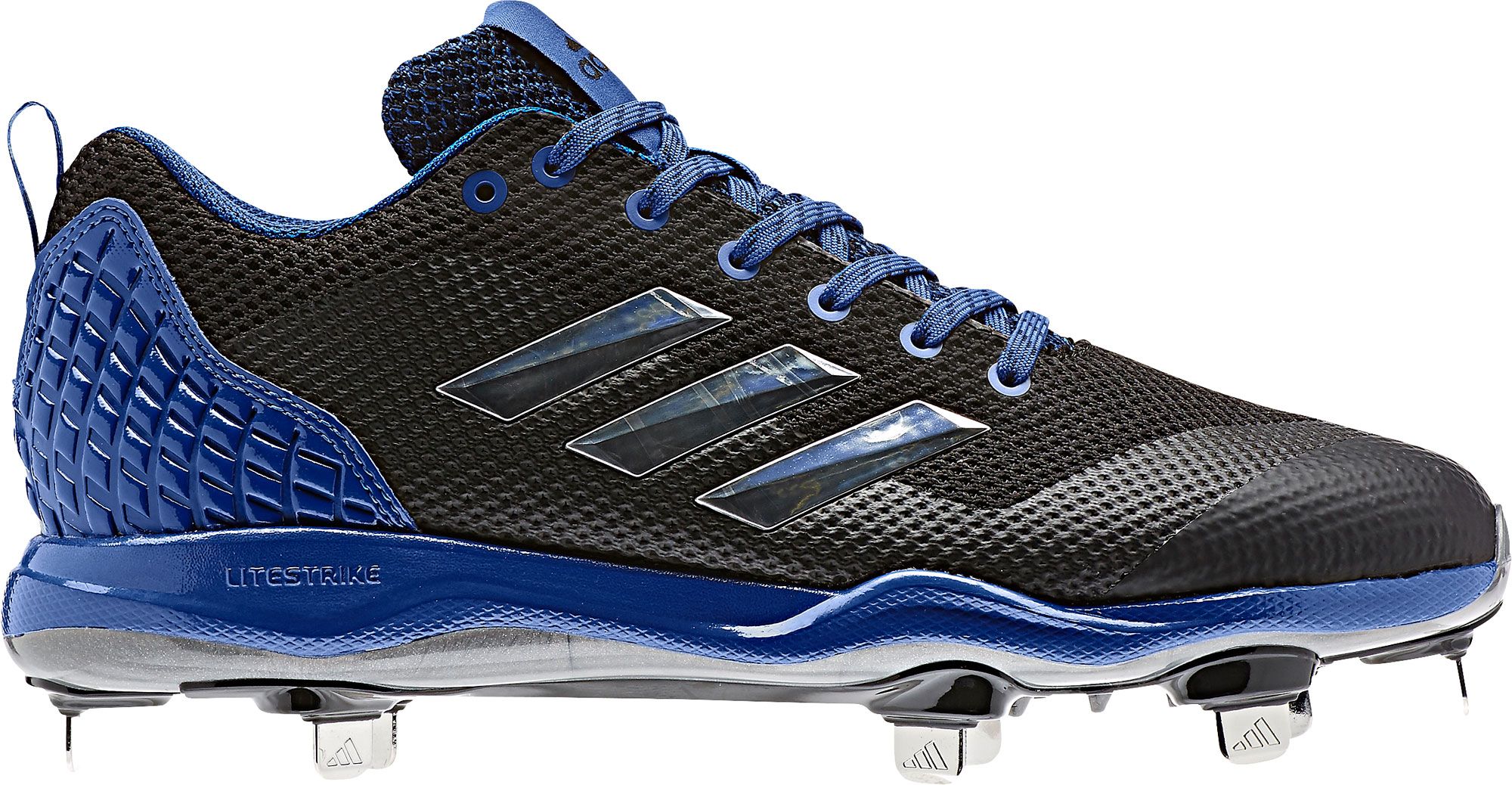 adidas Men's Poweralley 5 Metal Baseball Cleats
Selected Option Not Available to Ship
Selected Option Not Available For Pickup
PDP Sticky bottom AddToCart Section - active and hide position
This product is currently out of stock.
Please choose product options above
Please choose product options above
Make hitting the long ball look easy in the Poweralley V. An air mesh upper offers you breathable comfort and style while TPU overlays keep dirt out, improves flexibility and adds extra durability. A full-length LITESTRIKE EVA midsole and internal shank plate deliver lightweight padding and multi direction support. The adidas® Poweralley 5 baseball cleat has a PROTRAX plate with a metal 5x3 spike layout that provides you with the traction, speed and support needed to reach your potential on the diamond.
FEATURES:
Air mesh upper for comfort and breathability
Seamless toe cap provides superior abrasion resistance in key toe-drag area
Durable overlays for abrasion protection and lightweight, flexible support
Molded heel and heel clip for added support
LITESTRIKE EVA midsole is lighter than conventional midsoles
PROTRAX steel 5x3 cleat configuration helps reduce underfoot cleat pressure while improving traction, speed and performance
Brand: adidas
Country of Origin: Imported
Web ID: 17ADIAPWRLLY5GRYXSTL