adidas Men's Speed Trainer 3 Baseball Shoes
NOW: $

45.97

- $49.97
(

33%-38%

off!)
WAS: $74.99*
The price of the product might be updated based on your selection
{ "warrantyData" : [ { "ProductSKU" : "18134380", "ProductUniqueId" : "3442864", "warrantySKUS" : [ ] }, { "ProductSKU" : "18134391", "ProductUniqueId" : "3442866", "warrantySKUS" : [ ] }, { "ProductSKU" : "18134394", "ProductUniqueId" : "3442867", "warrantySKUS" : [ ] }, { "ProductSKU" : "18134512", "ProductUniqueId" : "3442886", "warrantySKUS" : [ ] }, { "ProductSKU" : "18134381", "ProductUniqueId" : "3442887", "warrantySKUS" : [ ] }, { "ProductSKU" : "18134384", "ProductUniqueId" : "3442888", "warrantySKUS" : [ ] }, { "ProductSKU" : "18134392", "ProductUniqueId" : "3442889", "warrantySKUS" : [ ] }, { "ProductSKU" : "18134488", "ProductUniqueId" : "3442905", "warrantySKUS" : [ ] }, { "ProductSKU" : "18134515", "ProductUniqueId" : "3442909", "warrantySKUS" : [ ] }, { "ProductSKU" : "18134383", "ProductUniqueId" : "3442911", "warrantySKUS" : [ ] }, { "ProductSKU" : "18134390", "ProductUniqueId" : "3442912", "warrantySKUS" : [ ] }, { "ProductSKU" : "18134396", "ProductUniqueId" : "3442913", "warrantySKUS" : [ ] }, { "ProductSKU" : "18134425", "ProductUniqueId" : "3442918", "warrantySKUS" : [ ] }, { "ProductSKU" : "18134442", "ProductUniqueId" : "3442921", "warrantySKUS" : [ ] }, { "ProductSKU" : "18134462", "ProductUniqueId" : "3442924", "warrantySKUS" : [ ] }, { "ProductSKU" : "18134484", "ProductUniqueId" : "3442928", "warrantySKUS" : [ ] }, { "ProductSKU" : "18134491", "ProductUniqueId" : "3442929", "warrantySKUS" : [ ] }, { "ProductSKU" : "18134393", "ProductUniqueId" : "3442935", "warrantySKUS" : [ ] }, { "ProductSKU" : "18134397", "ProductUniqueId" : "3442936", "warrantySKUS" : [ ] }, { "ProductSKU" : "18134387", "ProductUniqueId" : "3442957", "warrantySKUS" : [ ] }, { "ProductSKU" : "18134389", "ProductUniqueId" : "3442958", "warrantySKUS" : [ ] }, { "ProductSKU" : "18134395", "ProductUniqueId" : "3442959", "warrantySKUS" : [ ] }, { "ProductSKU" : "18134498", "ProductUniqueId" : "3442976", "warrantySKUS" : [ ] }, { "ProductSKU" : "18134376", "ProductUniqueId" : "3442979", "warrantySKUS" : [ ] }, { "ProductSKU" : "18134500", "ProductUniqueId" : "3442999", "warrantySKUS" : [ ] }, { "ProductSKU" : "18134518", "ProductUniqueId" : "3443004", "warrantySKUS" : [ ] }, { "ProductSKU" : "18134519", "ProductUniqueId" : "3443005", "warrantySKUS" : [ ] }, { "ProductSKU" : "18134535", "ProductUniqueId" : "3443019", "warrantySKUS" : [ ] }, { "ProductSKU" : "18134536", "ProductUniqueId" : "3443020", "warrantySKUS" : [ ] }, { "ProductSKU" : "18134540", "ProductUniqueId" : "3443024", "warrantySKUS" : [ ] }, { "ProductSKU" : "18694079", "ProductUniqueId" : "3465157", "warrantySKUS" : [ ] }, { "ProductSKU" : "18694094", "ProductUniqueId" : "3465162", "warrantySKUS" : [ ] } ] }
PROTECTION PLAN
(optional)
Info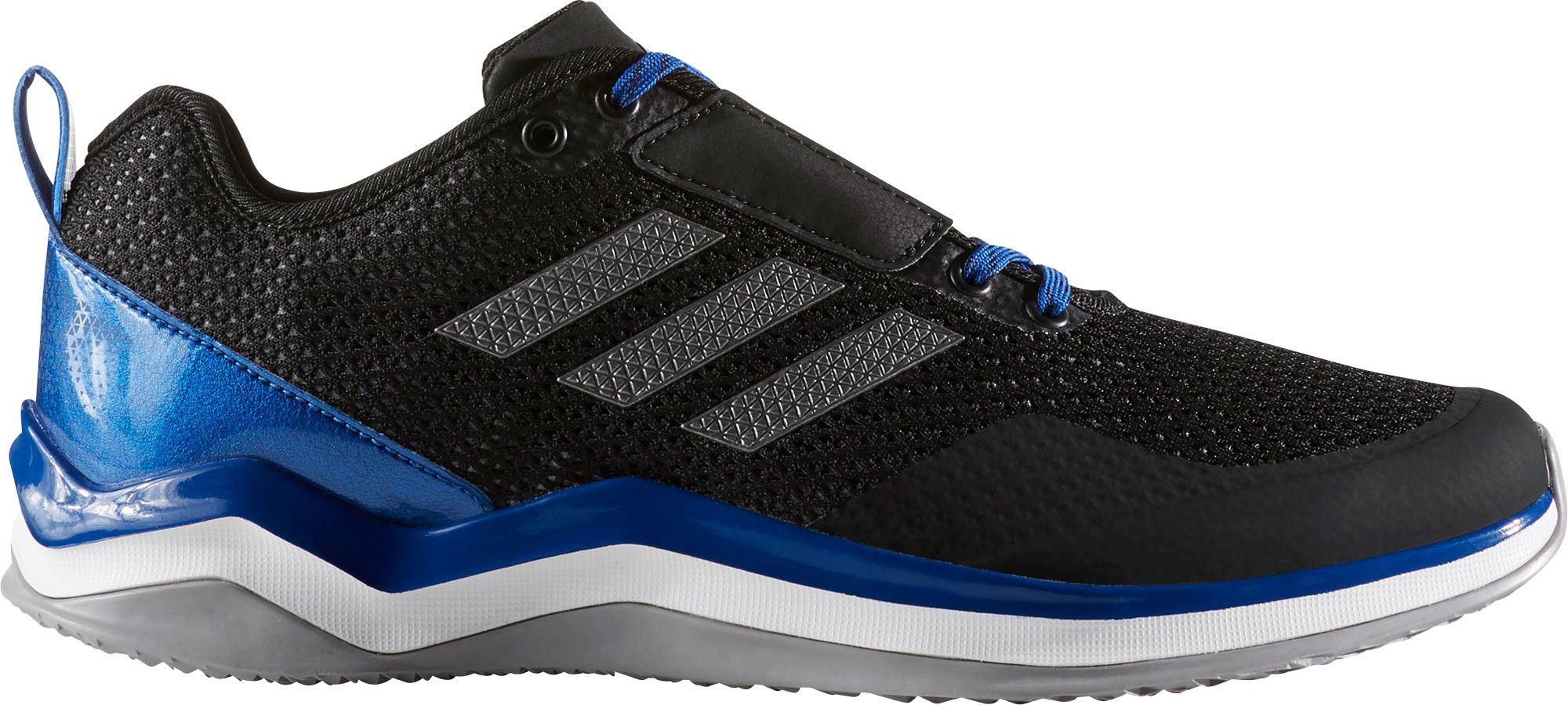 adidas Men's Speed Trainer 3 Baseball Shoes
Selected Option Not Available to Ship
Selected Option Not Available For Pickup
PDP Sticky bottom AddToCart Section - active and hide position
This product is currently out of stock.
Please choose product options above
Please choose product options above
Make the most out of your offseason training in the Speed trainer III. A mesh upper with IRONSKIN seamless toe cap and Nubuck overlay strap provides a locked in fit that is both breathable and durable. The adidas® Speed Trainer baseball shoe has a heel counter that offers you enhanced lateral support during each training session. A rubber outsole with turf traction pattern delivers improved traction, performance and baseball-specific movements to help you push yourself to improve.
FEATURES:
Breathable Mesh upper with metallic silver underlay keeps your feet comfortable
IRONSKIN seamless toe cap provides superior abrasion resistance in key toe-drag area
Nubuck overlay strap enhances lockdown and support
Heel counter for lateral support
Heel pull makes it easier getting in to the shoe
Turf-traction pattern outsole for baseball-specific movements
Brand: adidas
Country of Origin: Imported
Web ID: 17ADIMSPDTRNR30BLCCH