adidas Women's Edge Lux Clima Running Shoes
The price of the product might be updated based on your selection
{ "warrantyData" : [ { "ProductSKU" : "18467365", "ProductUniqueId" : "3919732", "warrantySKUS" : [ ] }, { "ProductSKU" : "18467366", "ProductUniqueId" : "3919733", "warrantySKUS" : [ ] }, { "ProductSKU" : "18467367", "ProductUniqueId" : "3919734", "warrantySKUS" : [ ] }, { "ProductSKU" : "18467368", "ProductUniqueId" : "3919735", "warrantySKUS" : [ ] }, { "ProductSKU" : "18467369", "ProductUniqueId" : "3919736", "warrantySKUS" : [ ] }, { "ProductSKU" : "18467370", "ProductUniqueId" : "3919737", "warrantySKUS" : [ ] }, { "ProductSKU" : "18467371", "ProductUniqueId" : "3919738", "warrantySKUS" : [ ] }, { "ProductSKU" : "18467372", "ProductUniqueId" : "3919739", "warrantySKUS" : [ ] }, { "ProductSKU" : "18467373", "ProductUniqueId" : "3919740", "warrantySKUS" : [ ] }, { "ProductSKU" : "18467374", "ProductUniqueId" : "3919741", "warrantySKUS" : [ ] }, { "ProductSKU" : "18467387", "ProductUniqueId" : "3919742", "warrantySKUS" : [ ] }, { "ProductSKU" : "18467388", "ProductUniqueId" : "3919743", "warrantySKUS" : [ ] }, { "ProductSKU" : "18467389", "ProductUniqueId" : "3919744", "warrantySKUS" : [ ] }, { "ProductSKU" : "18467390", "ProductUniqueId" : "3919745", "warrantySKUS" : [ ] }, { "ProductSKU" : "18467391", "ProductUniqueId" : "3919746", "warrantySKUS" : [ ] }, { "ProductSKU" : "18467392", "ProductUniqueId" : "3919747", "warrantySKUS" : [ ] }, { "ProductSKU" : "18467393", "ProductUniqueId" : "3919748", "warrantySKUS" : [ ] }, { "ProductSKU" : "18467394", "ProductUniqueId" : "3919749", "warrantySKUS" : [ ] }, { "ProductSKU" : "18467395", "ProductUniqueId" : "3919750", "warrantySKUS" : [ ] }, { "ProductSKU" : "18467396", "ProductUniqueId" : "3919751", "warrantySKUS" : [ ] }, { "ProductSKU" : "18467376", "ProductUniqueId" : "4031961", "warrantySKUS" : [ ] }, { "ProductSKU" : "18467377", "ProductUniqueId" : "4031962", "warrantySKUS" : [ ] }, { "ProductSKU" : "18467378", "ProductUniqueId" : "4031963", "warrantySKUS" : [ ] }, { "ProductSKU" : "18467379", "ProductUniqueId" : "4031964", "warrantySKUS" : [ ] }, { "ProductSKU" : "18467380", "ProductUniqueId" : "4031965", "warrantySKUS" : [ ] }, { "ProductSKU" : "18467381", "ProductUniqueId" : "4031966", "warrantySKUS" : [ ] }, { "ProductSKU" : "18467382", "ProductUniqueId" : "4031967", "warrantySKUS" : [ ] }, { "ProductSKU" : "18467383", "ProductUniqueId" : "4031968", "warrantySKUS" : [ ] }, { "ProductSKU" : "18467384", "ProductUniqueId" : "4031969", "warrantySKUS" : [ ] }, { "ProductSKU" : "18467385", "ProductUniqueId" : "4031970", "warrantySKUS" : [ ] }, { "ProductSKU" : "18467575", "ProductUniqueId" : "4031971", "warrantySKUS" : [ ] }, { "ProductSKU" : "18467578", "ProductUniqueId" : "4031972", "warrantySKUS" : [ ] }, { "ProductSKU" : "18467579", "ProductUniqueId" : "4031973", "warrantySKUS" : [ ] }, { "ProductSKU" : "18467581", "ProductUniqueId" : "4031974", "warrantySKUS" : [ ] }, { "ProductSKU" : "18467584", "ProductUniqueId" : "4031975", "warrantySKUS" : [ ] }, { "ProductSKU" : "18467585", "ProductUniqueId" : "4031976", "warrantySKUS" : [ ] }, { "ProductSKU" : "18467588", "ProductUniqueId" : "4031977", "warrantySKUS" : [ ] }, { "ProductSKU" : "18467592", "ProductUniqueId" : "4031978", "warrantySKUS" : [ ] }, { "ProductSKU" : "18467594", "ProductUniqueId" : "4031979", "warrantySKUS" : [ ] }, { "ProductSKU" : "18467597", "ProductUniqueId" : "4031980", "warrantySKUS" : [ ] }, { "ProductSKU" : "19146474", "ProductUniqueId" : "4031982", "warrantySKUS" : [ ] }, { "ProductSKU" : "19146475", "ProductUniqueId" : "4031983", "warrantySKUS" : [ ] }, { "ProductSKU" : "19146479", "ProductUniqueId" : "4031987", "warrantySKUS" : [ ] }, { "ProductSKU" : "19146480", "ProductUniqueId" : "4031988", "warrantySKUS" : [ ] } ] }
PROTECTION PLAN
(optional)
Info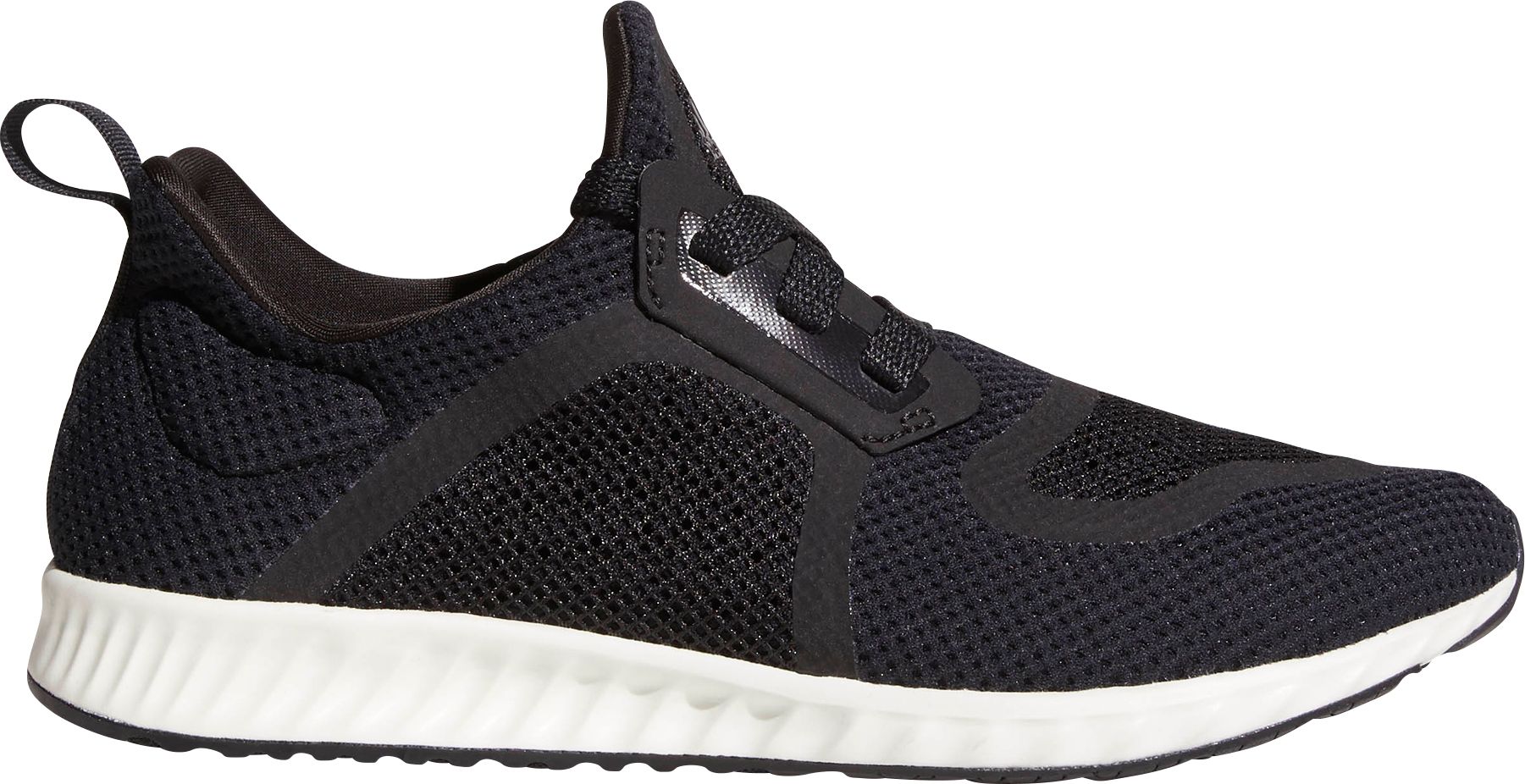 adidas Women's Edge Lux Clima Running Shoes
Selected Option Not Available to Ship
Selected Option Not Available For Pickup
PDP Sticky bottom AddToCart Section - active and hide position
This product is currently out of stock.
Please choose product options above
Please choose product options above
Take your training to the next level in the adidas® Women's Edge Lux Clima running shoes. Built to cushion every step, these shoes were engineered specifically for women to support natural movement and maximize comfort. The BOUNCE™ midsole delivers enhanced comfort and flexibility for all sports, all day long. A sock-like construction offers a snug fit that lets you move naturally while the ventilated upper delivers breathability to keep feet cool and dry for the duration of your training.
FEATURES:
BOUNCE™ midsole provides energized comfort for all sports, all day
Women's-specific design makes for a perfect fit
Ventilated upper delivers breathability
Sock-like construction provides snug and secure fit
Grippy rubber outsole delivers traction and adds durability
Brand: adidas
Country of Origin: Imported
Web ID: 18ADIWDGLXCLMWHTXRNN