Ameristep Care Taker Ground Blind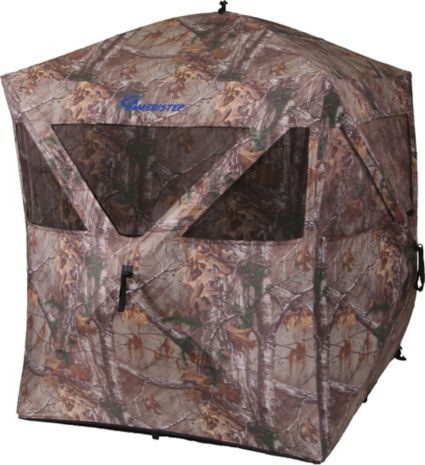 Ameristep Care Taker Ground Blind
is rated out of
5
by
52
.
This product is currently out of stock.
Please choose product options above
Please choose product options above
PDP Sticky bottom AddToCart Section - active and hide position
Product Information:
Setting up the perfect hunting position is made easy with the Care Taker Blind. The Realtree Xtra™ camo pattern offers exceptional concealment against the wariest game. Shoot-through mesh ensures that you can sight in and fire instantly. Designed for quick and easy setup and takedown, this blind won't commit you to one spot. Whether you're using a bow or a firearm, the Ameristep® Care Taker Blind is ideal for all shooters.
Brand: Ameristep
Country of Origin: Imported
Web ID: 15AMPUCRTKRBLNDRTTSB
Rated 5 out of 5
by
Alan59
from
Very roomy and easy setup
Just used this on a hunt this weekend. I found that it weighs 17.5 pounds and that is with the cardboard box! It came with stake down hardware. One reviewer said the Velcro made a lot of noise, yes but once the screen material is down makes no noise. I was using Rage broadheads which does not shoot through the window screen very well. I am 6'4" tall and was able to stand up and stretch which was a relief. I also recommend a small chair to sit in. The blind did have very small holes where the components were stitched together just the way the blind material is. I would definitely recommend this product.
Date published: 2016-11-01
Rated 5 out of 5
by
WAPNY
from
Stood up to 2 ft. of snow
I have to give props to this blind. I purchased it in the spring to hunt with my boys who are just starting to hunt and still fidgety. I had it up Saturday for the first day of NY rifle deer season. On Sunday into Monday we got 2 feet of snow. I had left the blind up not thinking we would get that much snow. I went back to check on it on Monday. Yes, the top had caved in as if you were going to fold it up. But none of the material had ripped. None of the poles had bent or broken. I folded it right back up and it's good as new. VERY durable. Couldn't believe it was in one piece.
Date published: 2016-11-22
Rated 5 out of 5
by
gpaints
from
Great for one on one time with my kids!
Bought this product for parent child hunts. I have two 13 year old girls and two 9 year olds, one being my boy. We hunt too far back in the woods on a WMA to constantly be dragging a buddy ladder stand. This blind has worked out perfect so far. Spiders love it as much as we do. Sometimes my son comes along with my oldest daughter and me and we can all fit somewhat comfortably sitting in 3 folding chairs. I said somewhat. I know it's made for 2, but we make sure the hunter has plenty of room.I Wish it had some kind of small window in the back though. Says you can shoot through the mesh. Hadn't tried that yet. Kind of leery about it.
Date published: 2016-10-20
Rated 3 out of 5
by
Cagney
from
Decent Blind for the Money
I just bought mine this year a short time ago then set it up in the backyard to waterproof and air out. It was not quite as easy to set up as advertised yet went up in about five minutes. The top was difficult to pop out and the side closest to the door also did not want to pop out properly or easily. The door would not zip all the way down. I also noticed several pin holes throughout the blind. There are no windows on the wall where the door is so when setting it up to hunt you have to be careful to align it how you want to see out. Mine was missing a stake and a tie down. It doesn't have brush holders like more expensive blinds.Despite the negatives, it is a decent blind for the money. I got mine online for $79.99. It's big enough for two and gear. I plan to leave it out in the woods November through January for gun, bow and muzzleloader seasons so I'll be able to see how well Missouri weather affects it. I also want to see how the shoot through mesh works. This is my first blind of this type.
Date published: 2016-11-02
Rated 4 out of 5
by
oldsongdog
from
Well worth the money
The only reason I did not give it a 5 rating is that I had a problem setting it up the first time. The instructions are not all that great. I went to the Ameristep web site thinking they would have video on how to set up and take down but no such luck. Finally found a great video on You Tube that helped a lot. Stakes and tie down cord come with the blind but there are no instructions on how to use them such as where to attach and etc. Like other reviewers I did see some small pin holes but don't think they will pose much of a problem. Overall this is a great blind for the money.
Date published: 2016-09-29
Rated 5 out of 5
by
BeckerInOK
from
Works Amazing
So I recently bought this ground blind and immediately set it up in my backyard to air out for a week. I treated it with water repellant and let it sit for a week in my yard. The evening before deer rifle season opening day I brought it out to my hunting spot. It sat overnight and the next morning my buddy and I snuck in early. At 4 minutes to sunrise I took a 9 point buck at 160 yards from it. He had no idea we were there. Two days later we came back in early again and while we didn't take anything that day, we had a doe come within 10 yards of the blind, seemingly oblivious to us being inside it. We faced 40mph gusts on earth of those days and after anchoring this in with 12 inch spikes for maximum stability, the blind didn't even move during those winds. I may have to buy a second one before next year so we have more than one in the field.
Date published: 2017-11-25
Rated 5 out of 5
by
hunting365
from
blizzard proof
for the money you cant ask for a better blind. got blind in september spayed it with a uv blocker/water proofing spray and set up blind per instructions. stake down blind at all points provided and brushed it in(no brush loops on blind) and hunted out of blind for 5 months w/o any problems. this was my first ever ground blind purchase. room enough for 2adaults i am 6'4'' 240lb as well as my 3& 6 yr old kids and me. 5 deer later and multiple storms as well as a blizzard dumping 3' of snow the blind is still standing, dry inside, and in perfect shape. you can see pinholes in blind material but the blind never leaked on me.it would be nice if it had brush loops and screens that were not attached with velcro but for a hard core hunter on a budget that needs a ground blind due to the hunting/terrain conditions this blind is perfect
Date published: 2016-02-05
Rated 5 out of 5
by
Bowslinger
from
Care Taker Ground Blind
The blind went up easy and was made well. Just enough loops and hooks to keep windows closed with out over doing it. Took the bow in for a dry run and plenty of head room for it. Wanted a blind that was workable for turkey and the first time deer hunt out of a blind. Didn't break the bank and got every thing I was looking for in a well made blind. I will be waterproofing the roof and getting gear ready this coming spring. I will be swapping out the pegs for heavier round ones. All in all a good blind
Date published: 2018-01-29