Aqua Sphere Lady Kayenne Swim Goggles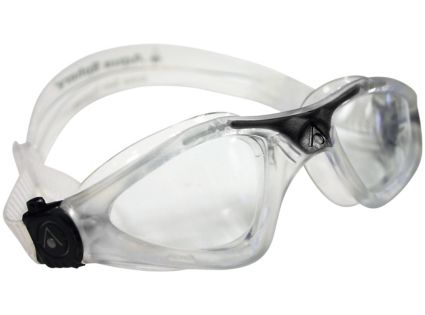 Aqua Sphere Lady Kayenne Swim Goggles
is rated out of
5
by
47
.
This product is currently out of stock.
Please choose product options above
Please choose product options above
PDP Sticky bottom AddToCart Section - active and hide position
Product Information:
The Aqua Sphere ® Lady Kayenne ™ Goggles feature an oversized, ultra durable Plexisol lens for 4-point expanded, 180-degree visibility. These goggles reduce glare and offer excellent visibility in bright, outdoor light. The stabilizing nose bridge keeps fitting secure and comfortable while the 100% UV protection with anti-fog and UV lens treatment is perfect for long lasting clarity.
FEATURES:
Scratch-resistant Plexisol® synthetic resin lenses help keep your vision clear
Stabilizing nose bridge offers a comfortable and secure fit
Hypoallergenic silicone-gasket skirt creates a watertight seal and feels soft against skin
4-point expanded vision
Hydrodynamic micro-frame
100% UVA & UVB protection
Anti-fog
Quick-fit, one touch buckle system allows for quick and easy adjustments, even while wearing the mask
Nonslip, split headstrap with easy-adjust locking side buckles secures the fit
Aqua Sphere
Brand: Aqua Sphere
Country of Origin: Imported
Web ID: 16APHWLDYKYNNBLTRSWE
Rated 4 out of 5
by
Jenna3
from
Good goggles
I really loved the range of vision I got with these goggles. Probably the best I've ever seen. They were also really comfortable. The only problem I had with them was that my vision was blurred while wearing them, especially underwater. Not enough to prevent me from seeing other swimmers, or walls, or even diving sticks, just enough to be a little frustrating. However, it's worth noting that I am a little nearsighted out of the pool. In the end the equal comfort combined with the blurriness meant I kept the other pair I got and returned these. I definitely recommend trying them out though especially if you don't have vision problems.
Date published: 2015-11-05
Rated 4 out of 5
by
LauraBelle13
from
Better fit for me
I tried two different Speedo goggle without much success. One I could never get a good seal without feeling like my eyeballs would pop out and the other I could get a seal, but the piece between the eyes hit the bridge of my nose, so I had to take them off periodically.These goggles are softer and more flexible than the Speedos and I get a much better seal. They still hit the bridge of my nose, but I can wear them a lot longer. These goggles are not as deep as the Speedos, but my eyes are deep set so that's not a problem. I could see if your eyes are more protruding or you have extra long eyelashes it could be a problem.
Date published: 2013-06-04
Rated 3 out of 5
by
FlawLESS
from
Not for long eye lashes
These are the most comfortable goggles for long lap practices. I love that aspect! The gasket doesn't pinch at all and no pressure on your eye sockets. However, whether you mash them in too much or not, they are not wide (deep?) enough. When I blink in them, my eyelids and/or lashes touch the lens. I've tried not pushing them close to my face--just barely placing them against my eye sockets--and that didn't do the trick. Eventually, my vision gets blurry/irritated from eyelid/eyelashes scraping the lens. I'd buy these again only if they were made just a bit wider/deeper. Also, careful diving in. The downside of a soft gasket is that they don't withstand diving well. You'll end up with water in goggles as you start your first lap. I don't recommend this product unless you know your lids/lashes won't brush. Borrow someone else's to try them on before buying.
Date published: 2014-07-08
Rated 5 out of 5
by
Swimmer/Dancer/Artist
from
Worth Every Cent!
I've tried many brands of goggles over the years. Either one or both eyes leaked, or I had to strap them on so tightly that my face felt bruised long before the end of my one-mile swim. A few weeks ago a salesman at Dick's recommended these Aqua Sphere goggles. Not only are they comfortable and air-tight, they are far easier to see through than any other goggle or mask I've tried, and I don't need to spit in them to keep them from fogging up. They are also rather flattering. Yes, they were pricier than the other brands I've tried, but they were well worth it.
Date published: 2014-09-16
Rated 1 out of 5
by
Julia
from
Aqua Sphere Lady Kayenne Goggles
I am a beggining swimmer. I have searched to buy a good swim goggles, and I have found this product. Although price was high, I thought I'd give it a try since it is made in Italy and it is made for ladies. I also read the specifications on this product. I liked the anti-fogg coating inside; however, what happended during my swim lesson? I couldn't see clearly in or outside of water! I did not touch the inside the lens because the instruction tells not to. So I waited until the lesson was over, and I air dried them after rinsing them out with tap water. I found some markings inside of goggle lenses that was touched by the straps while I put them back in the case that came with the goggles. I don't know what to do with those goggles. They seem too sensitive to be worn. It was very dissapointing, and I am thinking about returning them. They are not worth $30 at all. I am sorry.
Date published: 2013-01-29
Rated 1 out of 5
by
Swim11
from
Goggles had makeup smears all over them
I was excited to open the box just now when I received this package but, when I opened it I noticed that some parts of the goggle were different colors. I was thinking maybe it was a discoloration until I took them out of their packaging and saw that what I had been seeing was makeup smears. The lenses are scratched up as well. The goggles actually smell like maybe sunscreen or I'm not sure. But, when I bought these I was thinking I was buying something new and not something used. I'll make another review once I get everything situated but, right now, I don't recommend this product if they are going to be sent used and dirty. I can't and won't try them on until I get a replacement which I'll have to stop by a store to do or call customer service? Not sure. Hate the inconvenience of it.
Date published: 2016-12-05
Rated 4 out of 5
by
FranklySpeaking
from
Nice Fit, worked great
Bought these for my wife for a recent vacation to the beach. She enjoyed them very much.
Date published: 2015-08-23
Rated 4 out of 5
by
Elaine
from
I would buy this product again.
The swimming goggles are much more comfortable than the traditional rubber gasket goggles. These are more like the old swimming masks and don't hurt when they are on. They also don't leak. They are suctioned to your face when you put them on. The only thing I don't like is they still leave a temporary mark under my eyes when I am through swimming. The old goggles were a lot worse though.
Date published: 2012-05-15