Berkley Fireline Crystal Braided Fishing Line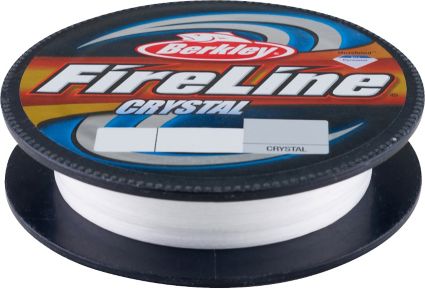 Berkley Fireline Crystal Braided Fishing Line
is rated out of
5
by
80
.
The price of the product might be updated based on your selection
This product is currently out of stock.
Please choose product options above
Please choose product options above
PDP Sticky bottom AddToCart Section - active and hide position
Product Information:
Get the ultimate in lo-vis fishing line with the next generation of Berkley Crystal Fireline. This translucent superline virtually disappears in the water, making it practically invisible to your target. Thermally fused Dyneema® fiber construction delivers strength that is 3 to 4 times greater than standard mono. Berkley® Fireline® Crystal Braided Fishing Line is the line of choice for anglers that need to fish with stealth.
FEATURES:
Advanced technology delivers a smooth handling superline
Translucent coloring create the ultimate line for low-visibility
Smooth finish with no memory design enables long, fast casts
Incredible sensitivity helps you detect structure and strikes
Thin diameter reduces visibility and improves lure action
Made with microfused Dyneema® fibers that are 3 to 4 times stronger than standard monofilament
Color: Crystal
Berkley
SPECS:Pound Test: 2 lb.Pound Test: 3 lb.Pound Test: 4 lb.Pound Test: 6 lb.Pound Test: 8 lb.Pound Test: 10 lb.Pound Test: 14 lb.Pound Test: 20 lb.Pound Test: 30 lb.
Brand: Berkley
Country of Origin: United States of America or Imported
Web ID: 15BKYUFRLNFSDCRYSFLI
Rated 5 out of 5
by
Rob C
from
The Best Superline on the Market
I have been using Fireline Crystal since it hit the market. What I like best is the sensitivity, strength, and how long it lasts. The sensitivity and strength helped me pull a 12 lb walleye from 25 ft of water on the Detroit River. I wouldn't use any other line for jigging.
Date published: 2015-02-28
Rated 5 out of 5
by
walleye mike
from
River tough!!!!
First time I used Fireline ( 8lb crystal ) wading the Maumee river & WOW this 8lb 27 inch walleye put up a good fight in the fast water. GREAT feel & casting on spinning reel. Maumee river has plenty of rocks that really chew up line. This line was really up to the task
Date published: 2015-05-08
Rated 5 out of 5
by
Apfishing
from
A spinning reel staple!
I've been using 14 pound test FireLine on all my inshore spinning reels for over 10 years (first the original smoke color and since its introduction, FireLine Crystal). I use it for bucktailing fluke, bouncing soft plastics for striped bass and weakfish, jigging up porgies, sea bass, and bluefish, and skipping metals across the surface for false albacore...it has always performed flawlessly! I get asked all the time, "With the thin diameter of braid, why don't you use 20 or 30 pound test?" I tell them that I have never, EVER, broke a fish off due to line failure! That includes incidental catches of 40+ pound cownose rays and gorilla 15+ pound bluefish. My grandpa once landed a double header keeper striped bass 28 inches and 8 pound bluefish on 14 pound test FireLine and then landed a 13 pound fluke on the next cast with the same outfit. FireLine is a proven performer in my eyes!
Date published: 2017-06-13
Rated 5 out of 5
by
Fishmas Charters
from
FireLine is Hot!
I have been using FireLine 6 pound test Flame Green for 20 years on Detroit River, St. Clair River, Illinois River and St. Mary's River jigging Walleyes.
Date published: 2016-03-02
Rated 5 out of 5
by
Bandit
from
For my use, beading, this product is excellent
It is not visible between beads and provides strength. It is easier to work with than thread when requiring a long length.
Date published: 2015-06-15
Rated 5 out of 5
by
fwp1
from
Can't beat it!
I have used Berkley Fireline since it first came on the market. I am a fishing guide and depend on strong but sensitive line for my customers, Berkley Fireline gives me both. Customers are amazed at how they can feel so much better with this line.
Date published: 2015-04-29
Rated 5 out of 5
by
TheWalleyeGuy
from
best line on the market
I'm a professional angler and guide and I only use fire line for tournaments and with my clients. Nothing beats this line for the sensitivity when jigging and it's strength to pull my cranks out of the trees has paid for itself.
Date published: 2015-03-16
Rated 4 out of 5
by
Captiva Jim
from
Strong
I spooled up a 3000 Fierce reel with 10 lb Crystal two years ago. With all the usage in a charter business it is doing fine. The fibers seem to be a little frayed but I have no noticed any line degradation. Just had a client hook up to a 75-100 lb. tarpon and fought the fish for two hours. We finally locked down the drag to force the issue and that is when the line broke. No fault of the line, we just exceeded the specs.
Date published: 2015-10-04
Rated 4 out of 5
by
fishnnut123
from
l bought the 8lb at Walmart,while also using Berkley Power-bait 4 inch kicker leopard frogs.It did have a little memory at first but ,the more l used it the better the line became.Casting is great ,good distances,good feedback and sensitivity.
Date published: 2015-08-31
Rated 5 out of 5
by
montanabass1
from
Perfect for spinning outfits!
Very strong and durable. Have no problem landing big fish and I don't think it is visible since I still get just as many bites. This line will also cast a mile. A real confidence booster. I mostly use the 14lb and sometimes the 20lb for heavy cover and grass. It will cut the grass just like braid.
Date published: 2015-04-28
Rated 5 out of 5
by
Darren R
from
FireLine Crystal
I have been using FireLine for many years for some trolling applications and most of my jigging for walleyes. It is very durable and long lasting, making it cost effective as well as functional. The no stretch construction increases sensitivity and allows for better feel and better hook sets. Being a thinner diameter, it trolls deeper and is less affected by wind. FireLine definitely enhances my fishing success.
Date published: 2017-02-16
Rated 5 out of 5
by
Beatslandcharters
from
The best line on the Market!
I have been using the fuse crystal line for a while now in all my light tackle applications and it performs superb! Last long, super sensitive and great knot strength. Wish they made it in 40lb test and higher. Give it a try!
Date published: 2015-05-24
Rated 5 out of 5
by
Avid Angler
from
Nothing Compares!!!!
Yes, I felt there is a tiny learning curve but well worth it. I love the sensitivity of fireline in general even on the small bites. I was introduced to Fireline about 15 years ago and believe you get what you pay for.
Date published: 2015-07-24
Rated 5 out of 5
by
rb4fish
from
Great Braid Line
I have been using Berkley Fireline for almost 20 years No Wind knots, not one. Crystal is the newest color in the line and it is superb. Translucent, almost invisible under water.
Date published: 2017-03-21
Rated 5 out of 5
by
fishdon
from
Love that Fireline Crystal
I have used Fireline Crystal guiding in Minnesota for several years and think it is the best! Now I have good reports for it's use in Florida salt water.
Date published: 2015-02-25
Rated 5 out of 5
by
Jklein
from
Excellent abrasion resistance!!
I fish professional walleye tournaments and guide on north Dakotas Devils lake and fire line crystal is the staple line all others are judged on.
Date published: 2016-04-03
Rated 5 out of 5
by
rmalloy
from
Not just for fishing
Fireline is a staple in the beading industry, used by a majority of beaders. It's strength and durability are perfect for sharp beads like crystals. Another benefit is it is made for the water, which means as long as your components (beads, embellishments and clasps) are able to get wet, you don't have to worry about getting your jewelry wet!
Date published: 2016-07-22
Rated 5 out of 5
by
jonlyn
from
The only thing to use for beading
As all beaders know, FireLine is the only line for a strong, well secured bead project. Other lines are too stretchy and ruin the project before it's complete. We wish more sporting shops carried. It seems that in bead shops it's much more expensive but in sporting goods shops it's reasonable.
Date published: 2015-06-15
Rated 5 out of 5
by
tomTom
from
just wow
Best line i ever used. I mostly fish from shore at lakes and rivers, and its the best. You just can't beat it.
Date published: 2015-01-06
Rated 4 out of 5
by
5150FORDFAN
from
Good Braid
I purchased this braid in stead of my "normal" brand - Smooth and strong, I'll purchase again
Date published: 2015-08-24
Rated 5 out of 5
by
Crestliner
from
One of the best braids on the market
I've been using Fireline since it was introduced, back in the '80's. Just recently - within the past 5 seasons - I've been using it for crappie as my mainline. I join the 2# test Crystal mainline to a fluorocarbon leader, using the Alberto knot. About as fool-proof and dependable as it comes. Have caught hundreds on crappie on this rigging over the years. We cast and drift jigs a lot and have only rarely had the Alberto fail. And the main line never fails. About as good as it gets.
Date published: 2016-06-01
Rated 5 out of 5
by
RecAtp
from
Great Line
On spinning reel, casts great, no wind knots and great feel
Date published: 2017-08-23
Rated 5 out of 5
by
blackcloud
from
simply the the best line i've used
been using FIRELINE it since it came on the market
Date published: 2016-06-16
Rated 5 out of 5
by
Tragedy
from
Great features
I`ve used these lines for years...Never a problem..
Date published: 2016-04-06
Rated 5 out of 5
by
Quiet Wyatt
from
Helps Protect the Enviroment
I use it to fish a strong current river that has a bed of rocks where snags are part of the fishing but since switching to Fire Line Fused Crystal I recover others broken off line and snags. It should almost be required to use as a way to help protect the river and our environment.
Date published: 2016-04-09
Rated 5 out of 5
by
Valco 55
from
Virtually invisible
decided to try a different line. I was pleasantly surprised by the strength and ease of tying knots. No line memory easy casting. Also makes good leader material.
Date published: 2015-04-29
Rated 5 out of 5
by
Richie Outlaw
from
Berkley FirleLine Crystal
Best Line I have used so far. Caught a 17 Inch Sea Trout 2.7 lb. I was using Fireline Crystal 14 lb. But is has diameter of 6 lb mono so the fish cannot see it. I like the extra strength to in case I hook a salmon.
Date published: 2016-05-29
Rated 5 out of 5
by
Roselin
from
excelent
Even though I due not use this product for fishing my experience with it.It does not tangle, stretch nor fray.Perfect
Date published: 2016-01-12
Rated 5 out of 5
by
ecaquino
from
Berkley Fireline Crystal Braided Fishing Line
Perfect size & amount of yardage I needed to do my beading designs.Best price I've ever found.
Date published: 2015-09-10
Rated 5 out of 5
by
Chadrich
from
Best line ever!
My all time favorite line! I use it for spinning and bait casting. Great castability, strength and durable. Would recommend for almost any application.
Date published: 2016-05-30