Berkley Trilene Big Game Fishing Line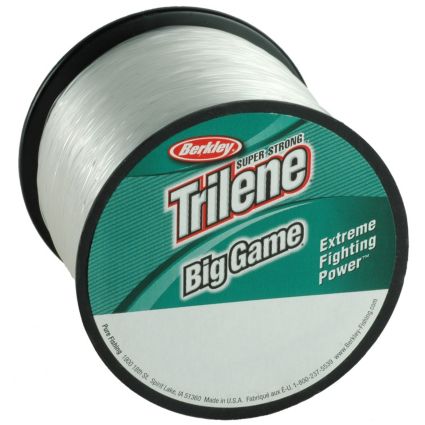 Berkley Trilene Big Game Fishing Line
is rated out of
5
by
114
.
This product is currently out of stock.
Please choose product options above
Please choose product options above
PDP Sticky bottom AddToCart Section - active and hide position
Product Information:
Berkley's ® Trilene Big Game Green Fishing Line provides extra fighting power for when you have the ultimate trophy fish on your line. This shock resistant line is abrasion resistant to hold up against rough or sharp objects. Make sure your big catch doesn't get away with The Trilene Big Game Fishing Line.
FEATURES:
Shock resistant
Extra tough and abrasion resistant
Outstanding knot strength
Durable holding power
Berkley
SPECS:Pound Test: 8 lb.Pound Test: 10 lb.Pound Test: 12 lb.Pound Test: 15 lb.Pound Test: 20 lb.Pound Test: 25 lb.Pound Test: 30 lb.Pound Test: 40 lb.Pound Test: 50 lb.Pound Test: 60 lb.Pound Test: 80 lb.
Brand: Berkley
Country of Origin: United States of America
Web ID: 17BKYUBGGM15LB108FLI
Rated 5 out of 5
by
Fishstick39
from
Best line on market
I have been using this line for the past couple years and has neve failed me... Only lie that I trust now because of my catchs
Date published: 2014-12-16
Rated 5 out of 5
by
Bluezman
from
The best there is!
I have been using Berkley Big Game line for several years chasing catfish on the Susquehanna River in southern PA. Spooled up with 20# line, losing a fish due to line breakage isn't even a concern anymore. Even the seemingly most impossible snags will bust loose without breaking the line. In fact, getting "un-snagged" can be really difficult since this line is so hard to break! The abrasion resistance is outstanding, which is a must in rocky environments. The line is supple, easy to work with, has no memory, and knots stay tight and will not slip out. Pretty much the best of all worlds. Absolutely excellent performance and value. 100% recommended. In fact, toss everything else and re-spool ALL of your reels with this stuff!
Date published: 2014-08-30
Rated 5 out of 5
by
marktwainhawger
from
strongest mono i've ever used
i've used berkley big game for a number of years and have almost never broken this line i use 20# for flipping and have pulled my boat when i snagged up.15# is equilvent to most 20# lines. try it you will be amazed
Date published: 2014-05-27
Rated 5 out of 5
by
Boondock
from
Outstanding Fishing Line, Bar None
After overhearing three guys express their total displeasure with Big Game (BG) line (while spooling on their spinning reels), I decided to write this review based on my own personal experience. Their primary complaints related to BG having 'terrible' memory and one of them even said that he'd loss many nice fish due to BG breakage. First, I have always used the correct BG line pound test rating for the fishing conditions at hand. I've used various BG lines exclusively for both salt and fresh water for many, many years and I am totally convinced that it is certainly one of the most economically-minded, best performing monofilament lines on the market today. BG truly shines when compared to some of the more exotic saltwater-specific monofilaments on the market. Next, I've never experienced a single problem with BG—no premature breakage, no memory problems, no nothing--it simply works. The line is extremely tough and reliable (when used correctly). Finally, I'm a decent person and always try to share information with other people who love the sport of fishing as I do. So, to the guys mentioned in the opening of this review: 1) Do not make claims that products are inferior or no good without first learning about the sport and the equipment used, 2) Never attempt to spool light duty reels with 20-25 pound test line, and 3), If the fish you are pursuing breaks 20 pound test BG, I say leave them alone. They will never be caught on a rod and reel.
Date published: 2014-10-07
Rated 5 out of 5
by
fishy
from
time tested great fishing line
Berkely Big Game Fishing line is an extremely dependable product that has never let me down in many years of fishing in New England. The color green is a great all around color for Mass. salt water fish. It is my go to line for Striped Bass.....
Date published: 2014-08-17
Rated 5 out of 5
by
Photocat
from
I love my Big Game line
I've used Berkley's Trilene Big Game line for years in 10lb-50 lb for my main line on most of my reels and absolutely love it. I've caught fish up to 60 lbs on this line and would trust it for fish up to 200 lbs with out a doubt. When I taught fishing camps, all the back up rods for kids who tangled/fouled/broke their rods were loaded with 10 lb test line and it performed fantastically. Great castability, low memory, great strength and forgiveness (even for kids who wanted to tighten down the drag and crank in everything). My tournament rods were all loaded with 25 lb BTBG and were able to land 40+ lb Blue Catfish during my tournaments with ease. I recommend this line completely and will continue using it. My only complaint is that it doesn't come in light enough line sizes for me to use on my ultra light rods and lighter rods.
Date published: 2016-02-28
Rated 5 out of 5
by
Cperk11
from
Best all purpose line made
I have used tons of different brands of fluorocarbon, mono, and braid, and the Berkeley big game is probably the best all around like there is. What's nice about it is that it doesn't cost much, and they give you a ton of line on a role. I fish bass tournaments every week, and after every tournament i reline all 17 of my lews reels. I've used the green color for awhile now, I recently found that they also make a brown berkley big game, and for here in Alabama, the brown that I'm bout to start using is perfect considering all the dirty muddy waters we have. My only regret is that I can't find the brown anywhere except online, and Walmart is the only store that carries the brown that I've found so far, but if u want a good all around line that will hold some 5-10 lb bass 15-20 Berkeley big game is the way to go. I go through about 1 roll of green 15 lb test and 1 roll of 20 lb test a week, and in that 2 rolls, I've spent less than 15$ and I know by changing the line every week that I won't lose any fish.
Date published: 2017-03-15
Rated 5 out of 5
by
Gulf Coast John
from
Great Value
Being on a fixed income, I can't afford overly exspensive fishing tackle. I've used Berkley fishing line for more years than I can remember, and it never lets me down. My saltwater gear takes a beating but this line can handle the abuse. I've never had a fish break the line, and I've dragged some pretty big rocks off the ocean floor without losing my rig. A very good value for the money.
Date published: 2017-07-28