BodyGlide Anti-Chafe Balm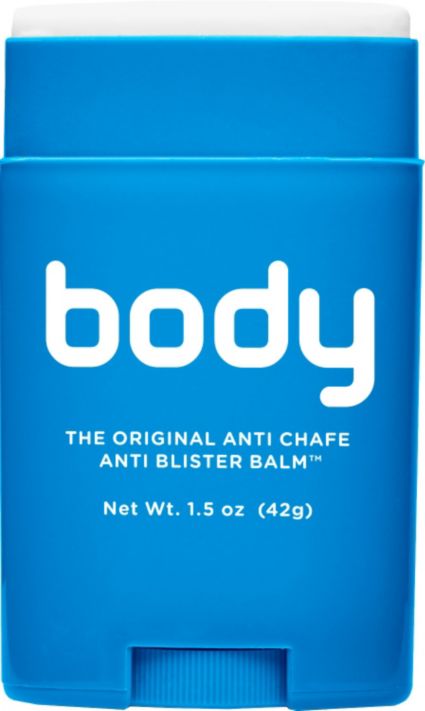 BodyGlide Anti-Chafe Balm
is rated out of
5
by
447
.
This product is currently out of stock.
Please choose product options above
Please choose product options above
PDP Sticky bottom AddToCart Section - active and hide position
Product Information:
Stop trouble before it starts with BodyGlide®'s Anit-Chafe Balm. Leaving you dry the touch, BodyGlide&reg's unique, all-natural formula penetrates the skin to create an invisible, comfortable barrier against friction and moisture without clogging pores or trapping perspiration.
Features:
Helps prevent blisters, chafing, dry skin, saddles sores, cracked skin and rash
Water, sweat and rub resistant
Petroleum-free so it won't clog pores
Allows perspiration to escapes and your skin to breathe
Helps skin retain moisture and offers protection in hot or cold weather
The all natural ingredients wash off with soap
Hypoallergenic
Mess free and easy to apply
BodyGlide
Brand: Bodyglide
Country of Origin: United States of America
Style: BG13
Web ID: 16BGIUBDYGLDXXXXXRIP
Rated 5 out of 5
by
Jill
from
love this product
Never see any other product like this and wonder why more stores don't carry it. Found this years ago and as a runner, it works wonders to prevent chafing. Later I realized that if I put in on my kids at the beach each summer, BEFORE hitting the water the first time, they don't chafe from the sand and they don't wind up with immediate tears and pain. If beach stores knew how great this product was they'd all be carrying it but no one seems to know what it is. I keep one in the beach bag and one to use when I run. I rarely write reviews but this one is definitely worth it!
Date published: 2012-10-17
Rated 5 out of 5
by
Bluekay
from
Just what I was looking for!
My 11 year old daughter LOVES to swim, but prefers to wear swim shirts over traditional swimsuits. This resulted in rashes on her underarms that were very painful for her. After months of trying to find a good treatment for the rash to reduce pain, I googled anti- chafing and came upon this product. We picked some up at Dick's the next day and it's been great! I apply it all over the underside/ inside of her upper arms and no more rashes! It's comfortable to apply even if skin is already irritated and works like a charm!
Date published: 2015-07-06
Rated 5 out of 5
by
smetcalfe3DicksSportingGoods
from
for $10 you'd be crazy not to use this
I was training for my first marathon and during some of my long runs (15+ miles) I would notice a little bit of chaffing on my inner thigh. I was recommended this stuff and I couldn't be happier with it. When I ran the marathon I used it everywhere. Armpits, nipples, thighs, feet & toes, and even lathered up my balls and gooch. Didn't have any problems whatsoever with chaffing.
Date published: 2016-11-17
Rated 4 out of 5
by
hurlyburlygirly
from
Body Glide Anti-Chafe Balm
a couple months ago while running wearing shorter-than-biker-shorts athletic shorts, i noticed i didn't have 'thigh gap', when i began unexpectedly chafing mid-run. that was a first. i was very annoyed, as my short athletic shorts would be kind of useless. i saw 'body glide' and along with it, some hope. i think i've applied it with three workouts. the first two i was very skeptical, as my thighs has a tackiness, kind of annoying, though they did not chafe. this evening, much improved and very good; though my thighs contacted one another, they did glide frictionless.
Date published: 2019-06-09
Rated 5 out of 5
by
Jolls12
from
Life saving!!
I bought this last year specifically for Lollapalooza. Walking around all day 3 days in a row, in shorts, tends to be hard on my thighs...I'm not a big girl, but I don't have tiny thighs and a thigh gap. This stuff was magic!!! It worked so well for me all three days! Now I use it any time I know I'm going for a long walk. It feels great and is so easy to put on. It doesn't smell like anything, and it doesn't leave any residue. It also comes off easy with soap and water. I HIGHLY recommend this to anyone and everyone who chafes anywhere on their body. It's a life saver!
Date published: 2015-05-08
Rated 5 out of 5
by
MinnesotaSwimmer
from
Works great - prevents chafing
I use BodyGlide 2-3 times a week on my armpits while swimming in the pool. BodyGlide prevents all chafing and lasts throughout the entirety of my workouts (45-60 minutes). Once I am finished in the pool, I can easily wipe BodyGlide off in the shower using a papertowel. It also works great on my hands, wrists, feet, and ankles when I put on a triathlon wetsuit. BodyGlide is easy to apply and works great. It is a bit more expensive than I would like, but is well worth the money given how well it prevents chafing.
Date published: 2017-07-28
Rated 1 out of 5
by
posam53
from
Save Your Money...Doesn't Work
I am an avid runner *Marathon's/Half's and Trails* Thought I would give Body Glide a try after dealing with hot spots on the balls of my feet. Applied it rather heavy and did a short 4 mile run *hills and flats*. 30 minutes total and my feet still burned and the product did not reduce the burning sensation at all. When I took my socks off, I could not feel that there was any product remaining on my feet. This product is a waste of money. If it weren't for the cost, I wouldn't be so disappointed. But for all the hype and cost....MAJOR Disappointment and waste of money. Better off just buying a cheap stick of antiperspirant/deodorant, it does the same thing and 1/5 the cost.
Date published: 2014-10-09
Rated 5 out of 5
by
Aminal77
from
no more chafing.
When I started running 6+miles a day the chafing became very conspicuous. After a 9 mile run I had to go to a band performance for my 13 y.o. son. You might know how uncomfortable those chairs are under normal circumstances. Try sitting with composure with 9 miles of chafing between your cheeks. After I did a little research, other products were noted for being oily or greasy. That feeling down there while sweating and running would just make a pleasant experience unpleasant.Since I got the BodyGlide, I have had zero problems with chafing. I don't notice it while I'm running. I don't even notice it before or after. I just notice the lack of irritation. If you're a runner this product is well deserving of its reputation.
Date published: 2013-06-05