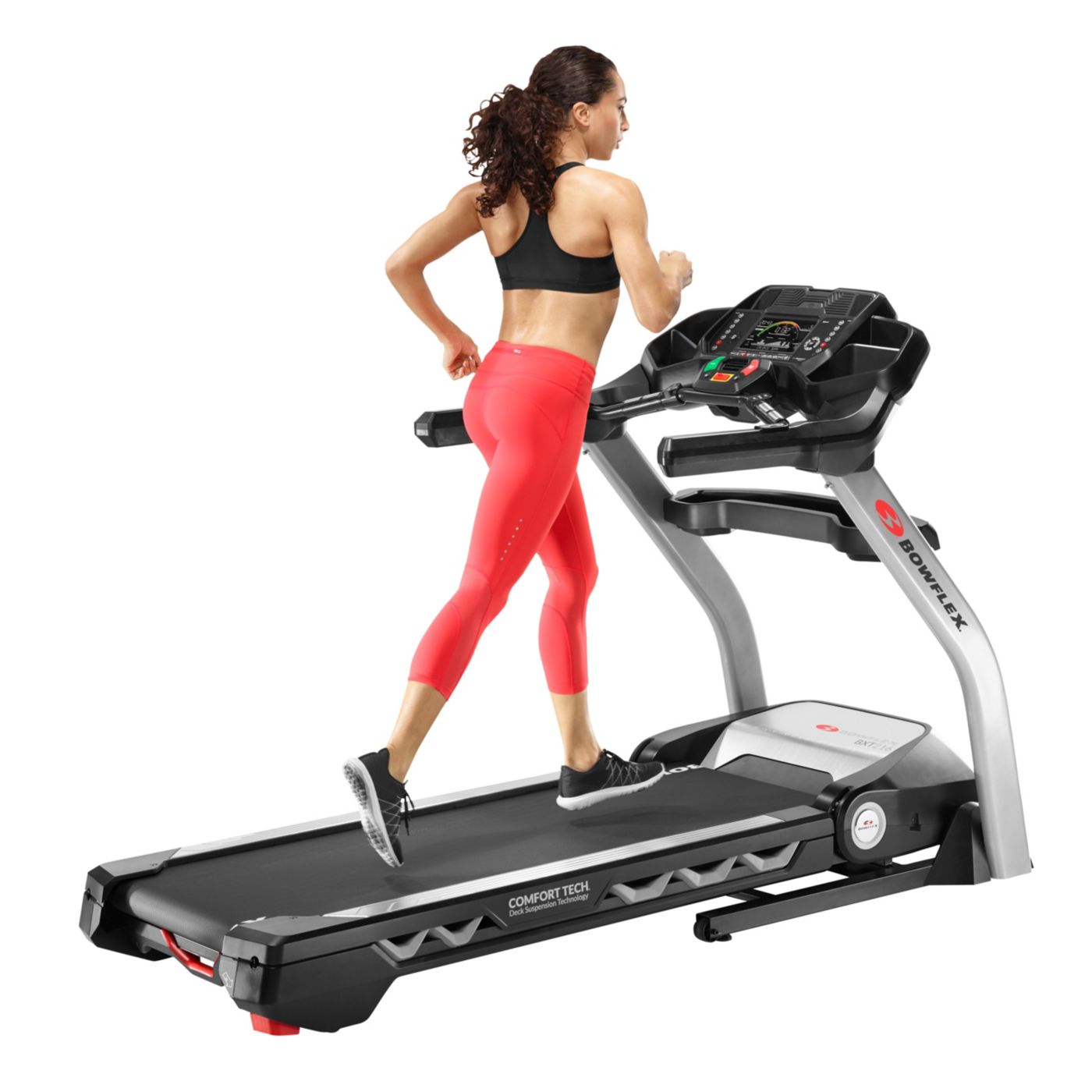 check_circle Added to Cart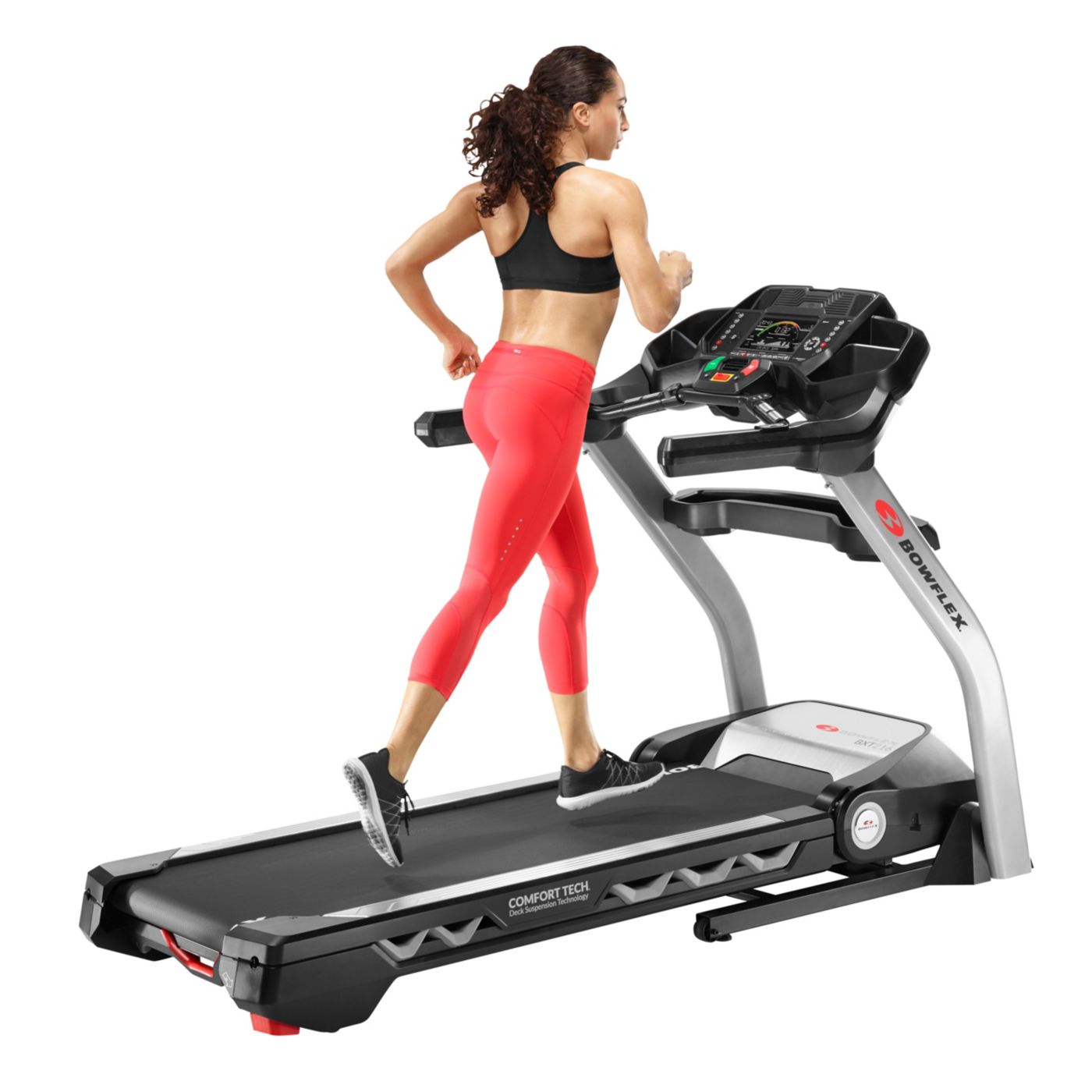 Requires scheduled delivery. Assembly options may be available
Product Information
The Bowflex® BXT216 Results Series™ Treadmill will provide the unique cardio experience you've been craving. It's sleek design is easy to operate and is equipped with all the newest features, including a full-colored liquid crystal screen, one-touch adjustments, and is compatible with many popular apps.
User-Friendly Cardio Fitness Features

Programmable user profile, accessible at the start of each workout
11 intuitive "push and go" workout programs
Compatible with many popular exercise apps
One-touch adjustments for speeds up to 12MPH and motorized incline up to 15%
ComfortTech™ Deck Cushioning System for impact absorption
Oversized media rack and USB charger
Soft Drop™ stowable deck folds for easy storage


State of the Art Technology

9 inch full-colored liquid crystal screen
Introducing Bowflex JRNY™, the personalized coaching technology that integrates with your T216 to create daily, custom workouts and provide in-workout coaching and personalized feedback that encourages and drives users through their workout. *JRNY™
Built-in telemetry and hand grip heart rate tracking
Integrated speaker system allows you to easily enjoy your workout music
4.0 continuous horsepower motor designed to deliver powerhouse performance & durability
RAccess the Explore the World™ app and digitally immerse yourself in a world of virtual races, exotic locales, and stunning trails from around the globe *3 free courses. Unlock more with Explore the World subscription.
"Burn" meter lets you gauge/adjust workouts to your comfort level
Create and save workouts "on the fly" with real-time custom programming


Additional Details

Maximum User Weight: 400lbs
22" x 60" surface deck
Rollers: 2.75"
Belt: 3ply 2.5mm
Assembled Dimensions: LxWxH: 84.5" x 38.5" x 54.7"
Domestic Warranty: 15/15/5/5/2 Years (Frame/Drive Motor/Mechanical Parts/Electronics/Labor)
---
Web ID:

17BFXUBWFLXT216TRTRD

SKU:

18352162
Bowflex BXT216 Treadmill
is rated out of
5
by
56
.
Rated

1

out of

5
by
memoroid
from
Dead on arrival
Bought this product on Feb 3 and item came dead on arrival. Assembly team told us that there's probably a faulty wiring and asked us to contact AIT which is the company that handles the logistics which in turn sub-contracts to other companies. Assembly team came and let us know that the unit won't turn on and asked us to contact AIT. AIT suggested that we contact Dick's which then asked us to contact Bowflex. Bowflex wouldn't send a technician until I diagnose the issue on the phone which involved removing covers over the motor assembly. Why should a customer bounced back and forth on a call after waiting 3 weeks to get it assembled? Instead of sending a technician, why should the customer "diagnose" the issue for subpar product that is dead on arrival? Ended up returning the product
Date published: 2018-02-28
Rated

1

out of

5
by
annn
from
4 WEEKS AND STILL HAVE NOT USED BRAND NEW DEFECTIVE TREADMILL
We bought this treadmill 1 month ago and still have not been able to use it. After 3 long phone calls it was determined we had a defective console. We waited 3 weeks for a replacement part and 1 more week for a service call. Hopefully the technician will come tomorrow and we will finally be able to try our treadmill. Their customer service was very polite and professional, however bottom line...WE SHOULD NOT HAVE TO WAIT 4 WEEKS FOR BOWFLEX TO REPLACE A BRAND NEW DEFECTIVE CONSOLE.
Date published: 2018-03-21
Rated

2

out of

5
by
Irene123
from
Disappointed
I bought this product last month and from day one it did not work correctly. Any incline triggered the computer console to act erratically and slow the belt to an eventual stop. Bowflex responded quickly to replace the console a few weeks later, but a few days after the service, the program got stuck and stopped working mid-workout. Bowflex said they will look into it but have not replied in over a week, and Dick's still has yet to reply about a machine that hasn't worked properly since it was purchased.
Date published: 2018-01-23
Rated

2

out of

5
by
Flores family
from
Let down
I've purchased 3 proform treadmills in the past. I was highly disappointed with them. We saved up and purchased a BOWFLEX!!! Booooo! You would think a supposed superior product would work like a champ. Nope, nope, nope! The belt consistatly moves to the left. I called Bowflex customer service and they directed me to read the manual on the first call. Fine. 2nd call they confirmed I followed the manual. Yes I understand which way to adjust the bolts to straighten the Mat out, same issue they sent out a technician to trouble shoot our machine and install new parts just in case it was oringally built with faulty parts. With 2 visits from the technician the issue is still happening? The technician had to tweak the rollers to "try" and prevent it from moving to either side. Nothing. A very sad let down. Save your money. Not safe enough to run or walk on for long periods.
Date published: 2018-05-01
Rated

1

out of

5
by
fletcher1975
from
Doesn't work
Just spent three hours assembling this monster. The upper board with electronics seems to be working fine but no power to the treadmill itself. We were excited after spending nearly $2000 on a machine only to be let down. Now apparently we have to call customer service to find out what they're going to do about it . Also the decals to identify the buttons are not in English. Guess they forgot to include those. Not very happy right now
Date published: 2018-08-20
Rated

1

out of

5
by
Broke mom
from
Worst treadmill ever. Total waste of money.
I bought this for my son last December for the holidays. He was so excited about it. It lasted a few months and then started breaking repeatedly. Bowflex sends us new parts and makes us fix it ourselves. Needless to say, this doesn't work. The treadmill has been broken for the majority of time we've had it. Dicks will not replace it or issue a refund or do anything. We also purchased the extended warranty for nothing. It's useless. Do yourself a favor. Don't buy this.
Date published: 2019-10-18
Rated

5

out of

5
by
mynicknamewastaken
from
Great quality for a home treadmill
Most of the professional reviews of this treadmill were positive, the only con listed as being it was new to market and untested in the long term, but that it's still made by a recognized brand with a history of quality so I took a chance. I've had this for a little over three weeks and could not be happier. It is fairly quiet while the motor is running, it has a decent amount of incline, heart rate monitoring via grips or use of a chest strap(and one is included), incline and speed can both be adjusted with buttons on the side arms, the front grips near the heart rate monitors, or the control panel. Incline seems to adjust quickly, or at least quick enough to not feel sluggish, and the speed adjustment kicks in smoothly. While a full color LCD, the screen is limited to the information you can see. It does NOT play video or anything fancy like that, but there is a place to hold a tablet or phone, or if you're at home you likely have a tv in the room anyway so it's not a negative. There are bluetooth speakers, and I believe tracking via an app, though I have no tried either yet. One of the best features is a small 3-speed fan built in, BUT, it is located on the front grip area near the start/stop buttons and has limited movement. A shorter person who runs/walks near the middle or end of the deck will not be able to feel the fan, but as long as you're in the right area it's amazing. Not too powerful, just the right amount of breeze. There are a lots of areas for your "stuff"(keys, phone, water, etc.) I mean, a LOT. Two large holders on either side of the main console, and two smaller holders in front of those, a nice sized lipped shelf above the console for a book/tablet/phone, and below the console there is another storage tray spanning the two arms of the machine with room for bottles, etc. I keep my machine at work and have room to keep my change of clothes and water bottle and even shoes in these holders, clean and out of the way. A few things to note: 1. Unloading is NOT a one or even two person job. The gross package weight is 340lbs and it is approximately 2ft x 8ft x 1.5ft. I made the mistake of trying to unload it myself, and while I managed it took almost an hour to get it from the truck bed to inside the door I was backed up to, and I ended up with a huge box stuck where the treadmill was not going, so I needed to call a friend to help move the deck/motor which is one piece and the bulk of the weight. You absolutely must have adequate help to unload and move this thing where it's going. That said, actual assembly is easy enough with one person, but would be a breeze with two. Hardware is labeled well and the instructions are easy. 2. There is a rattling noise at times, mostly when at zero incline. I have narrowed it down to the wheels on the frame(the ones use for moving the treadmill when folded) and the ones at the back. Also when I am moving an a brisker pace on a higher incline and am really close to the front of the deck, I'll get a little clicking type sound which seems to just be the incline mechanism flexing. It seems to stop when centered on the deck more. If you are easily distracted or annoyed, these may bother you, but it's hard to call it a con as it's pretty minor. 3. The belt is pretty abrasive. If you drag your feet a lot it will start taking rubber from your shoes. I switched from shoes with red soles to new ones with very light soles, and there is dark red stuck in the new ones. Again, not a con for me and relatively minor, but worth noting. Actual "cons": 1. The pre-installed workouts are a little limited. Just buttons to choose from which are either incline or speed programs, and with the interval ones you choose the max speed, or with the calorie goal you can set the goal, but they leave a bit to be desired, and the calorie/fat burn/heart rate programs top out at 30 minutes so if you want to do more you have to stop and start again with the same or a different program. While the quality is there for an almost commercial treadmill, it may be lacking for people who do serious training on one. That said there is always a manual mode where you control the speed and incline and there is no set stop time. 2. The cord is in an awkward spot. Three times I have had the machine just shut off in the middle of a workout. The cause? The cord jiggles a little while the machine is being used, especially if you're walking/running "hard" on it, and when it goes into a steep enough incline it seems to be enough to make the cord drop just enough to come out of contact and lose power. The fix is obviously to do what you're supposed to do and check the machine out before using it, but it is definitely annoying to be in the middle of a 30min program and then need to start over, and I can see this being something certain people would return it over. If that's you, you've been advised. Again, as far as things that could be bad, I'm nitpicking as far as I'm concerned. For the the price, it's an excellent machine and seems to be very well made.
Date published: 2018-01-26
Rated

4

out of

5
by
Paiiiep
from
Great treadmill
I paid Dicks to deliver and assemble the treadmill. The guys couldn't complete the set up on the first day. Scheduled another day and cancelled right before. Then bow flex had to send someone out to complete the set up! Dicks refused to reimburse me my assembly fee even though i had to take 3 days off work and their guys didn't even do it! Will never make a purchase like this from them again. Would pay more somewhere else instead.
Date published: 2018-11-14
We're testing out a new product page experience, and we'd love your feedback.
SHARE YOUR THOUGHTS