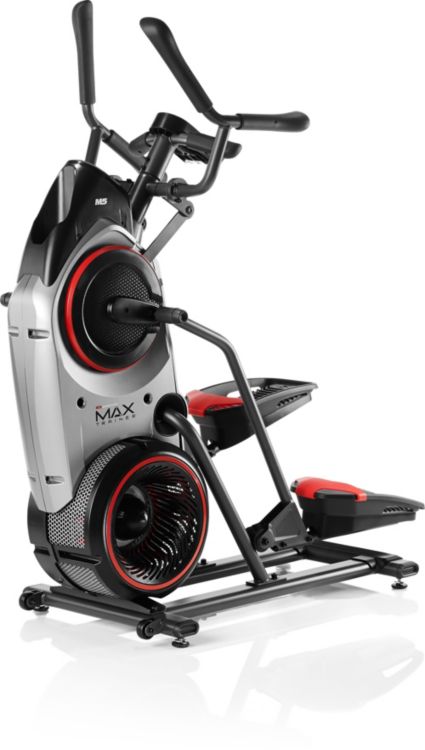 Bowflex M5 Max Trainer
is rated out of
5
by
77
.
This product is currently out of stock.
Please choose product options above
Please choose product options above
PDP Sticky bottom AddToCart Section - active and hide position
This item requires specialized installation which, if selected, may require a separate appointment from the delivery date shown during checkout.  The assembly date and time of appointment will be scheduled once delivery is in process. The delivery date shown at checkout is an estimate of the initial delivery date only
Product Information:
With the Bowflex® M5 Max Trainer®, you can get a quality workout in less time. This low-impact cardio machine burns calories while being easy on your joints. Featuring computer-controlled resistance and the latest technology, this machine is the total package for your fitness regime.
Maximum Cardio Burn

9 pre-programmed workouts, including the 14-minute max interval workout
Target-zone and burn-rate indicators
Space saving design
16 computer-controlled resistance levels
8 Workout Programs: Max Interval, Smart Max Interval, Calorie Burn, Fat Burn, Calorie Goal, Stairs, Steady State, Fitness Test, and manual mode
Max combines the easy, low impact motion of an elliptical with the calorie burning power of a stepper
Max activates muscle and helps incinerate calories in every full-body workout


User-Friendly Technology

Backlit display and Bluetooth® compatible
Syncs with free Max Trainer® app
Heart-Rate Monitor: Integrated contact grips and chest strap
Water Bottle & Media Shelf/Tablet Holder


Additional Details

Maximum User Weight: 300lbs
Dimensions: 46.1" L x 25" W x 62.9" H
Minimum Ceiling Height: User height + 15"
Assembled Product Weight: 143 lbs. (Integrated transport rollers included)
Power Source: Included AC Adapter
Warranty: 2 years
Web ID: 17NAUUM5MXTRNRXXXMSC
Rated 2 out of 5
by
LauraS99
from
Beware! Bowflex has horrible customer service!
Bought a M5 in November and it's now making loud odd noises. When I called Bowflex customer service they informed me I will have to basically take it apart using several tools which I have to buy so it can be trouble shot over the phone instead of sending a technician out like they should since it IS under warranty. Only after I take it apart and they have an idea of what's wrong will they send a technician out. What a joke. Save yourself time and energy and find a different brand cardio machine.
Date published: 2018-01-17
Rated 5 out of 5
by
great scott
from
good programs, solid quiet machine, versitile
I love having a 15 minute workout that works, have been using this for just about a month and I don't think I can live without it now. Workouts can be as challenging as you want them to be. The programs are easy to follow with clear displays of calories burned, intensity (ect.) I now often do two workouts back to back and I am amazed how my body has changed in a month. The machine is solid, comfortable and much easier on joints that running. I know its pricey, but I do not regret the purchase
Date published: 2018-03-10
Rated 5 out of 5
by
Jeff567
from
Fantastic Low Impact Workout
Very happy with this purchase. The workout is smooth and is as intense as I want it to be. I am an aging Athlete with some past injuries that are limiting my ability to do the workouts I used to do. This gives me a workout that is just as intense, if not more, without the impact of the other excercises.
Date published: 2017-11-26
Rated 2 out of 5
by
jefp24
from
Poor Quality
We have owned this machine for 7 months and have already needed to replace the rubber roller wheels twice. The machine makes a loud squeaking noise and is pretty much unusable. For the price of this machine, the quality should be much better. This turned into a very expensive dust collector. The workout is great ... just wish the machine was built to last. If you are looking for an elliptical, spend the extra money for a better built machine or spend your money on a gym membership because this product is not worth the money.
Date published: 2018-08-27
Rated 5 out of 5
by
George55
from
Well worth the money
I bought bowflex max trainer (m5) 2 weeks ago and within 3 days the delivery and setup was being done. They even helped move my old elliptical machine to the garage. They also helped me set up the the warrany and order a part that was missing in the box. The warranty company was awesome. The only bad thing was dicks only warranties 3 yrs at a very high price. Bowflex warranties the bow flex for 5 yrs for a cheaper price.
Date published: 2017-12-28
Rated 4 out of 5
by
Jimbo S
from
Very solid, nice design.
This is a very well made machine with good motion on it...low impact on the knees, and a smaller footprint for those of us without much space. It is heavy for its size with a solid feel to all moving pieces. Assembly was not too difficult and I did it myself. On the down side, the fan puts out a lot air, but not a lot is directed at me. Also, the heart monitor was intermittent to begin with, and now totally inop. Haven't called Bowflex yet.
Date published: 2018-01-22
Rated 5 out of 5
by
Anonymous
from
Kicks your butt!
Recently purchased the Max Trainer M5 (MT) due to a number of reasons: 1.) I was tired of driving to the gym and encountering no equipment available and, after a long day of work, I would come home and not want to get out of the chair out of pure exhaustion. 2.) I wasn't getting much out of the ellipticals. 3.) Treadmills/walking/jogging were out of the question because of my ball of foot pain. Then I thought the best way to ensure that I'll get some cardio in was to cancel my gym membership and purchase this out of convenience. Tried this at the store and felt no pain anywhere. It was really easy on the joints and really worked out your quads. I tried to keep an open mind whether or not it could even give me an exhausting cardio workout in just 14 minutes using the Max Interval workout. After doing the first workout, I couldn't believe how much it kicked my butt. After you take the fitness test, it'll gauge where you RPM range should be when doing the Max Interval. It starts off w/ 25secs doing high-intensity and then 85secs of low intensity, then back again. I got on the MT again the following day and I didn't realize how fatigued my legs were and I could feel muscle soreness in my arms/abs as well. It's really deceiving and I'm not a sedentary person. I'm fairly active and have some pounds/fat to lose. There are also additional workouts and two users can record their workouts. The one thing about this, I wish it would alert you to be sure that you are the correct user (i.e. #1 or #2) because I've gotten on in the morning, half asleep, and forgot to change the user setting prior to starting my workouts. I've also been following the Bowflex 14-day kickstart meal plan and have already lost 3 pounds and 1% body fat just after 3 days. I'll be curious to see what the results will be after 14 days. On a side note, the display model at the store had the MT M5 sitting on a Bowflex equipment mat, which I thought would come with it. Disappointed when it didn't. Also, the equipment came in only ONE box. It was loaded in my truck at the store, but I had to take it out once I got home, but it was extremely heavy for one person. There should be TWO boxes, especially for those who choose to take the item home and assemble it themselves.
Date published: 2018-04-12
Rated 3 out of 5
by
Tucks
from
Bowflex M5 Max Trainer
I bought this 2 weeks ago and I love the workout I get however, the left pedal is already making a clicking sound. I am disappointed with how this is not solidly manufactured for the expensive price.
Date published: 2018-03-06