Brooks Women's Ariel 18 Running Shoes
The price of the product might be updated based on your selection
{ "warrantyData" : [ { "ProductSKU" : "19181027", "ProductUniqueId" : "4097458", "warrantySKUS" : [ ] }, { "ProductSKU" : "19181029", "ProductUniqueId" : "4097459", "warrantySKUS" : [ ] }, { "ProductSKU" : "19181031", "ProductUniqueId" : "4097460", "warrantySKUS" : [ ] }, { "ProductSKU" : "19181034", "ProductUniqueId" : "4097461", "warrantySKUS" : [ ] }, { "ProductSKU" : "19181035", "ProductUniqueId" : "4097462", "warrantySKUS" : [ ] }, { "ProductSKU" : "19181037", "ProductUniqueId" : "4097463", "warrantySKUS" : [ ] }, { "ProductSKU" : "19181040", "ProductUniqueId" : "4097464", "warrantySKUS" : [ ] }, { "ProductSKU" : "19181042", "ProductUniqueId" : "4097465", "warrantySKUS" : [ ] }, { "ProductSKU" : "19181045", "ProductUniqueId" : "4097466", "warrantySKUS" : [ ] }, { "ProductSKU" : "19181049", "ProductUniqueId" : "4097467", "warrantySKUS" : [ ] }, { "ProductSKU" : "19181052", "ProductUniqueId" : "4097468", "warrantySKUS" : [ ] }, { "ProductSKU" : "19181054", "ProductUniqueId" : "4097469", "warrantySKUS" : [ ] }, { "ProductSKU" : "19181057", "ProductUniqueId" : "4097470", "warrantySKUS" : [ ] }, { "ProductSKU" : "19181048", "ProductUniqueId" : "4097474", "warrantySKUS" : [ ] }, { "ProductSKU" : "19181051", "ProductUniqueId" : "4097475", "warrantySKUS" : [ ] }, { "ProductSKU" : "19181053", "ProductUniqueId" : "4097476", "warrantySKUS" : [ ] }, { "ProductSKU" : "19181056", "ProductUniqueId" : "4097477", "warrantySKUS" : [ ] }, { "ProductSKU" : "19181059", "ProductUniqueId" : "4097478", "warrantySKUS" : [ ] }, { "ProductSKU" : "19181063", "ProductUniqueId" : "4097479", "warrantySKUS" : [ ] }, { "ProductSKU" : "19181064", "ProductUniqueId" : "4097480", "warrantySKUS" : [ ] }, { "ProductSKU" : "19181066", "ProductUniqueId" : "4097481", "warrantySKUS" : [ ] }, { "ProductSKU" : "19181069", "ProductUniqueId" : "4097482", "warrantySKUS" : [ ] }, { "ProductSKU" : "19181071", "ProductUniqueId" : "4097483", "warrantySKUS" : [ ] }, { "ProductSKU" : "19181073", "ProductUniqueId" : "4097484", "warrantySKUS" : [ ] }, { "ProductSKU" : "19181074", "ProductUniqueId" : "4097485", "warrantySKUS" : [ ] }, { "ProductSKU" : "19181077", "ProductUniqueId" : "4097486", "warrantySKUS" : [ ] }, { "ProductSKU" : "19181080", "ProductUniqueId" : "4097487", "warrantySKUS" : [ ] }, { "ProductSKU" : "19181159", "ProductUniqueId" : "4097492", "warrantySKUS" : [ ] }, { "ProductSKU" : "19181160", "ProductUniqueId" : "4097493", "warrantySKUS" : [ ] }, { "ProductSKU" : "19181163", "ProductUniqueId" : "4097494", "warrantySKUS" : [ ] }, { "ProductSKU" : "19181165", "ProductUniqueId" : "4097495", "warrantySKUS" : [ ] }, { "ProductSKU" : "19181168", "ProductUniqueId" : "4097496", "warrantySKUS" : [ ] }, { "ProductSKU" : "19181169", "ProductUniqueId" : "4097497", "warrantySKUS" : [ ] }, { "ProductSKU" : "19181171", "ProductUniqueId" : "4097498", "warrantySKUS" : [ ] }, { "ProductSKU" : "19181174", "ProductUniqueId" : "4097499", "warrantySKUS" : [ ] }, { "ProductSKU" : "19181175", "ProductUniqueId" : "4097500", "warrantySKUS" : [ ] }, { "ProductSKU" : "19181178", "ProductUniqueId" : "4097501", "warrantySKUS" : [ ] }, { "ProductSKU" : "19181179", "ProductUniqueId" : "4097502", "warrantySKUS" : [ ] }, { "ProductSKU" : "19181181", "ProductUniqueId" : "4097503", "warrantySKUS" : [ ] } ] }
PROTECTION PLAN
(optional)
Info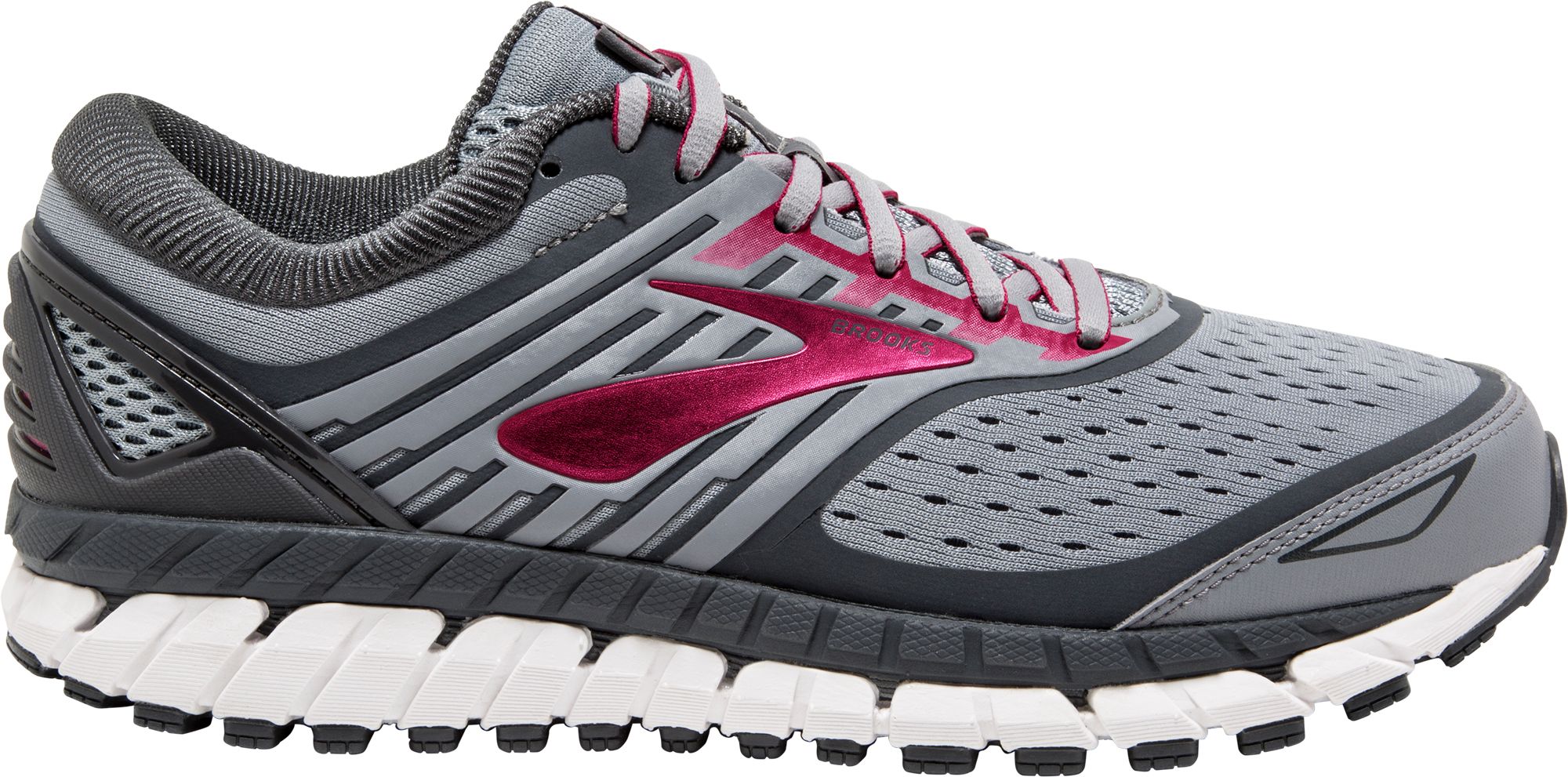 Brooks Women's Ariel 18 Running Shoes
Selected Option Not Available to Ship
Selected Option Not Available For Pickup
PDP Sticky bottom AddToCart Section - active and hide position
This product is currently out of stock.
Please choose product options above
Please choose product options above
For the ultimate in protective comfort and a roomier fit you'll love choose the Brooks® Women's Ariel 18 Running Shoes. Constructed with a full-length Segmented Crash Pad that accommodates any foot landing and Progressive Diagonal Rollbars in the midsole to counteract the foots tendency to overpronate for smooth heel-to-toe transitions as you stride. The updated last makes for a more spacious forefoot while the supportive saddle and external heel counters help reinforce stability.
FEATURES:
Engineered air mesh uppers deliver spacious toe boxes
Structured saddles and external heel counters help reinforce stability
Progressive Diagonal Rollbar (PDRB®) in the midsole counteracts your foots tendency to overpronate, smoothing transitions
Full-length Segmented Crash Pads accommodate any foot landing for smooth heel-to-toe transitions
Updated last shape delivers more spacious forefoot areas
Supportive saddles and external heel counters wrap foot for a secure fit
Sockliners add cushioning for a plush in-shoe feel
SPECS:
Shoe type: Motion control
Previous model: Brooks Ariel 16
Heel-toe drop: 12 mm
Weight: 1 lb 7.6 oz
Brand: Brooks
Country of Origin: Imported
Style: 120271
Web ID: 18BROWRL18GRYPNKXFTW