Callaway 2018 Chrome Soft Golf Balls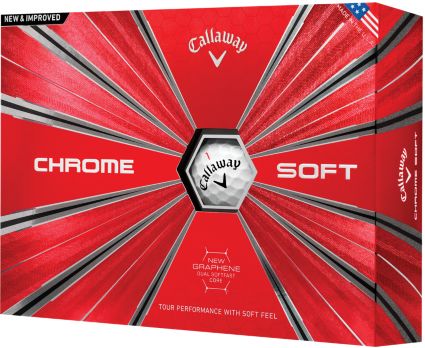 Callaway 2018 Chrome Soft Golf Balls
is rated out of
5
by
67
.
This product is currently out of stock.
Please choose product options above
Please choose product options above
PDP Sticky bottom AddToCart Section - active and hide position
Product Information:
Better to the core, the Callaway Chrome Soft Golf Balls combine Tour-proven performance with unparalleled feel and exceptional mis-hit forgiveness. The new Graphene Dual SoftFast Core features a larger inner core and lower compression for high launch, long distance and increased forgiveness. A faster SubMantle pairs with the thin, ultra-soft Tour Urethane cover to deliver fantastic feel and shot-controlling, stroke-saving spin on scoring shots.
Product Highlights:
Chrome Soft vs. Chrome Soft X
Chrome Soft: Designed for golfers seeking the softest feel, best forgiveness and straight ball flight
Chrome Soft X: Designed for golfers seeking soft feel, high forgiveness and workable ball flight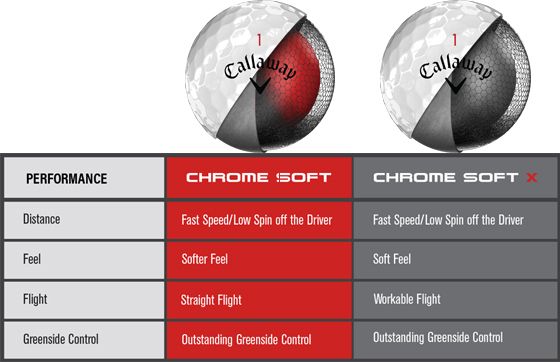 Fast Ball Speeds & Low Driver Spin
New Graphene-infused Dual Soft Fast Core with a new, larger inner core maximizes compression energy while minimizing driver-spin and promoting high launch for longer distance
Distance & Control Through The Bag
Premium dual-core construction promotes more distance off your longer clubs and more control off mid irons, short irons and wedges
Lower compression core compresses easier on off-center hits for incredible distance on impacts all over the club face
Ultra-Soft Feel with Pinpoint Greenside Control
Thin, ultra-soft Tour Urethane cover feels fantastic and generates shot-controlling, stroke-saving spin on pitches and chips
Fast SubMantle, soft Tour Urethane Cover and low compression core combine for unparalleled feel
Details:
Callaway made everything about the ball that changed the ball even better
HEX Surface Geometry dimple pattern generates long, penetrating and stable flight
332-dimple pattern creates complete coverage for optimized accuracy and control
4-piece design enhances control through the bag, especially from 100 yds. and in
12 Pack
Brand: Callaway
Style: 642125512
Web ID: 18CWYM2018CHRMSFTGBL
Rated 5 out of 5
by
jamesfox48
from
Amazing new ball! You must try it!
Great ball! I switched over from the most used tour ball to the Chrome Soft because it feels so much better being a softer compression yet it is still very durable. I love how the ball is so much easier to compress than my last ball. My scores are lower and I'm completely satisfied with this new ball. #winner #callawaygolf
Date published: 2018-03-25
Rated 5 out of 5
by
Gosset303
from
Phenomenal top tier golfball
I've been a ProV player for years due to the consistent performance and brand recognition. Over the years Callaway has been all over the place in their ball branding and I could never get on board. Over the last 12 months I've been able to try some Chrome Soft balls and these are the real deal. From the green and moving back to the tee box, they really are a game changer. They feel great off the putter face and the feedback is immediate. Around the green, no matter the shot trajectory or spin, I have full confidence in these golf balls to do what I see in my mind. Off of irons, they really seem to almost float in the air longer Vs. a super fast screaming ball flight that peaks fast and then falls. They almost seem to reach their peak trajectory and have almost a plateau effect as they softly fall back to the earth. - It makes it really beneficial when hitting long irons. Off the driver face, the sound is great and the shot shape ability is just as good as other top tier golf balls. I'll never pick a golf ball because of how good it feels off the driver face. In all, these golf balls feel and sound great and the durability is better in my opinion than other top tier golf balls out there. Definitely worth a try if you're a ProV/B330/TP5/Zstar player.
Date published: 2018-04-13
Rated 5 out of 5
by
CK83CK
from
Switched from ProV1x
This is actually a great golf ball! I've only played ProV1x for most of my golfing life and I recently tried the new Chrome Soft and Chrome Soft X and have made the switch. My buddies give me crap for it, but hey, when I can stop the ball on a dime and use it for multiple rounds I laugh at them! I would have to say I prefer the Chrome Soft over the X. To me, the X does not spin as well on the greens, but that's just me. Overall great feeling ball off every club in the bag; it has such a buttery feel to it. The compression is great. The spin is great. Wedges to 3W, it stops on the green like a heat seeking missile! Very happy with the new Chrome Soft balls and have 6 dozen sitting in the garage!
Date published: 2018-05-24
Rated 5 out of 5
by
Jackie2Pops
from
Soft Feel, Nice Distance
Soft Feel, really feels good off the club face. I swing my driver 100-105 and it felt great, flew straight and true. Wedge spin is good. Stops when it should. It did get scuffed up over 18 holes from wedges, but it lasted all 18 and the scuffs didn't affect ball flight. I do have a steep approach on my irons so that could have something to do with the scuffs.
Date published: 2018-04-06
Rated 5 out of 5
by
Pete S
from
Great ball for a 21 handicap.
I splurged on these for a tournament I was invited to at the TPC sawgrass. The distance off the tee is about average for my game, 225 to 250, but what I love about these is that when they hit the green, they STOP. My longer irons are a bit inconsistent with my skill set, but when I did manage to hit a green with a 4 or 5 iron the ball just died and stayed there. I hit wedges and 9 irons inside of 130 yards and parked three shots to less than 8 feet, and this was with the TPC greens in super fast conditions. Great ball for guys like me, I'll buy more of them!
Date published: 2018-10-23
Rated 5 out of 5
by
3 putt
from
Great Ball
I have been playing the Chrome Soft X for several months. I used to be an exclusive ProV1x golfer but thought I would try the Chrome Soft. This was the first ball I have tried that I liked better than the ProV. I found it to be slightly longer with all the same flight and feel characteristics of the ProV and less expensive. Another big plus is I have played 4 or 5 rounds with the same ball with no drop off of performance (as long as I don't hammer one on to a cart path and scuff it up). (I am a 9-10 handicap with a 90-93 swing speed for a reference point)
Date published: 2018-12-13
Rated 5 out of 5
by
Mazz
from
Great durability
Good distance off the tee and long irons. Not as gripping on the greens with short pitches
Date published: 2018-04-15
Rated 5 out of 5
by
Ray
from
Go ahead take the Chomesoft Challenge!!
I love this ball on average my drives are 15 yards longer than a ProV1 ball. Sure everyone is different ball go ahead and take the the Chromesoft Challenge I did and I did change balls.
Date published: 2019-01-11