Callaway 2018 Chrome Soft X Golf Balls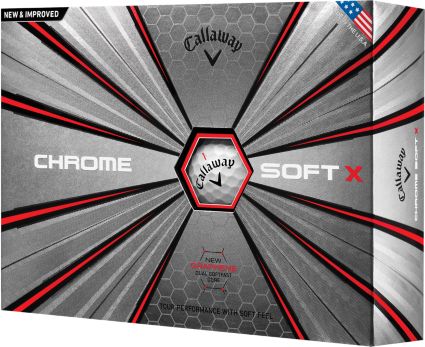 Callaway 2018 Chrome Soft X Golf Balls
is rated out of
5
by
24
.
This product is currently out of stock.
Please choose product options above
Please choose product options above
PDP Sticky bottom AddToCart Section - active and hide position
Product Information:
Innovations at every layer result in Callaway Chrome Soft X Golf Balls. Designed to combine Tour-proven performance with unparalleled feel and exceptional forgiveness, Chrome Soft X features a new Graphene Dual SoftFast Core with a larger inner core for high launch, long distance and increased playability. A faster SubMantle pairs with the thin, ultra-soft Tour Urethane cover to deliver fantastic feel and shot-controlling, stroke-saving spin on scoring shots.
Product Highlights:
Chrome Soft vs. Chrome Soft X
Chrome Soft: Designed for golfers seeking the softest feel, best forgiveness and straight ball flight
Chrome Soft X: Designed for golfers seeking soft feel, high forgiveness and workable ball flight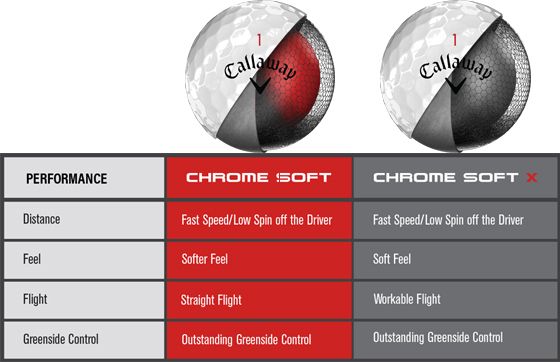 Fast Ball Speeds & Low Driver Spin
New Graphene-infused Dual Soft Fast Core with a new, larger inner core maximizes compression energy while minimizing driver-spin and promoting high launch for long distance
Distance & Control Through The Bag
Premium dual-core construction promotes more distance off your longer clubs and more control off mid irons, short irons and wedges
Lower compression core compresses easier on off-center hits for incredible distance on impacts all over the club face
Ultra-Soft Feel with Pinpoint Greenside Control
Thin, ultra-soft Tour Urethane cover feels fantastic and generates shot-controlling, stroke-saving spin on pitches and chips
Fast SubMantle, soft Tour Urethane Cover and low compression core combine for unparalleled feel
Details:
Callaway made everything about the ball that changed the ball even better
HEX Surface Geometry dimple pattern generates long, penetrating and stable flight
332-dimple pattern creates complete coverage for optimized accuracy and control
4-piece design enhances control through the bag, especially from 100 yds. and in
12 Pack
Brand: Callaway
Style: 642405512
Web ID: 18CWYM2018CHRMSFTGBLF
Rated 5 out of 5
by
TigerFan91
from
Nice Ball
When I talk to people and they tell me that they don't see or feel a difference between last year's Chrome Soft line and this year's Chrome Soft line, I call shenanigans. There is a world of a difference between the two. The new one feels so much softer and is a lot more durable. I need durability in a golf ball because of some of the courses I play here on Long Island. We have a lot of courses with bare lies and tiny pebbles in the bunkers...so you need a durable golf ball. I, personally, play the Chrome Soft X and I love the flight I get off the tee and fairway. I especially love the way I can manhandle the golf ball when I have a short iron or wedge in my hands.
Date published: 2018-04-19
Rated 5 out of 5
by
PWD
from
Pleasant Surprise
I purchased two dozen of these out of curiosity. I've always played the competitor's X ball and didn't have any issues with it, except for durability, which was a minor issue. The new chrome soft felt much better than previous versions and the performance seemed to be as good as any. I felt the cover's durability was a little bit better than the competitor's. I feel like this ball is going to be my gamer for the '18 season. My only "complaint" is the logo and lettering. I know it's very petite but I would like a "cleaner" ball. Easy to overcome that little preference with the performance, though.
Date published: 2018-03-29
Rated 5 out of 5
by
JakeG8
from
Best Callaway Ball Ever
Exceptional feel around the greens, with better control and distance. I didn't think Id play Callaway balls again but I think this is by far my favorite ball on the market.
Date published: 2018-02-24
Rated 5 out of 5
by
JJGDYR
from
BOMBS AWAY!!!
I would like to consider myself a bit of a golf ball snob. I've been playing callaway golf balls for over 7 years. And I've tried them all. I have also tried some of the latest balls from the competition. Here's my take. W O W! THE NEW BALLS ARE AMAZING! First of all. They're longgggg in every way possible. I reached areas off the tee I've never been before. Driver and fairway woods are easily 10-20 yards longer than last years chrome soft x balls. Irons shot are about 10-12 yards longer. Hitting wedges and short iron approach shots.....make me feel like Phil Mickelson! The control around the greens is crazy good. Hit a hard wedge and you are rewarded with a ball that checks next to where it landed. Hit a softer shot coming in and the ball releases and rolls perfectly nicely. My putter loves this ball. Nice little click at impact. And then the ball just wants to go to its home. Ha! I tried the tp5x after hearing about how long it was. But for me and my slightly above average swing speed, I could never really compress the tp5x very well. In cold weather the tp5x feels like I'm trying to compress a rock. And because I couldn't compress it, I always came up short on distances. Titleist balls are good. But I love the new callaway ball! Chrome soft x balls compress sooooo easily and feel buttery smooth on every shot. The new balls are easily longer off the tee than the prov1's. U can immediately tell there's a big difference in the 2018 ball compared to last year. The cover is extremely durable. Also, THE BALL FLIGHT IN THE WIND IS AWESOME! The ball doesn't move sideways is crosswinds. Extremely stable. So what's the downside? It can't be songs of wine and roses throughout this whole review can it? Just one complaint, I need a bigger garage to store a pallet of these balls. I certainly don't want to let my Sunday playing partners to get their hands on these balls. I want this to be my secret weapon. I thought last year was an "epic" golf year for my game. But with this new ball I'm gonna go rogue on my friends and do some serious damage to their wallets! Thanks callaway for making a perfect golf ball! I have to go soak my fingers now. That's a lot of typing on my phone.
Date published: 2018-02-24
Rated 5 out of 5
by
Txpgapro
from
Just a GREAT ball!
Long, very soft, spins when I need it to, and a great combination off the Rogue driver!
Date published: 2018-03-01
Rated 5 out of 5
by
Golfer41
from
Great Greenside Control!
I've been playing this ball for a while now. I absolutely think that it's better than every other ball out there! For me, it doesn't go that much farther, but it is so good around the green and with the short irons. You can go right at the pin, and the ball will stop very quickly. I have never played a better ball around the greens. I play this ball because of the spectacular feel, and the great spin around the green.
Date published: 2019-03-13
Rated 5 out of 5
by
Leftey49 in AZ
from
This product fits my club head speed
I have been playing the Chrome Soft for a long time, when the Chrome Soft X came out. I decided to try the ball fitting by Callaway. I found that the Chrome Soft X fit my stats, so I decided to try the X , and I was amazed with the out come. The purchase I made was a Birthday gift to myself, I order the # 69 on the balls for my birthday in December thks Callaway
Date published: 2018-10-20
Rated 5 out of 5
by
mcbrim1998
from
Chrome X Travels Farther for Me
I like this ball because it seems to travel further than the Pro-V1, yet I get the same "check up" when hitting a chip, which is very important for my game. Because of my age, I have lost distance, so my short game is more critical to scoring. The Chrome X fits my game very well.
Date published: 2018-05-27