Callaway Apex 16 CF Irons – (Graphite)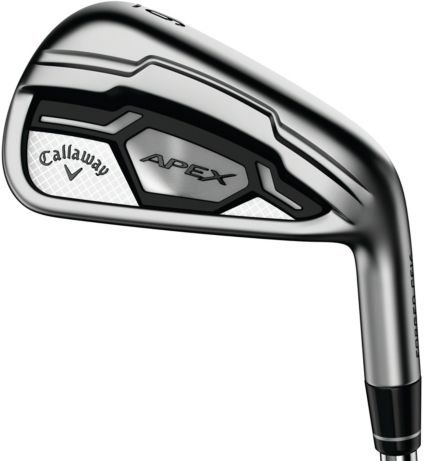 Callaway Apex 16 CF Irons – (Graphite)
is rated out of
5
by
100
.
This product is currently out of stock.
Please choose product options above
Please choose product options above
PDP Sticky bottom AddToCart Section - active and hide position
Product Information:
Blend classic shaping and modern playability with Apex 16 CF Irons. Callaway®'s first players iron to feature innovative Cup 360 technology equips golfers with consistent ball speeds and playability across the face. Progressive offsets, sole widths, CG heights and notch weighting combine to optimize flight, forgiveness and control. Unique faceplates in short irons generate player-preferred feel and control with Callaway® Apex 16 CF Irons.
FEATURES:
Callaway®'s first forged players iron to feature innovative Cup 360 face cup technology
Extremely precise quadruple net forging, precision milling and 1025 mild carbon steel for soft feel
Industry-leading Cup 360 Technology gives golfers consistent ball speed and playability across the face
Progressive offsets, sole widths, CG heights and notch weighting optimize flight, forgiveness and control
Longer irons (4-7) feature more offset where you need it for enhanced forgiveness and playability
Shorter irons (8-SW) have a more compact shape and less offset for a blend of feel and control
4-7 irons feature Cup 360 technology to increase ball speeds and forgiveness across the face
8i-SW feature a unique faceplate engineered to enhance feel and distance control
Body constructed of 1025 forged steel; face constructed of 17-4 stainless steel
Shaft: UST Mamiya Recoil Graphite Shaft
Grip: Lamkin UTx Grip
Brand: Callaway
Country of Origin: Imported
Style: 4992256362376,4982456362376,4982656361376,4992446362376,4982256362376,4982446362376,4982656362376
Web ID: 16CWYMPXCF16GRPH4IRN
Tech Specs:
| Model | Loft | Lie | Length | Offset | Swing Weight |
| --- | --- | --- | --- | --- | --- |
| 4 Iron | 21.5° | 60.5° | 38.5" | .20mm | D0 |
| 5 Iron | 24° | 61° | 38" | .18mm | D0 |
| 6 Iron | 27° | 61.5° | 37.5" | .16mm | D0 |
| 7 Iron | 31° | 62° | 37" | .15mm | D0 |
| 8 Iron | 35° | 62.5° | 36.5" | .14mm | D0 |
| 9 Iron | 40° | 63° | 36" | .13mm | D0 |
| PW | 45° | 63.5° | 35.75" | .12mm | D0 |
| AW | 50° | 63.5° | 35.5" | .12mm | D0 |
| SW | 55° | 63.5° | 35.25" | .10mm | D0 |
Rated 5 out of 5
by
iGreg
from
Control, feel and distance - complete satisfaction
I am HCP 32. Yes, and I have bought the Apex CF16s. They are much better than anything I ever tried. The most important is to do a proper fitting, especially focus on shaft. I checked 3 different shafts and XP95 turned out to be the best. It gave me over 10 m longer distance and great control. Properly fitted shaft and Apex CF16 heads will give you enough control and feel, so you do not have to worry about forgiveness. You will not need the club to be forgiving. The right configuration of the club will give you great contact at every shot. I know, that Callaway wants to sell their XR OS, but I recommend Apexes even if you are high handicapper.
Date published: 2016-04-13
Rated 5 out of 5
by
Mark59
from
I tested many models
I was playing Mizuno MX23 clubs for over 10 years. I decided it was time to update my clubs. I read many reviews and was leaning towards Mizuno again or TaylorMade clubs. I made a list and went to hit clubs. Although Callaway Apex was rated high it was low on my list. I hit for over an hour testing multiple clubs. I was getting down to my selection, I wasn't planning on hitting the Callaway APEX but the guy at the store made me try the Callaway Apex. So I hit them thinking I didn't want them. WOW. I was surprised at how good they felt. Not to mention the distance I seemed to be getting. I hit for another 15 mins. I narrowed my selection to 2 clubs Taylormade M2 or the Callaway Apex. The TaylorMade M2 hit a tad further and heavy on the down swing. The Callaway Apex were lighter on the down swing , better spin, higher trajectory (at least for me). The feel was SOFT SOFT SOFT when hit clean. I chose the Callaway as I wanted to improve my game more than hit long. (The clubs hit longer than my old ones anyway). On the 3rd round I shot a 74. Like every new club you still need to hit for awhile. 15 rounds latter my last 5 rounds have been under 80. The guys have commented on how the ball flies off the clubs. I even let people try them and they all are amazed at how soft they hit.(and the distance) Callaway APEX has won me over I even went out and bought a Callaway bag. I didn't think I could find better hitting clubs than my old Mizuno's but these Callaway APEX's are great. The mishits are not as forgiving as my Mizuno MX23 but my take is I just need to hit the ball better. They are a bit more expensive but worth it.(ask for a discount, I got one) Try them , I did was surprised , amazed and very glad I bought them.
Date published: 2016-07-04
Rated 5 out of 5
by
Pat33
from
Update to Original Review
This weekend I finally broke 80, shooting a 78 and followed up with a 80 the next day. The CF16's were the difference as they made up for a number of so-so tee shots. On the 80, I hit 67% of the GIR and if it was not for 5 three putts, it would have been in the 70's also. Also I just got the 4 iron and it quickly knocked the TaylorMade M1 4 Rescue out of the bag. It has been so easy to hit and it is straight. I am now hitting my irons further than I have in my life and I am 59 years old and have played since I was 11 years old. Also the Project X LZ shafts are outstanding. They are even better than the Project X PXi shafts.
Date published: 2016-09-12
Rated 5 out of 5
by
cjthehoo
from
Re-energized my game
I'd been playing PING irons (both S59 and i25 models) for the past 12 years and had somewhat resigned myself to the fact that I couldn't hit the ball any further. I'm a decent player (low-mid single digit handicap) and could control the clubs quite well, but just didn't hit them as far as I thought I should be able to (what with all the "technology" gains these days). I then stumbled on the Apex irons while talking with a club fitter. He worked with me for about two hours while we tested my clubs and then the Apex irons with different shafts. Wow! I wound up getting them with the KBS C-taper lite shafts and it has completely re-energized my game. I'm at least 1 club longer throughout the bag now and my confidence level is riding high now that my 6700 yard home course feels more like a 6300 yard course. The soft feel of these clubs and the turf interaction is unlike anything I've played before - they just eat through the turf with ease so I haven't lost any control - and the ball just flies off the face.
Date published: 2017-05-06
Rated 5 out of 5
by
On The River
from
Best Clubs I have Tested This Year
I am fortunate enough to live near a GC that allows you to test products on their course. I got fitted for a few sets of irons and played 2 rounds with each set. My fitter fitted me for 4 sets of irons and it was basically up to me to test on course and come up with a decision. I was fitted for the Ping i200s, Mizuno JPX900 Forged, Srixon z765, and the Callaway Apex CF16 irons. After playing 2 rounds with each set the past few weeks I have concluded that the best iron for me was the Callaway Apex CF16. In my experience they are the most versatile, most consistent, the longest, and the best looking (purely my opinion). When test the other clubs that main difference between them and the Apex CF16s was the forgiveness. I am a 12 handicap so I have my fair share of mishits per round and the CF16s were far more forgiving than the other options. When I test clubs I want to test how good they perform on my bad shots, because in my opinion most irons, when stuck well, will perform similarly. The CF16s were very generous on my mishits. At my GC the par 3s are fairly long (which I am not a fan of) and when using the long irons (3,4,5) I noticed a considerable amount of forgiveness for the CF16s compared to the other models I tested. My mishits with the CF16s were still catching pieces of the green or keeping my within 5 yards of the fringe. With the other clubs when I mishit the long irons I was losing 10-20 yards of distance whereas the CF16s were dropping off 5 yards at the most. I was worried about the low spin on the CF16s and that some lies would cause me to hit the ball longer than anticipated with the low spin and low lofts but I did not encounter that much when playing. Overall, these irons can be bagged by a variety of golfers from 20 handicap to scratch. These are the best irons I have played and I would highly recommend testing them out.
Date published: 2017-06-25
Rated 5 out of 5
by
JG6869
from
Best irons ever. Period.
I have played many Callaway irons since back in the mid to late 90s and admit that in recent years I have strayed to other brands. I took a chance and bought these as they fit my eye and got my go-to Nippon shafts in them. These things are unbelievable!!! Easy to hit, feel great, and long. I have gained at least 15 yards per iron. I realize the lofts are stronger, but they fly just as high and farther. First round out I played in 15+ MPH winds and the wind had ZERO effect on my ball due to the low spin on the ball. These irons are a game changer for me and any level of golfer could use them. Five stars!
Date published: 2016-05-16
Rated 5 out of 5
by
Kluger55
from
The best clubs I've ever owned.
These clubs have a super soft feel, on center strikes they feel like you're hitting an egg with the club and off center (miss hits) don't feel much different, plus you barely lose any yardage. I have yet to get that bad tingly feeling in my hands on my worst hit. They are not only super easy to hit but you can shape the ball fairly easy as well. In my opinion this is a wonderful product for anyone from beginners to pro's (youngsters too). These are the best clubs by far that I've ever owned, they are well worth the money seeing as they'll probably be the last set I'll ever buy.
Date published: 2017-06-14
Rated 5 out of 5
by
Jason
from
I had a ton of clubs before deciding on these and love them
I have been playing ping irons the past 12 years . How about a 10 handicap and broke my pitching wedge earlier this year (Shaft snapped). I love those irons and never thought I was going to find another set that I enjoy playing as much but I was wrong . One of my golf partners has been playing the same Callaway apex pros for 6 years . once I got mine and he saw the game improvement and he bought himself a new set of Apex pros . The pro irons we're not quite as forgiving as I was looking for and the distance wasn't as good in my opinion. couldn't be happier with my new clubs
Date published: 2016-10-03