Callaway ERC Soft Golf Balls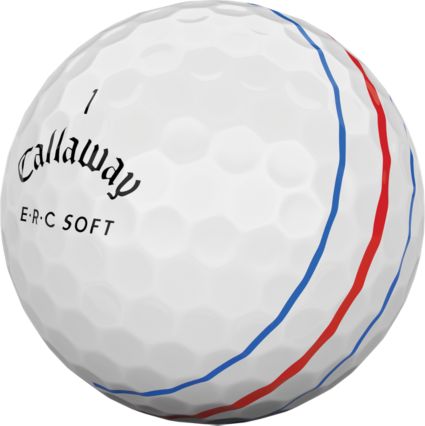 Callaway ERC Soft Golf Balls
is rated out of
5
by
7
.
This product is currently out of stock.
Please choose product options above
Please choose product options above
PDP Sticky bottom AddToCart Section - active and hide position
Product Information:
Distance, feel and control converge to form Callaway ERC Soft Golf Balls. Callaway's longest golf ball with soft feel features a new multi-material Hybrid Cover to deliver optimal ball speeds, soft feel and high greenside spin rates. Callaway's largest-ever, Graphene-infused Dual SoftFast Core maximizes compression energy while minimizing driver spin and promoting high launch for exceptional distance.
Triple Track Technology:

Triple Track uses Vernier Visual Acuity to improve alignment compared to a regular side stamp aid
Prominently featured Triple Track lines on the side of the ball enhance alignment and accuracy
Alignment cues utilize the same visual technology used to land planes on aircraft carriers
Callaway's Longest Golf Ball with Soft Feel:
Designed with groundbreaking technologies for an exceptionally high level of performance
Multi-material Hybrid Cover creates optimal combo of fast ball speeds, soft feel and high greenside spin
Callaway's largest Graphene-infused Dual SoftFast Core maximizes compression energy for efficiency
Larger inner core optimizes energy transfer while minimizing driver spin and promoting higher launch
3-piece construction strikes a balance between distance, feel and greenside control
12 Pack
Callaway ERC Soft – The Man Behind The Name:
Ely Reeves Callaway (ERC) – the founder of Callaway Golf – was a visionary and an innovator in golf
Ely powers Callaway's passion for being a force for change and developing revolutionary products
Callaway feels ERC Soft is a ball so special that there's only one name worth stamping on its cover - ERC
Brand: Callaway
Style: 642725612
Web ID: 19CWYM2019RCSFTWHGBL
Rated 4 out of 5
by
Bunkersnot
from
Good Distance but poor chipping feel
I received the ERC ball via the Callaway testing program. This ball definitely flies longer off the driver, approach shots flew high and land soft, putting feel and distance control was identical to Super Soft and Chrome Soft. I didn't like the feel of the ball 40 yards and in. Pitching/chipping the ball felt a a bit hard and I had inconsistent results with close in approaches. Like many others I question the price, ERC at $39.99 I would spend the extra couple of dollars for the Chrome Soft.
Date published: 2019-01-20
Rated 4 out of 5
by
SharkBait
from
Great feel and confidence
Having the opportunity to test the new ERC. I was not disappointed in the soft feel and confidence I revived from putting. The triple track technology gave me the confidence of properly aligning the putt and having a good chance of making it from any distance. That confidence carried over to the tee box, as it was easy to gain extra yardage with minimum effort. If you are looking for extra yardage and more confident in putting, this ball is for you.
Date published: 2019-01-14
Rated 5 out of 5
by
HiramCSM
from
Different look, different feel,
This ball jumps off the driver club face with no effort. It has great distance and control. The lines help with putts and make playing that much easier. You can feel this ball compress on contact. I have glaucoma so I can't see the white ball, so I appreciate Callaway making a yellow version. It's also the perfect premium ball for seniors and high handicap players. Kudos to Callaway for its continued advancement of the goofball.
Date published: 2019-02-10
Rated 5 out of 5
by
Nesi47
from
i
I love the alignment lines not only for putting but for ligning up on the tee. Ball has great carry off the tee and stoping power on the greens is also good . I have no hesitation in recommending the ERC
Date published: 2019-02-13
Rated 3 out of 5
by
Nick Jacklaus
from
Puttting Alignment Marking in Balance?
I love Callaway products! I have played Callaway irons for years and frequently use Callaway golf balls. I made my first hole-in-one with a Callaway Tour ix ball, which is now encapsulated on my desk. I have never played this new ERC Soft golf ball in order to give it a complete review, but my first question concerning the factory "triple track alignment" marks is: Are these balls checked for balance prior to the alignment marks being stamped on them? Very few golf balls are perfectly balanced. Not checking the balance prior to marking a ball can lead to a ball not rolling true to it's intended or marked line, despite the slope of the putting surface. This could definitely cause putts to roll increasingly off of the putting line as the length of the putt increases. Remember the old adage: "Golf is a game of inches" . This new ERC Soft ball is probably a great golf ball, but the alignment marks could cause players to miss putts, if the alignment marks do not coincide with the balance of the golf ball. In my opinion, alignment marks should only be added to a ball after it has been properly balanced.
Date published: 2019-02-09
Rated 5 out of 5
by
DAD whoLuvs Golf
from
Very LONG and Soft Ball
Played this ball a couple of days ago and love it. Long straight and very soft off the club face. Felt good off the putter face as well. Try these golf ball you will like them.
Date published: 2019-02-11
Rated 5 out of 5
by
Steve
from
Wow, this is the ball for me!
Happened to get a test sleeve of these thru a friend the other day. First thing you notice about them is the triple line on top of the ball. I have always like using a line when I am putting but many times I don't because I feel like I have to take a long time to get the line just right. If you are off just a couple of degrees it can really make a big difference. The triple line is WAY easier to line up. I started with some putting practice on some short putts. My goal was to make 6 in a row from 3', 6', 9'. First try I got thru my 2nd try on 6' and the second time I got thru 4th try on 9' and then third try I got thru 2nd try on 9'. When get this going on the shorter putts you can get really confident. Once you hit it, it is also real clear on how straight you hit it and lined it up as you can see those triple lines when it rolls. On the course it really did feel pretty long but a bit hard to tell as it was a cooler day. I kind of liked using the lines on the ball off the tee too, I have a pretty neutral path to the ball but like to feel like I am coming from the inside. I lined the just a bit right of target and think I might have even seen a bit of draw on some, haha.
Date published: 2019-01-26