Callaway Mack Daddy PM Grind Wedge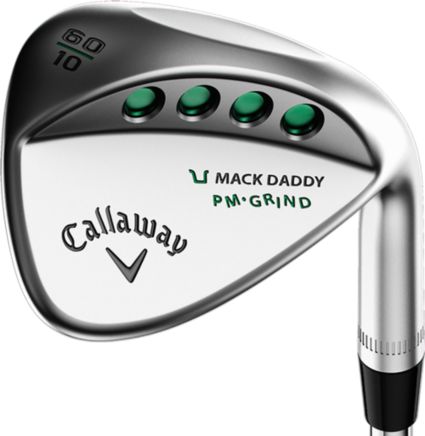 Callaway Mack Daddy PM Grind Wedge
is rated out of
5
by
127
.
The price of the product might be updated based on your selection
This product is currently out of stock.
Please choose product options above
Please choose product options above
PDP Sticky bottom AddToCart Section - active and hide position
Product Information:
Combining the knowledge of Phil Mickelson with the expertise of Roger Cleveland has resulted in the Callaway Mack Daddy PM Grind Wedge. The Mack Daddy 2 wedge has been taken a step further by grinding out the high toe shape and adding preferred materials while testing it with Phil while he's out on Tour. The unique design allows you to accelerate through the ball on every shot - flops, bunkers and even out of the thickest rough.
Designed By Phil Mickelson
Phil Mickelson gave direct input to legendary Callaway wedge maker Roger Cleveland
Mack Daddy 2 wedge with a grinded out toe shape
The right materials were added for enhanced playability
Tour-tested by Phil for looks and performance
The Versatility To Take On Any Shot
Designed to help you accelerate through the ball
Aggressively go after each shot
Easy to get up and down from practically any lie
Conquer flops, bunker shots and escape thick rough
A Unique Shape For Aggressive Wedge Shots
Different shape than your standard wedge
More surface area
39% more groove area that goes all the way across the face
High tow moves weight higher
Easier to hit shots out of deep rough
Brand: Callaway
Country of Origin: Imported
Style: 41495610126153,41595610126153
Web ID: 15CWYMMCKDDDYPMGRWDG
Tech Specs:
| Model | Loft | Lie | Length | Bounce | Grind | Swing Weight |
| --- | --- | --- | --- | --- | --- | --- |
| 56° | 56° | 64° | 35.3" | 13° | U-Grind | D4 |
| 58° | 58° | 64° | 35" | 10° | U-Grind | D4 |
| 60° | 60° | 64° | 35" | 10° | U-Grind | D4 |
| 64° | 64° | 64° | 35" | 10° | U-Grind | D4 |
Rated 5 out of 5
by
KennyC
from
Excellent wedge from green side bunkers, almost like cheating it's so easy!
I already owned the Chrome version of this wedge but wanted to try the matte black. I was a little concerned about how the finish would hold up but so far it's held up very well. And like my other wedge, it's very easy to get the ball up and out of bunkers. I mean effortless. If you struggle with getting out of bunkers like a lot of folks, this is the wedge for you. It also does a great job chipping from tall rough. The extra grooves makes sure you some spin on the ball and help hold the green. I don't seem to have as much luck with a full swing from the fairway as I do with the stock lob wedge from my set so I mainly play it from all spots around the green. I love this wedge!
Date published: 2017-06-09
Rated 5 out of 5
by
VoteOutIncumbents
from
Just Finished First Eighteen Holes...Love It.
Just finished playing my first eighteen with the PM grind fifty six degree wedge. Love it! I was hitting flop shots, little runners, and check up shots...these are shots I used to only hit by accident and I was doing it all day. This club is worth every penny. I replaced a Cleveland fifty six degree sand wedge with the new PM grind. It took me two or three holes to get used to the look...but once I did I got into the swing of this club and started hitting what were for me really wonderful shots. Knocked off two or three strokes from my usual score. Because of the PM grind I was putting from six feet instead of by usual twenty feet. Love this club...buy it.
Date published: 2015-12-09
Rated 5 out of 5
by
Adam72
from
Get out of jail free card!
I have played several rounds with the 60 degree and I am still getting used to it. Sometimes it is just plain magical and other times it's frustrating. I think it's because I don't fully understand the situations to use it. It is easy to hit, I have full confidence I will get the leading edge under the ball from almost any lie. It makes you want to flop it every time which is not always what you should do. I have since bought the 56 and I believe it is more versatile, but for those specialty shots and short sided shots I am happy I have the 60.
Date published: 2017-08-02
Rated 5 out of 5
by
dohbboy
from
Updated Review!
So.... I left a review last summer and while at the time it was correct, I would like to leave an updated review for both my 58 and 64 degree PM Grinds. 58: At first I couldn't chip and I couldn't pitch with it because of distance control issues. I will say that I can totally game the 58 and pitch and chip just fine. However when you have a 64 you don't need to use the 58 as much as I relied on it in the past. 58 is great for full shots, half shots, chips and pitches. It is amazing out of the sand. All in all it is one of the best clubs I have ever used. 64: Now after raving about my 58 let me tell you about my 64. If you can only buy one new wedge. Buy a 64 degree PM Grind. It will save you more strokes than any other club you will buy. You can pitch and chip with it perfectly. from about 20 yards around the green it is almost a guaranteed up and down. 58 is good around the green, but the 64 is point and shoot. I can't put much spin on the ball with the 58, well I can with the 64. Short-sided yourself in the bunker? 64! 64 yards away to a tucked pin? 64! Hit one down the cart path right behind a tree to a short-sided pin? 64! (I may or may have not gotten up and down from all of these locations in 1 round).
Date published: 2016-09-02
Rated 5 out of 5
by
shadow0861
from
Go to club around the green.
I have this in 58*. I absolutely love this club. I used to have an old lob wedge that I was just a sniper with. It was an off brand, and I decided to get a different name brand one to replace it, but never was confident, and my short game suffered massively. This club was my much needed confidence booster, and it has helped me lower scores by leaving me makable putts. Bunkers, fairways, bare lies, any rough. Doesn't matter the lie as long as you account for what kind of spin you will get, you will smile at the result. Do yourself a favor and wrap your head around this oversized birdie beast. You will be glad you did.
Date published: 2016-08-29
Rated 5 out of 5
by
bru
from
best wedge ever?
Possibly the best / most versatile wedge ever. I have the Mac Daddy PM grind 58* wedge and it is never leaving my bag. I was skeptical at first (the look is somewhat "interesting"), but it performs like no other. I use this for chipping and pitching around the green, 1/2 shots to the green, full shots to the green (usually 70 yrds and in) and out of the sand it is "automatic". Performs well in deep rough, off of a tight lie, and out of sand. Truly amazing. I have so much confidence using this club. It is my "go to" club around the green. My only wish... is that they make the PM grind in a 54* loft option. I carry 50, 54, 58. CALLAWAY... make us a 54* PM grind wedge!!!! PLEASE!!!! My 58* PM needs company!
Date published: 2016-09-06
Rated 5 out of 5
by
Charlie29
from
Excellent wedge. Great balance, feel.
I have the 64 degree. Can lob, and also close club face and use to chip with. I believe the PM grind is engineered to provide this versatility. Larger head sets up well behind ball and exudes confidence. Fluff or tight lies, all good. I am amazed at the club's checking ability. You can see the ball skip and stop on chip shots, like Velcro! Believe me, it is the technology. This is my go to club for around the green.
Date published: 2017-06-02
Rated 5 out of 5
by
Stroke Daddy
from
Great Wedges
Loved this wedge. I had a need for something inside 40 feet and found myself scared going over anything. Not only that, I needed a club for touch around the green. AMAZING on both. I was using a Cobra Trusty Rusty 58.08 and enjoyed the club, but noticed I was racking strokes in those two areas. After researching the Hi-To from TM, I went in and tried that and for comparison the PM. They both were awesome looking and felt great. The look and feel of the PM, in person, + price, won me over. Great addition to the bag. Thinking about extending the range to a 56, but would love to see some options on bounce.
Date published: 2018-11-26