Callaway Rogue Pro Individual Irons – (Steel)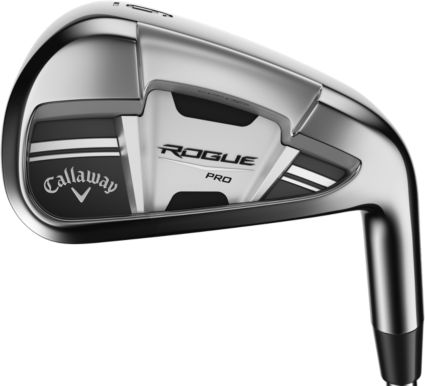 Callaway Rogue Pro Individual Irons – (Steel)
is rated out of
5
by
79
.
This product is currently out of stock.
Please choose product options above
Please choose product options above
PDP Sticky bottom AddToCart Section - active and hide position
Product Information:
Reach unprecedented performance levels with Callaway Rogue Pro Irons. A compact head, thin topline, thin sole, shallow cavity and minimal offset appeal to the eye of the highly skilled golfer. 360 Face Cup Technology combines with VFT to dramatically expand the sweet spot for explosive distance. A Urethane Microsphere layer between the face and body dampens vibration to improve sound and feel. Intricately positioned Tungsten weights optimize launch and control at each loft.
Rogue Pro Irons: Look and Feel of a Players Iron with Distance Technology
Callaway's best combination of distance, accuracy and playability in a player's iron
Footprint and overall club head profile caters to the preferences of more skilled players
Compact head, thin topline, thin sole, shallow cavity and minimal offset for confidence at address
Designed to provide the increased workability, trajectory control and impact feedback serious players demand
Slightly weaker lofts compared to the standard Rogue model to allow for greater control and versatility
360 Face Cup + Variable Face Thickness (VFT)
Technologies combine to dramatically expand the portion of the face that delivers fast ball speed, giving golfers more distance on off-center hits
360 Face Cup employs a shallow, flexible rim around the perimeter of the face that flexes and releases at impact to increase ball speed
Variable Face Thickness (VFT) includes how the face itself flexes to promote even more ball speed on off center hits
Urethane Microspheres
Elastic-Urethane Microspheres provide the sound and feel benefits of urethane without compromising COR or ball speed
Engineered to combat the excessive vibration, unpleasant sound and harsh feel commonly produced by irons with thin faces
Urethane dampens vibration to improve sound and feel while also maintaining the performance benefits of increased face flex
MIM'd, Tungsten-Infused Standing Wave
Tungsten Weighting allows for extraordinarily precise CG positioning for optimum launch and control at each individual loft
Twice as heavy as steel, Tungsten concentrates significant weight into a small space to for an intricately shaped part
The result is a precisely controlled CG location engineered to maximize performance
True Temper XP 105 Steel Shafts
True Temper combined standard and speed steps to ensure maximum ball speed and dispersion control
Designed to deliver the explosive power and distance to every iron in the bag for ultimate performance
Optimized trajectory and a super lightweight profile make XP 105 long, forgiving steel shafts
Weight: 105g (R), 107g (S) | Kick Point: Low | Trajectory: High | Spin: Mid
Brand: Callaway
Style: 4A260321C2376,4A262121C2376,4A360321C2376,4A362121C2376
Web ID: 18CWYMRGPRSTLXXXXWDG
Tech Specs:
| Model | Loft | Lie | Length | Offset | Swing Weight |
| --- | --- | --- | --- | --- | --- |
| 3 Iron | 19° | 60° | 39" | .165" | D2 |
| 4 Iron | 21.5° | 60.5° | 38.5" | .15" | D2 |
| 5 Iron | 24° | 61° | 38" | .135" | D2 |
| 6 Iron | 27° | 61.5° | 37.5" | .12" | D2 |
| 7 Iron | 31° | 62° | 37" | .11" | D2 |
| 8 Iron | 35.5° | 62.5° | 36.5" | .1" | D2 |
| 9 Iron | 40° | 63° | 36" | .095" | D2 |
| PW | 45° | 63.5° | 35.75" | .09" | D2 |
| AW | 50° | 63.5° | 35.5" | .085" | D2 |
Rated 5 out of 5
by
Deon T
from
very good product
I tried these irons at the local golf store and I also tried clubs from Titleist, Taylor made, Cobra and others. These irons were the best feel and the most consistent I hit. So I ordered them on the spot. I played Titleist for years, API, but these had a feel that I really liked. The sound some people talk about did not bother me. I care about the feel and they feel great. They are a good value and with the special 150% trade in that I got, the value was even better and a no brainer. I got custom fit for them and should have them by Mid February. I am looking forward to trying them down south in March.
Date published: 2018-01-29
Rated 4 out of 5
by
BigDog Bryan
from
Demo Day Revelation
Tried this one at the shop last night. For a cast club, this one feels quite nice, big step up from the Steelhead Pro. This is a serious value and will be a Big Hit with the players in the 80's and 90's. The Apex and Epic irons do Sound better, and that's a real consideration when the money difference doesn't bother you. That said, the feel and performance of the Rogue Pro makes the eternal question "is it worth the difference in price to go up to the forged?" a MUCH harder question to answer. These are DEFINITELY worth a Very Long Look for anyone who is a Mid-Handicap or better player. These are also THE ANSWER for a good High School or College player on a budget who needs a very workable and capable iron set.
Date published: 2018-01-24
Rated 5 out of 5
by
Down the middle
from
Beautiful at address, explosive irons....
I just returned from a demo day at our club, I always like to try the harder clubs (non forgiving) ones first. I took a new Rogue Pro, with a XP 105 stiff shaft. I play another brand, senior graphite a very forgiving club. We I was amazed it was easier to hit than my off set big head iron. The distance was great and the ball flew high, I was able to hit a draw at will. I'm 72 years of age and don't swing 125 mph like I once did, but this club has me thinking. It's a small head and less drag if you hit the turf a little fat get club. Then I tried graphite and softer shafts etc. The rogue was good but I still liked the Pro with the steel the best. I do think I would get regular flex but still steel. Great Club....
Date published: 2018-04-06
Rated 3 out of 5
by
Surf Refugee
from
Might be nice if they came as ordered
Recently purchased 6-GW set with PX LZ 105 5.5 shafts. Standard length, loft. 1* upright lie angle. Struggled with inconsistent strikes and distances for 8 rounds and 5 range sessions Only the 6 and 8 irons were correct length and Swing weight. All others were 3/8" to 1/2" short. Had them measured by the shop I ordered through. They said they'd never seen a set come in so far off. I really wanted to like them, but with them so off, I couldn't tell for sure. All misses were either thin or off the toe, except the 6 and 8 irons. Fortunately they have a 90 day playability deal, so I ordered some XForged. Hopefully the come properly assembled.
Date published: 2018-11-29
Rated 5 out of 5
by
Troy314B
from
I love these irons!
Decided it was time to get a new set of irons to replace my old set of Taylor Burner 2.0. I hit several different irons (AP3, G400, Rogue, Rogue Pro, AP2, Apex and a couple more blade irons.) I was blown away with the Rogue Pro. I hit the normal Rogue and I just didn't like how chunky the top line was on the club. I didn't hit them poorly but I had 4-5 shots that were not right on the sweet spot. John who was doing the fitting suggested the Rogue Pro. The first shot off the iron just felt so pure and the weight and sound of the iron were amazing. I proceeded to bang a ton of balls off this iron and every one was right on the sweet spot. I can't explain how this happened but I kept changing up clubs. I was worried I was just swinging perfect with the Rogue Pro. I started swapping out clubs (Hit 5-7 balls with the Apex, hit 5 with the Rogue, Hit 5 with the Rogue Pro , hit 5 with the AP3). After hitting at least 100 balls I had 2 shots on the Rogue Pro that were not dead center hits and they were just slightly off the sweet spot towards the heel and up slightly. All the other irons had plenty on the sweet spot but lots out on the toe and on the heel. Every shot off the Rogue Pro felt like I had just won the lottery! They came off the club beautifully. The response up to my hands was the perfect (Oh I just caught that perfect!) Even the 2 shots that weren't right on the sweet spot felt amazing! The only way I knew it was off was looking at the brand new face that had a ball imprint just off the center. After we looked at all the data on all the shots it was amazing. Although the Rogue Pro was the shortest distance wise (4 yards shorter then the longest iron shots with other clubs) it was the dispersion that really got my attention (4.1 yard dispersion on all those shots, the longest iron set was 4 yards longer but the dispersion was 12.4 yards if I recall correctly) I will gladly give up a few yards to have such a tight group of shots. We went to the mat where I could hit all the irons out into the real world instead of the net and again everything proved out the same. Didn't miss the sweet spot with the Rogue Pro. Beautiful ball flight. Actual ball flight followed with the track man was showing in the net and hitting it outside. I can't wait to take delivery. If you have a chance to try these irons don't hesitate! Words can't describe how great they feel! I did not comment on Durability because I haven't played with them yet to see how they do, but I have to believe they will be great! About me: 6'2 205# 50 years old Handicap 8.1 (Going to be dropping much lower with these new irons) Clubs I purchased: Rogue Pro +1" Std Lie, Stiff Flex, TP95 ST 15, S300
Date published: 2018-01-25
Rated 5 out of 5
by
Ragnar
from
Top shelf....need some skill to find the sweet spot but if you can these clubs are awesome
Product specialist told me crazy swing speeds not required to drive these sweet clubs. Compact players head with perfect setup and good looks. I have tried all the rest.. Titleist, Ping, Zuno and Taylor Made....no contest. These are simply that good. Some skill required and might not work for weekend hacks.
Date published: 2018-04-08
Rated 5 out of 5
by
Reppoc
from
Rogue Pro might just be the perfect iron!
I admit, i need some forgiveness in my irons. But to get some forgivness, you usually pay the price. Big offsets...huge soles...thick toplines. These Rogue Pro irons break that mold. Forgiving, great carry, nice ball flight, perfect size and minimal offsets. I love ...love these irons. They carry well, even if I miss them a tad! Cant wait for warm weather to see how far they really go!
Date published: 2018-03-05
Rated 5 out of 5
by
Dutts
from
Great irons!
The Rogue Pro is a great iron! This is the 7th set of Callaway Irons (X-14 pro, X-16 pro, X-tour, Apex, Apex-Pro and now Rogue Pro) I've had over the last 20 years and these are as good as any set (and I loved the X-tour when I was regularly below par). My swing definitely has changed as I've aged but these irons put me back within a couple of yards of the distances I had in my 30s. Distance control is excellent with little loss of distance on mis-hits. Feel is phenomenal including with chipping with the short irons around the green.
Date published: 2018-04-15