Carbon Express Heart Attack Arrows - 6 Pack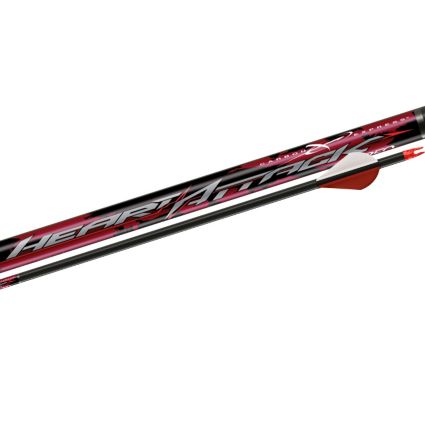 Carbon Express Heart Attack Arrows - 6 Pack
is rated out of
5
by
59
.
This product is currently out of stock.
Please choose product options above
Please choose product options above
PDP Sticky bottom AddToCart Section - active and hide position
Product Information:
The Carbon Express® Heart Attack Arrow is designed for higher velocity producing a flatter trajectory and enhanced accuracy. The carbon composite design provides superior consistency and excellent durability. These Carbon Express® arrows come in a pack of 6. Simply string the Heart Attack up and let it fly; the 2" predator vanes will guide it directly to its target.
** Learn more about THE PROS Archery Services available at all DICK'S Sporting Goods locations **FEATURES:
Carbon Express® arrows
2" predator vanes
Pack of six arrows
Colors may be assorted
Free 1-year subscription to Deer & Deer Hunting magazine with each purchase
SPECS:Size: 250
Model: 50849Z
Size:250
Quantity: 6 pack
Shaft Weight (grains/inch): 8.5
Straightness Tolerance: ± .006"
Carbon Express
Size: 350
Model: 50851Z
Size:350
Quantity: 6 pack
Shaft Weight (grains/inch): 9.4
Straightness Tolerance: ± .006"
Carbon Express
Brand: Carbon Express
Country of Origin: United States of America
Web ID: 15CEXUHRTTTCK250XARO
Rated 5 out of 5
by
Big Buck Killer
from
Great Arrow for the money
I bought these just to use for practice before hunting season. I found that these arrows fly straight and have a great kinetic energy to them. I have several 3D targets set up and they bury themselves is every one of them. So with that I took them on a hunt and boy oh boy!! First shot was a through kill. I hunt with a 60lbs bow and to see that arrow blow right through a shoulder blade and drop a deer within 25 yards was awesome. No damage to the arrow at all. Washed it off and still using it today. I have bought another 6 pack and have them sitting in the closet waiting for my first six to give up!!!
Date published: 2012-10-15
Rated 5 out of 5
by
Ryan
from
Great arrows!!!
Let me start by saying I am new to Archery. I bought these while they were buy 1 get 1 50% off. Great deal as I have had no accuracy issues. I use the 250 because I have a 27" draw with a 62 lb pull. I have not had any issues with breaking or flying erratically. I have the bear cruzer rth and these things work great with them. I can't wait to hunt with these things and after having my bow restrung with custom string and tuned. I can't say they are a compromise for the higher end arrows because I don't have enough experience but I can say they do the job and my bow tech said I will not have any issues with these arrows. Give them a try.
Date published: 2016-09-03
Rated 5 out of 5
by
Hillbilly Hunter
from
Heart ATTACK!
I just got into bow hunting seriously this year. My "bow guy" at the local Dick's hooked me up with these. all in all I would say that these arrows are great they fly stright and true most of the time. The only issue i've had is around the head where the insert goes in on 2 of the 12 arrows I got cracked. they always hit the target, not the wood or the ground but a speed bag. I must have shot them over 300 times tho so being that I am new to hunting I'm not sure if that is a good thing or a bad thing from wear and tear. I went back and got 6 more. I would reccomned this to someone else and I will continue to use.
Date published: 2013-09-20
Rated 1 out of 5
by
blgreene89
from
Had this arrow split while shooting at a block invasion archery target
Bought these arrows from Dicks had them cut to my correct draw length had the bow set and tune there also.Went to one of my deer stands to sight in my bow had one of these split thought wow okay maybe I had a bad one nope got home and another one split. Both split while shooting at a block invasion archery target they both skimmed the top of the target and would deflect behind it into shreds leaving you with only one half piece of an arrow.Took the whole pack back to dicks they replaced them with Easton Arrows no problems since. I really was looking forward to shoot carbon express but now I have my doubts.
Date published: 2015-09-19
Rated 5 out of 5
by
DarkAngelEyes84
from
Good Arrows at the Price
I picked up 12 of these arrows (among other types to try) two years ago when I decided to move away from the Easton's I was using previously (Bowfire 330's), I have just bought another 2 dozen, to ensure a good stock for years to come, and I have no complaints. They hold up well to target practice and hunting situations, the only ones I have broken/damaged were by hitting a large field stone AFTER a 23 yrd pass through shot on a deer (had enough energy to break in the middle of the shaft) and slamming a solid stump with a judo point while picking off squirrels(drove the insert/point into the shaft). The 10.1 gpi rating provides a lot of energy to transfer to the target even at lower poundages (I have a second setup I use specifically for turkey), and the consistency is good for those of us not willing to pay $70+ a half dozen
Date published: 2016-08-02
Rated 5 out of 5
by
SWEET_T2018
from
Tough and dependable
I bought these arrow as a backup for my expense arrow that I use for hunting. They are great 3D competition arrows. They withheld tough terrains and being shot from distances of 150 yards. they made it through the Total Archery Challenge with out a broken or sprained spine.
Date published: 2018-05-01
Rated 5 out of 5
by
Malakhi
from
BEAST
Ok so I'm new to archery & had to learn the hard way how to get the right arrows for my bow. After buying 10 carbon express 26" Wolverine arrows I realized I love carbon express. I went to Dicks Sporting goods & grabbed up a 6 pack of 30" Carbon Express Heart attack arrows & I must say these are the best arrows I've owned by far. Even tho my local Dicks Sporting goods seemed to lose the free deer & deer hunting magazine Carbon Expresses customer service took care of me. Great arrows tho.
Date published: 2015-03-04
Rated 1 out of 5
by
bball
from
these arrows suck
i hunt white tail with these well use to and they sucked i shot at 3d target they went everywere then i said these arrows suck and bought trophy hunter arrows they were in the same spot everytime i shoot a mathews z7 extreme so i recommand if u buy any aroows go to the sportmans guide type in arrows find trophy hunter 400 and buy a dozen of those and now ive killd 4 deer already and the heart attack arrows that these are dont buy them its a waste of money.
Date published: 2012-09-16