Carhartt Men's Flame Resistant Twill Long Sleeve Work Shirt
The price of the product might be updated based on your selection
{ "warrantyData" : [ { "ProductSKU" : "14905600", "ProductUniqueId" : "985837", "warrantySKUS" : [ ] }, { "ProductSKU" : "14905601", "ProductUniqueId" : "985838", "warrantySKUS" : [ ] }, { "ProductSKU" : "14905603", "ProductUniqueId" : "985839", "warrantySKUS" : [ ] }, { "ProductSKU" : "14905604", "ProductUniqueId" : "985840", "warrantySKUS" : [ ] }, { "ProductSKU" : "14905606", "ProductUniqueId" : "985841", "warrantySKUS" : [ ] }, { "ProductSKU" : "14905607", "ProductUniqueId" : "985842", "warrantySKUS" : [ ] }, { "ProductSKU" : "14905609", "ProductUniqueId" : "985843", "warrantySKUS" : [ ] }, { "ProductSKU" : "14905610", "ProductUniqueId" : "985844", "warrantySKUS" : [ ] }, { "ProductSKU" : "14906731", "ProductUniqueId" : "985845", "warrantySKUS" : [ ] }, { "ProductSKU" : "14906732", "ProductUniqueId" : "985846", "warrantySKUS" : [ ] }, { "ProductSKU" : "14906733", "ProductUniqueId" : "985847", "warrantySKUS" : [ ] }, { "ProductSKU" : "14906734", "ProductUniqueId" : "985848", "warrantySKUS" : [ ] }, { "ProductSKU" : "14906735", "ProductUniqueId" : "985849", "warrantySKUS" : [ ] }, { "ProductSKU" : "14906749", "ProductUniqueId" : "985850", "warrantySKUS" : [ ] }, { "ProductSKU" : "14906750", "ProductUniqueId" : "985851", "warrantySKUS" : [ ] }, { "ProductSKU" : "14906751", "ProductUniqueId" : "985852", "warrantySKUS" : [ ] }, { "ProductSKU" : "14906752", "ProductUniqueId" : "985853", "warrantySKUS" : [ ] }, { "ProductSKU" : "14906753", "ProductUniqueId" : "985854", "warrantySKUS" : [ ] }, { "ProductSKU" : "14906755", "ProductUniqueId" : "985855", "warrantySKUS" : [ ] }, { "ProductSKU" : "14906756", "ProductUniqueId" : "985856", "warrantySKUS" : [ ] }, { "ProductSKU" : "14906757", "ProductUniqueId" : "985857", "warrantySKUS" : [ ] }, { "ProductSKU" : "14906758", "ProductUniqueId" : "985858", "warrantySKUS" : [ ] }, { "ProductSKU" : "14906759", "ProductUniqueId" : "985859", "warrantySKUS" : [ ] }, { "ProductSKU" : "14906768", "ProductUniqueId" : "985860", "warrantySKUS" : [ ] }, { "ProductSKU" : "14906769", "ProductUniqueId" : "985861", "warrantySKUS" : [ ] }, { "ProductSKU" : "14906770", "ProductUniqueId" : "985862", "warrantySKUS" : [ ] }, { "ProductSKU" : "14906771", "ProductUniqueId" : "985863", "warrantySKUS" : [ ] }, { "ProductSKU" : "14906772", "ProductUniqueId" : "985864", "warrantySKUS" : [ ] }, { "ProductSKU" : "14985733", "ProductUniqueId" : "985865", "warrantySKUS" : [ ] }, { "ProductSKU" : "14985734", "ProductUniqueId" : "985866", "warrantySKUS" : [ ] }, { "ProductSKU" : "14985735", "ProductUniqueId" : "985867", "warrantySKUS" : [ ] }, { "ProductSKU" : "14985736", "ProductUniqueId" : "985868", "warrantySKUS" : [ ] }, { "ProductSKU" : "14905982", "ProductUniqueId" : "2842027", "warrantySKUS" : [ ] }, { "ProductSKU" : "14905983", "ProductUniqueId" : "2842028", "warrantySKUS" : [ ] }, { "ProductSKU" : "14905984", "ProductUniqueId" : "2842029", "warrantySKUS" : [ ] }, { "ProductSKU" : "14905985", "ProductUniqueId" : "2842030", "warrantySKUS" : [ ] }, { "ProductSKU" : "14905987", "ProductUniqueId" : "2842031", "warrantySKUS" : [ ] }, { "ProductSKU" : "14905995", "ProductUniqueId" : "2842032", "warrantySKUS" : [ ] }, { "ProductSKU" : "14905996", "ProductUniqueId" : "2842033", "warrantySKUS" : [ ] }, { "ProductSKU" : "14905998", "ProductUniqueId" : "2842034", "warrantySKUS" : [ ] }, { "ProductSKU" : "14906001", "ProductUniqueId" : "2842035", "warrantySKUS" : [ ] }, { "ProductSKU" : "14906002", "ProductUniqueId" : "2842036", "warrantySKUS" : [ ] }, { "ProductSKU" : "14906008", "ProductUniqueId" : "2842037", "warrantySKUS" : [ ] }, { "ProductSKU" : "14906009", "ProductUniqueId" : "2842038", "warrantySKUS" : [ ] }, { "ProductSKU" : "14906010", "ProductUniqueId" : "2842039", "warrantySKUS" : [ ] }, { "ProductSKU" : "14906011", "ProductUniqueId" : "2842040", "warrantySKUS" : [ ] }, { "ProductSKU" : "14906012", "ProductUniqueId" : "2842041", "warrantySKUS" : [ ] }, { "ProductSKU" : "14906021", "ProductUniqueId" : "2842042", "warrantySKUS" : [ ] }, { "ProductSKU" : "14906022", "ProductUniqueId" : "2842043", "warrantySKUS" : [ ] }, { "ProductSKU" : "14906023", "ProductUniqueId" : "2842044", "warrantySKUS" : [ ] }, { "ProductSKU" : "14906024", "ProductUniqueId" : "2842045", "warrantySKUS" : [ ] }, { "ProductSKU" : "14906025", "ProductUniqueId" : "2842046", "warrantySKUS" : [ ] } ] }
PROTECTION PLAN
(optional)
Info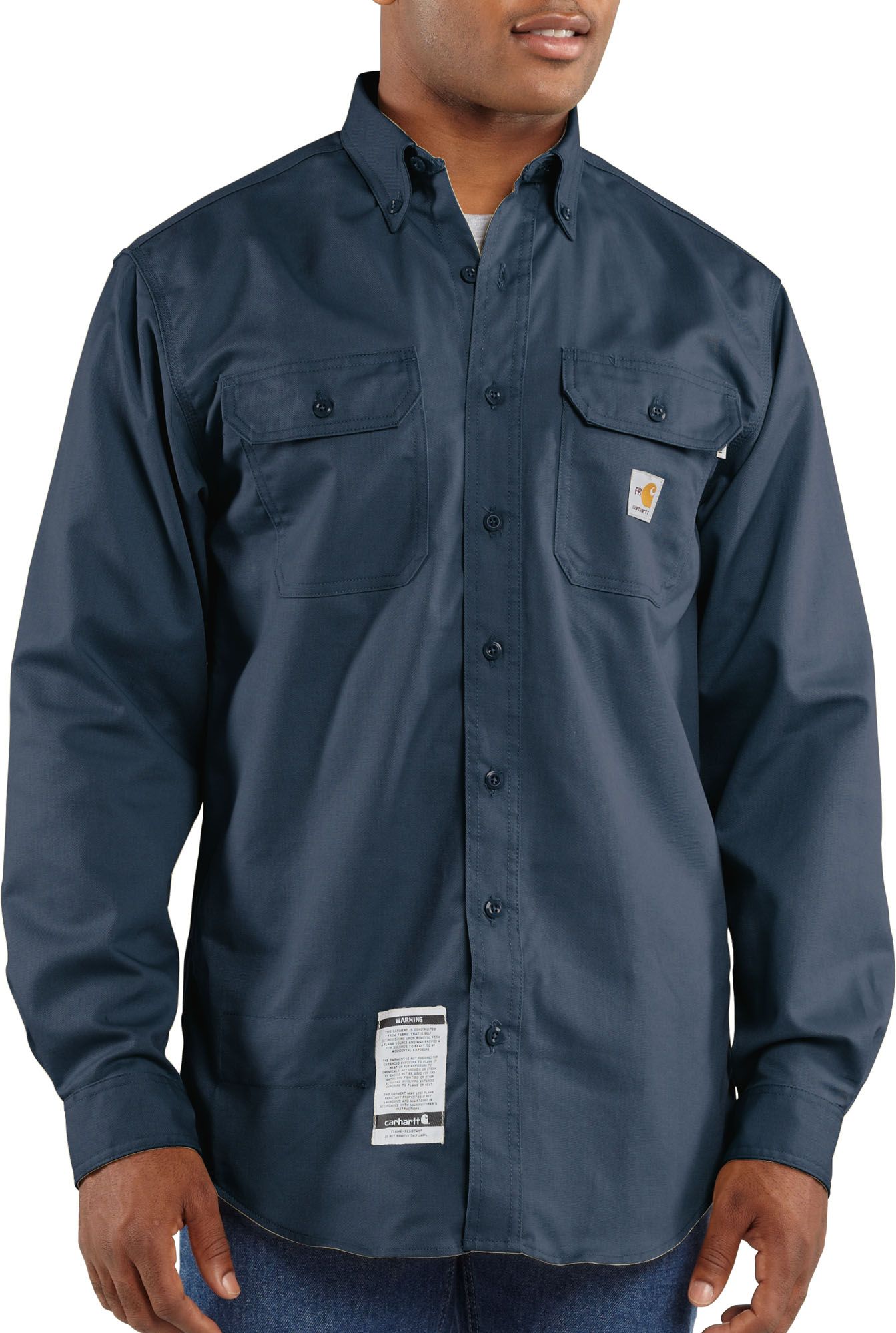 Carhartt Men's Flame Resistant Twill Long Sleeve Work Shirt
PDP Sticky bottom AddToCart Section - active and hide position
This product is currently out of stock.
Product Information:
Get in the trenches with the Flame Resistant Twill Shirt. The flame resistant HRC 2 fabric self-extinguishes when exposed to flames or arc electricity while on the job. The Carhartt® FR and HRC pocket labels and external rating tags make your compliance highly visible. Add the button-down design, adjustable cuffs, and triple-needle stitching and the Carhartt® Flame Resistant Twill Long Sleeve is a must for your work wear wardrobe.
FEATURES:
Flame resistant work shirt with original fit
All components are designed to self-extinguish within two seconds after source of ignition is removed
HRC 2 rating
Button-down collar with button closure
Flame resistant melamine buttons
Shaped shirt tail
Double button adjustable cuffs and extended sleeve plackets
Durable triple-needle stitching
Two chest pockets with button-closure flaps
Carhartt® FR and HRC 2 labels on left chest pocket
External HRC rating tags for easier compliance visibility
Meets the performance requirements of NFPA 70E
UL® classified to NFPA 2112
Fabric: 7 oz, 88% cotton/12% high-tenacity nylon
Style: FRS160
Brand: Carhartt
Country of Origin: Imported
Web ID: 15CTTACLSSCTWLLSHAPT