Duck Brand Orange Duct Tape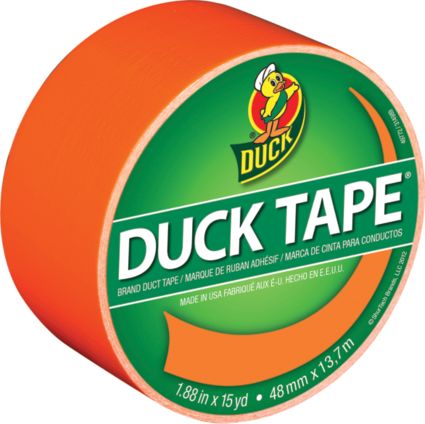 Duck Brand Orange Duct Tape
is rated out of
5
by
677
.
This product is currently out of stock.
Please choose product options above
Please choose product options above
PDP Sticky bottom AddToCart Section - active and hide position
Product Information:
Securely tape your gear with the Duck Brand® Orange Duct Tape. Hardy, and tough, you can easily fix your orange gear, or hold it tightly together.
FEATURES:
1.88" X 15 yds
Tears easily by hand
Heavy duty
Works on a variety of surfaces
Wood, vinyl, plastic, leather, metal and laminate
Brand: Jerry's Sports Center
Web ID: 17JSCUSTT188X15YRHUA
Rated 5 out of 5
by
Regan544
from
Best Thing in the WORLD!!!
Duct Tape is amazing!!! Duck Brand is the best, equaling to my all time favorite. They have so many colors and designs that I can never choose if when I have enough money to get duct tape. I just wish that it was a little bit cheaper because online it's so expensive. I tell and show off all my duct tape creations to my friends. I've encouraged then so much that they've started their own little business. That is why I wish that Duck Brand (a.k.a. the best company ever) would send my sisters and I a care package so that we could start a duct tape channel and be as popular as ducttapestuff. Duck Brand duct tape is the best and I hope everyone knows that.
Date published: 2013-03-06
Rated 5 out of 5
by
fdgugle
from
This product has special meaning
Duck Tape has a special meaning in our family as my father used it all the time and even though he is no longer with us we still use it. You can say the use of Duck Tape has been passed down to us kids and now the grandkids. When we had a shower for my great great niece I was able to find a small roll of pink duck tape and wrapped it up and gave it to her at her shower, for those of us who knew what it meant we laughed and cried and said Dad was with us. Now she has passed it down to her children and they know what it means. Not only is it a good product which has many uses and we use it all the time, but it also has a lot a meaning. Thank you.
Date published: 2014-08-26
Rated 5 out of 5
by
kate
from
fabulous product
i love Duck Tape! it is the best! i love the Duck Brand duct tape. it i so useful for so much more than air ducts. and i love the variety of colors that are offered! there are so many colors and patterns. some of my favs are, cheetah, pineapple delight, the chevron one thats orange and blue, i really like the star wars one and the nerds one too! it is so incredible to see just how many there are! i like to make wallets out of my tape but it literally works for anything! i highly recommend duck tape! i have used it to fix shoes and as a cup holder, i have made a shirt and i have made a hair tie, i have reattached a broken side view mirror back onto a friends car with duck tape.
Date published: 2015-07-29
Rated 5 out of 5
by
Fuhleeshuh
from
This is VERY useful
I have used colored duck tape and the print duct tape for a lot of useful things. Being a college student, I have to be able to make use of what I have. with duck brand duct tape, I have made wallets, bags, roses, a shelf, and a portfolio for art. I recommend duct tape to pretty much everyone I know. It has definitely helped me fix a lot of things.
Date published: 2012-11-02
Rated 5 out of 5
by
Tam44
from
Getting Crafty
My daughter loves the colored Duck Brand Tape for making flowers. I love Duck Brand Tape for about a millions things. It works great for quick fixes. And now with the colored and printed varieties available, it opens up so many more doors, I am now using Duck Tape for DIY crafts to decorate finished projects. Instead of covering my projects with card stock or decorative paper, I use duck Tape, it is so much more durable than paper and it is self stick lol. I would highly recommended the purchase of duck Tape for what ever use you have in mind. And don't forget to check out some great crafting idea's right on their site @ duckbrand.com.
Date published: 2013-07-22
Rated 5 out of 5
by
ElectricDandelion
from
Perfect for what I wanted and easy to use
I got this and also the light pink to make a wastebasket for my car to match my car seat covers. It was really easy to use this and the wastebasket came out very cute. I used a tip I read somewhere that if you put vaseline on your scissors, they won't get adhesive from the tape on them after repeated cutting and will cut very cleanly. I didn't have vaseline, but used coconut oil and it worked beautifully--smooth cuts and I had no trouble cutting out the petals of a flower to adorn the front of the wastebasket when I was finished. I can't wait for my next project. The only bummer is that sometimes the stores around me don't have all the colors and patterns.
Date published: 2013-08-29
Rated 5 out of 5
by
peaceisawsome333
from
Useful and Durable
Vibrant color and good quality. I enjoy making crafts, and I often find myself coming back to this product again and again. So many things can be made from Duck Brand duct tape alone, but I usually use it to hold together other materials. I don't have to worry if it will fall apart. I also have used this product at engineering camps. We are often given limited supplies and told to build something. Many times, Duck tape was on the list because it is so versatile and reliable. Also, we did whole challenges with just Duck tape. At least one group always succeeded. Duck tape can be difficult and frustrating to use at times, but it is very durable and attractive.
Date published: 2015-03-19
Rated 5 out of 5
by
Tinyturbo
from
Long Lasting Awesomeness
I used this Duck Brand Duct Tape almost 5 years ago to make a dress for my 25th birthday. This was before all the wonderful printed tapes there are now. I only have about 5 colors to choose from and one purple plaid design. This was also before I ever heard of these prom dresses of duct tape, so I thought I was pretty cutting edge. Anyway, my group of about 5 girls all made duct tape dresses and went out to celebrate my turning a quarter of a century. Not only did my dress hold up a night of dancing at the club, but it is still holding up in my closet. I just can't bare to part with it. It was my first major Duck Tape project.
Date published: 2013-10-19