Easton Archery 1916 Fall Stalker Arrows - 6 Pack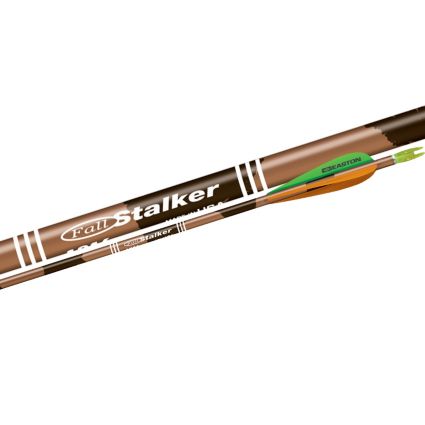 Easton Archery 1916 Fall Stalker Arrows - 6 Pack
is rated out of
5
by
60
.
This product is currently out of stock.
Please choose product options above
Please choose product options above
PDP Sticky bottom AddToCart Section - active and hide position
Product Information:
A must-have for serious archers, the Easton Archery® 2219 Fall Stalker is a quality aluminum arrow for archers of all skill levels. The shafts are constructed of rugged 6105 alloy with a hard, anodized, two-color black and brown fall camo finish. These Carbon Express® arrows come with inserts and are universally threaded to accept field points and broadheads.
Brand: Easton Archery
Country of Origin: Imported
Web ID: 15EAYU22166PKFLLSARO
Rated 4 out of 5
by
Oldschoolhunter
from
Reliable
I have been using these arrows for decades, when they are new I use them to hunt with, after a season of hunting I use them as practice arrows. They are a reliable "tool" and provide good use, they will bend (I never hunt with one after it has gone through a deer) but at this price you can replace 3 sets of them for the price of a single set of carbon arrows.These arrows are heavier than carbon arrows and will have more drop, but they also carry more energy to the target.If I had all the money in the world I would choose carbon arrows, if you want to shoot and keep the cost down these are great. You just need to be aware of the trade offs.
Date published: 2014-09-13
Rated 4 out of 5
by
heightman55
from
Easton WAS always a great arrow
I am somewhat disappointed in my purchase. Although it was a great price. I bought these arrows to replace the ones I purchased close to 20 years ago. However I have already found these to be of lesser quality than my old arrows.I have already bent 3 of them just by grouping my shoots. I never had that problem with my older arrows although I did often group all 12 withing 2 inches of eachother. I upgraded to a heavier arrow just because I increased the speed of my bow with a few minor adjustments and felt a heavier arrow was needed due to the flex of my lighter arrows as a result of the increased speed. All in all I would still stay with Easton arrows the shoot STRAIGHT.
Date published: 2013-11-12
Rated 5 out of 5
by
Bubbagolf
from
Easton fall stalkers
I bought the six pack of these last night,one of the employees recomended them to me. I was looking to spend less than $30 for arrows and got what I was looking for. These arrows come a little long in the package so get them cut down(which they do there for free/ they also epoxy the tips as well) to your draw length. I used themfor target practice this morning and within 24 shots I almost "Robin Hooded" the arrow. I shattered the knock of the arrow so I need to get a new one. Great arrows buy them. I was shooting tight groups at 40 yds and I almost never shoot my bow.
Date published: 2012-09-30
Rated 3 out of 5
by
Musicbydan
from
Shoots straight, bends easily
My experience with these arrows has been OK. I wouldn't rave about them. They shoot straight, but since I don't have a target at home (I live in the city) I have to use the archery bales that the park near my house puts out. These arrows have sometimes bent on impact. I've used other arrows on the same bales and they've withstood the impact.Granted I'm 6'3... I have a long draw and my bow is set at 70#. Still, though, these arrows shouldn't be bending. I've bent 2 of the six in my first 4 hrs of shooting them. Bummer.Other than that they shoot straight and feel good.
Date published: 2013-04-20
Rated 3 out of 5
by
COLTY2564
from
ok
i bought only 2 arrows and got the cut to my short 25 in. draw, i brought them home and shot them through my barrnett vortex (youth bow) at 38 lbs. after about 5 shots each, they both bent, but i can say it was my fault, i have a deer target and when i tried to pull them out they bent, but i do give a thumbs up because i also shoot them through a hoyt powerflex at 70 lbs and missed and nailed a tree, there was nothing wrong with the arrow, but the reason i give it three stars is because the nocks, my rest hates the flechings, and they can bend, but there the most accrute arrows ive ever shot!
Date published: 2012-11-12
Rated 5 out of 5
by
NChunter44
from
Cannot be beat
These Easton 1916's won't be beat. They fly terrific and are straight arrows. The reason the tip holder and knocks are packed loose is so you can trim the arrow to your draw length if needed. Then if you glue the tip holders and knocks into place "PROPERLY", the knocks won't move and the tip holders won't get lost like some have stated in their reviews. I began using these arrows initially because Dick's sells them for such a good price. I since have shot other more expensive arrows, but these aluminum Eastons get the job done just as good as any arrow costing more. I use them exclusively now. I haven't had a deer to complain yet that I am using a bargain priced arrow. They simply don't know the difference.
Date published: 2013-07-30
Rated 4 out of 5
by
Cpugeek
from
Nocks are not aligned for re-curve bow
I've bought these before. It is a great price for a good quality arrow. They came with inserts but no tips. I had to remove the glued on nocks and install new ones lined up with the cock vane. Not a problem for me, just wanted others to be aware. (They may be fine for a Wheelie bow, I only shoot trad.)You will also have to glue the inserts in as they come in a little bag. Even adding points and new nocks these are still some of the cheapest good quality arrows out there.
Date published: 2014-02-25
Rated 4 out of 5
by
thorin oakensheild
from
old school
I shoot both carbon and aluminum shafts in my bows. there is obviously a noticeable difference in how close my sight pins are with carbons as opposed to aluminums, but i still like the durability of the aluminum arrows. i purchased my easton's at my local dick's and they came with the x nocks. these online one's look like the old school conventional nocks...which bring back bittersweet memories of getting good enough to ruin my nocks by shooting at the same bullseye twice, then spending hours gluing new nocks back on. ah, nostalgia.
Date published: 2013-04-27