Easton Ghost X Hyperlite USA Youth Bat 2018 (-11)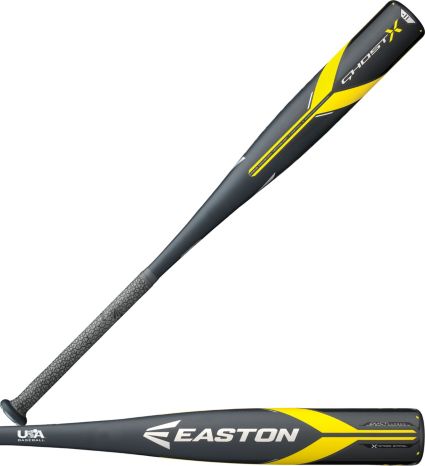 Easton Ghost X Hyperlite USA Youth Bat 2018 (-11)
is rated out of
5
by
134
.
This product is currently out of stock.
Please choose product options above
Please choose product options above
PDP Sticky bottom AddToCart Section - active and hide position
Ideal for younger players learning the game, the 2018 Easton® Ghost X Hyperlite™ USA Bat has a -11 drop weight for a faster swing weight, with an advanced composite composition that provides good pop off the extended barrel design.
Notice: This bat is approved for play under the new USA Baseball Bat Standard in 2018. Click here to learn more about the 2018 USA Baseball Youth Bat Standard Change.
Technical. Powerful. Supernatural:
One-piece alloy offers a fast swing weight for more speed behind the ball on contact
Exact® Carbon: Engineering X Advanced Carbon Technology for a one-piece construction with optimal barrel performance
X-tended barrel design delivers a larger sweet spot
Ultra-thin 29/32'' Exact™ composite handle with increased cushion of a HYPERSKIN™ 1.4mm grip
Specs:
Drop: -11
Barrel Diameter: 2-5/8"
Material: Exact™ Composite
Construction: One-Piece
Swing Weight: Balanced
Sport: Baseball
Series: Ghost X Hyperlite
Year: 2018
Age: Youth
Certification(s): USA
NOTICE:
We recommend that you receive approval from your local league before removing the wrapper from your bat.
Brand: Easton Sports
Style: YBB18GXHL
Web ID: 17ETSYYTHGHSTXHL2KBT
Rated 1 out of 5
by
Jdhunter
from
Worst bat ever
Do not waste your money on this junk of a bat. My son has used Easton makos for the last 3 seasons with no problems they were great. I know the regulations have changed so the bats have changed but with the money spent for a higher end bat you would expect little vibration but with this bat you might as well be out there swinging a piece of rebar. Buy this bat if you would like to watch your once confident player become scared of even making contact with the ball. I really would like to see Easton do what right and issue returns or make a recall on this bat. We have been customers of Easton's for years but might switch it up because of a flop of a bat.
Date published: 2018-03-19
Rated 1 out of 5
by
Aggravated Baseball mom
from
Disappointed
My son got this bat because of the new rule. Went with Easton because his previous 6 bats were Easton so we were confident another Easton would be just as good. Tried it at demo and thought it would be ok. After swinging at practice a few times, he constantly complained about the sting and how he couldn't "hit" good. Tried contacting Easton directly in hopes they would stand behind their product. They just told me I could buy something else after I had just paid $250 for junk and when I emailed Dicks, I got no response at all. So now after 5 months of him complaining I had to buy ANOTHER bat. What a waste of money.
Date published: 2018-07-05
Rated 5 out of 5
by
Tamyo
from
No Vibration
Bought this bat for my son, I take him to the cages regularly & hit as well with his bat. In the past, we have just bought him mediocre bats because was still learning. However, since we need to get him a new bat for the 2018 season we decided to get him one now so he can get lots of use out of it during fall ball as well. Stoked we did as this bat definitely is worth the money if your kid is serious. I've read a lot about a bat's "pop" & "sweet spot"..... and now I get it. Not saying this bat is going to make your kid have a better batting average bc that is going to come with practice, but this bat will give them more comfort. It also gives the ball a good ride when hit just right!
Date published: 2017-09-19
Rated 2 out of 5
by
CoachMikeLig
from
Don't waste your money
We bought this bat knowing to expect less pop. My son is a big 10 and rarely complains about bat sting. He started using this bat in the fall season and needless to say he refuses to use the bat any longer. Not only does the bat have no pop at all but he is hitting 20ft further with his $60 wood bat. I also can not count the number of times he has dropped this bat due to sting. For the price we paid for this bat and got no return of investment whatsoever this is definitely a bat to stay away from. We have been strong Easton supporters until now. My son has also tried the other Easton's and says he no longer wants to use Easton. I also coach both travel and in house teams and will be warning all not to buy this product
Date published: 2018-02-16
Rated 1 out of 5
by
DavStarr
from
Painful Mistake
What an expensive mistake to make. I bought this bat for my kids who will need a new USA bat for the upcoming season. Everything about the bat seems great until you make contact with real baseballs. The thud and lack of pop are to be expected with the new regulations. What wasn't expected was the unbearable sting. After a few hits my kids (and others on their team) will not use it as it seems to just hurt too much. I am hearing the same from others who purchased this bat and am reading similar reviews online.
Date published: 2018-01-01
Rated 1 out of 5
by
NJMike
from
Stay Away From this Bat
I can't stress it enough, STAY AWAY from this bat. My son is an excellent hitter and complains about the vibrations on this bat. I thought it was in his head, but every child he lets use it complains about the same thing. At close to $400 it is the WORST purchase I have ever made for anything costing this much. IT now becomes a wasted $400 that will sit in my garage or in my car trunk! Have three kids and coach both local Rec teams and Regional Travel. Won't be able to recommend Easton again after a being a longstanding advocate to my players and parents....
Date published: 2018-03-26
Rated 4 out of 5
by
Batting_Coach
from
Hits like a dead Mako
Purchased this bat after my son attended a demo for DeMarini, Easton, Louisville Slugger and Rawlings. He is 8 years old and was playing the Mako Beast YB17MK12 and the new USA bats are a far departure from them. His 100' line drives to centerfield are now just clearing 2nd base with the new USA bats. If you have not hit any of them yet you are in for a rude wake up call. I see two things happening with the USA rule change, 1) The big hitters will still be able to carry the ball to the outfield but the velocity will be way down. Where you were used to seeing balls where you say "man that was hit hard" are replaced with lazy flyballs. The big barrels really seem to absorb the energy instead of transferring it back to the ball. 2) Small kids are going to struggle since all the weight is in the barrel. Swings will be slower and the added trampoline effect is gone. The bigger barrels look cartoonish and will take some getting used to. After testing on a Flightscope he was getting more exit velocity with a Wooden Marucci then using any of the USA bats. The BBS of the new USA bats must have been based off a water logged Louisville Slugger. The bats around $170 and up seem to all to be the same and the $50-100 range is no different then cheap wood bats. I chose this Hyperlite over the others cause my son had the fastest bat speed and the barrel didn't dip as much. Using a smash ball on a tee is the second method we used to determine consistent contact. Hope this helps some of you in trying to determine which bat will fit your kid.
Date published: 2017-11-08
Rated 1 out of 5
by
gatorbutts
from
Worst Easton bat ever produced
My son is an 11 yr old player who had been hitting Mako bats. When the standard went to USAbat, we knew we'd lose the pop associated with those bats, but hoped Easton would provide a decent bat in the USAbat standard with a drop 11 weight. Bottom line, the Hyperlite is the most unforgiving, hard-stinging bat we've ever used. Aside from being dead (no pop), its sweet spot is tiny, with any mis-hits either resulting in pop flies or foul balls. Even worse, most mis-hits result in terrible sting, resulting in a very painful experience for my son. After using the bat for several games (and hundreds of hits in the cages), we've hung it up and moved to a DeMarini Voodoo and are VERY pleased. We are no longer Easton loyalists, and there are several players in our league (and on our state champ All Star team) who have reached the same conclusion.
Date published: 2018-03-26