Easton S450 USA Youth Bat 2018 (-12)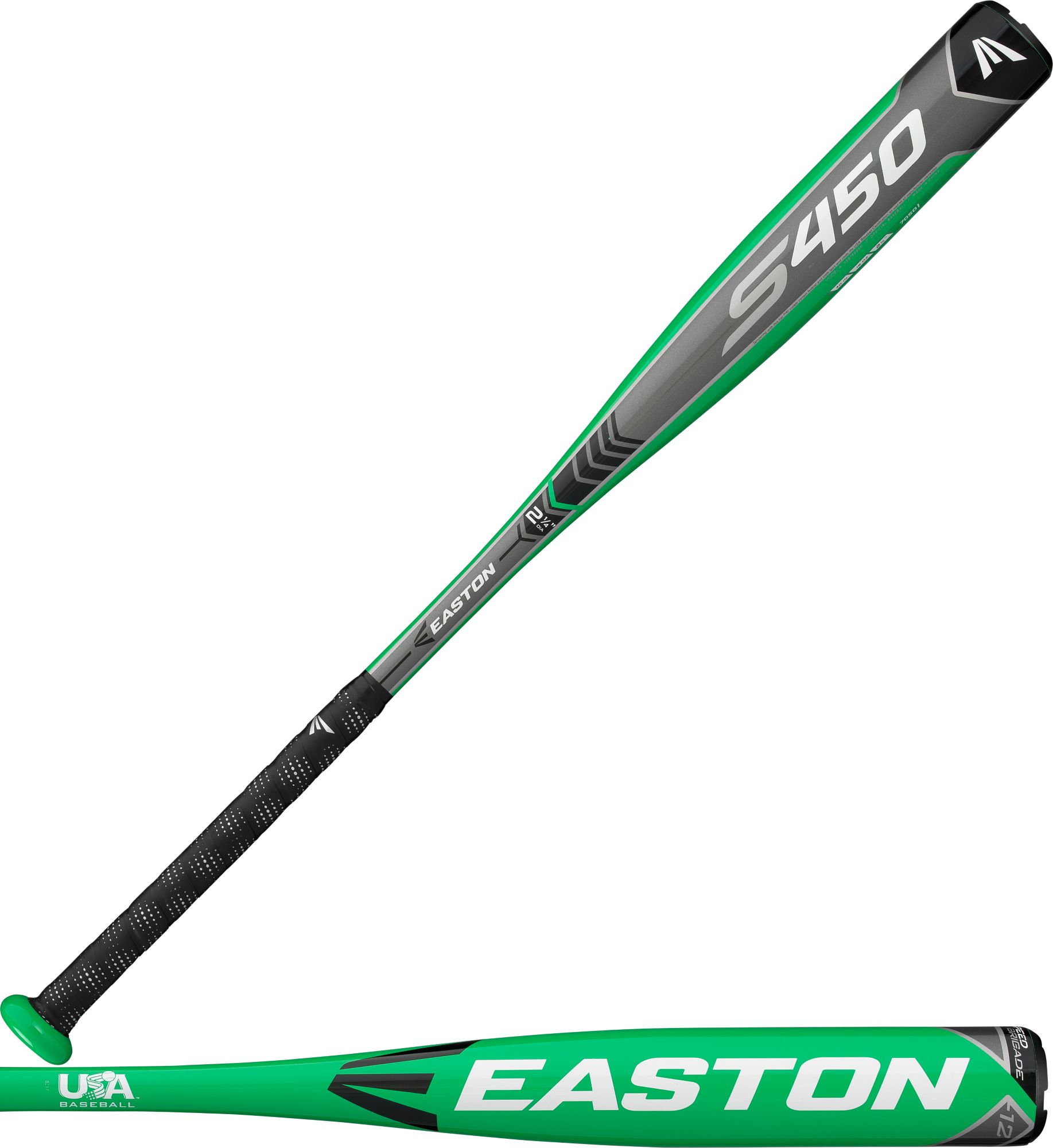 Loading Images...
Easton S450 USA Youth Bat 2018 (-12)
is rated out of
5
by
42
.
This product is currently out of stock.
Please choose product options above
Please choose product options above
PDP Sticky bottom AddToCart Section - active and hide position
Traditional Feel, Elite Durability:
ALX50 military grade aluminum construction for extended durability
Thin 29/32" tapered handle with cushioned and tacky All-Sports grip
Concave end cap
Specs:
Drop: -12
Barrel Diameter: 2-1/4"
Material: Aluminum Alloy
Construction: One-Piece
Swing Weight: Balanced
Sport: Baseball
Series: S450
Year: 2018
Certification(s): USA
NOTICE:
We recommend that you receive approval from your local league before removing the wrapper from your bat.
Brand: Easton Sports
Style: YSB18S450
Web ID: 17ETSYS4502141220KBT
Rated 3 out of 5
by
ThePickle
from
JR and SS both have Valid points
JR is correct, this is the lightest bat outside of T-ball and will be sought after when everyone realizes how much heavier USA bats are compared to years past. SS is also correct in that although marketed as (27/12) 15 ounces the bat is in fact 16.23 ounces. I actually weighed the bat on a commercial scale. Here's the thing, all USA bats are heavier than advertised. To make matters worse most of them are top heavy. Tee all players and older players should be fine. Tee ball bats are still super light (drop 13) and affordable and older players will do just fine with a nice drop 8; it's the 6,7,8 year olds just outside of teeball that will struggle, my boy included. I'm gonna wait until there are more choices / options before I splurge on something pricey
Date published: 2018-01-11
Rated 1 out of 5
by
Anonymous
from
Save the wrapper and receipt for your warranty return!
My son loves this bat. And confidence has a lot of power. Unfortunately, 2 games into the season, the bat has a large dent in the tapered area. My (9 year old) son is not a super strong kid, and the dent developed during practice with batting practice. And guess what the warranty says: You must return the hologram sticker on the plastic wrapper with the bat. "THE HOLOGRAM STICKER MUST MATCH THE HOLOGRAM THAT IS PERMANENTLY AFFIXED TO THE HANDLE/TAPER AREA OF THE BAT" How many people save the wrapper for a year in case of warranty problems?
Date published: 2018-04-02
Rated 5 out of 5
by
Anonymous
from
Great Bat for kids under 100lbs.
My son is 10 years old playing in Majors but is only 70 pounds. This bat is the lightest USA bat available and has the 2 1/4" barrel which i highly recommend for kids 10 and under. Has plenty of pop off the true sweet spot and the best hits will have a very quiet muted wood bat like sound. Doesn't last forever though because the umpire at his last game found 2 dents on the barrel and we have to buy another one to use. Only real baseballs were hit with it and it was used properly at all times and I approximate 1,500-2,000 balls were hit with it making it well worth the money even if i have to replace it another time or two.
Date published: 2018-04-27
Rated 4 out of 5
by
JR Ewing
from
Going to be in high demand
This is the lightest USA bat available. There are going to be lots of young kids in Little League swinging their new -10 and -8 (and -5 jeez) bats wondering why they can't hit with them. You gotta stick with the light bats. This bat standard is going to be a problem for the younger kids since there aren't as many light bats as before.
Date published: 2017-12-06
Rated 2 out of 5
by
Badsn95
from
Light, but lightweight too.
I bought this right before baseball season, we love Easton bats. This was for my 10 year old son who is playing up in 11/12's and in his 9/10 age group. Being a -12, it is light and fast just like his older 2 piece bats, but yesterday he got 2 hits our jamboree, and the bat dented in two spots. I didn't spend a ton on a bat because this Usa certification is brand new, but this is not a cheap bat either, and I feel that it should not have dented half way into the season. I would still recommend this bat for some kids, but if your kid has a really strong swing, I would say shop around.
Date published: 2018-05-21
Rated 2 out of 5
by
IndyBigDaddy
from
Heavy
Bought this for my 7 year old. Bat says it's 16 ounces so based on that its one of the lightest advertised in the USA bat space. It actually weighs 18.6 ounces and feels like every bit of that weight is at the end cap. Seems most retailers think that's acceptable but his bats from last year were all within .1 of an ounce of advertised so trying to make an almost 3 ounce jump with horrible balance is taking it's toll in early practice. Have found similar results across usa bat spektrum as they seem to be overweight and end heavy so have returned many
Date published: 2018-02-13
Rated 1 out of 5
by
Bakans
from
Bent within the first week. Easton Customer Service is AWFUL
My son had this for about two weeks of practice. Had a nice hot and the bat bent (See pic below) but I'd avoid Easton for all products based on their lack of customer service. I've had two phone calls on hold for over a half hour and still not been able to talk to someone, and I've yet to hear back on my warranty claim after two weeks when they said it would be three days until someone would respond. Awful experience with Easton. Avoid.
Date published: 2018-05-24
Rated 1 out of 5
by
JB186
from
End loaded
USA bat standards already have flaws. This is the lightest bat on paper but is it really the lightest? No, put it on a scale and its supposed to be 17oz it's actually 18.6-19oz. All the weight is in the end cap. It's not balanced well and hurting many of these young players swings and confidence. USSSA bats are better engineered and definitely more balanced. Have a older son that's in travel ball and my 6yr old daughter wants to play. She hits better with his old USSSA bats that are supposed to be the same size and weight and are not.
Date published: 2018-03-02