Easton S450 USA Youth Bat 2018 (-8)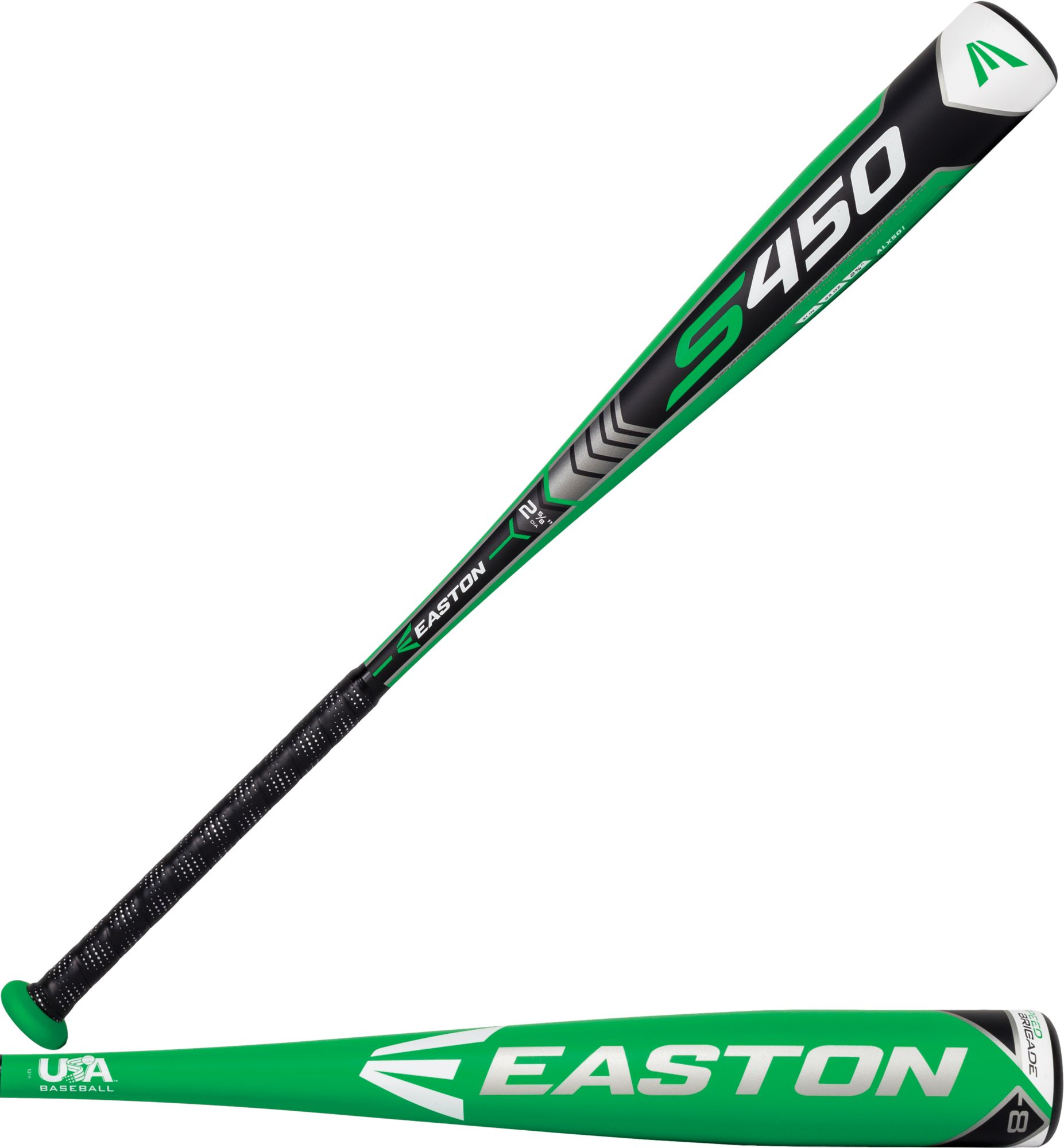 Loading Images...
Easton S450 USA Youth Bat 2018 (-8)
is rated out of
5
by
40
.
This product is currently out of stock.
Please choose product options above
Please choose product options above
PDP Sticky bottom AddToCart Section - active and hide position
Traditional Feel, Elite Durability:
ALX50 military grade aluminum construction for extended durability
Thin 29/32" tapered handle with cushioned and tacky All-Sports grip
Concave end cap
Specs:
Drop: -8
Barrel Diameter: 2-5/8"
Material: Aluminum Alloy
Construction: One-Piece
Swing Weight: Balanced
Sport: Baseball
Series: S450
Year: 2018
Certification(s): USA
NOTICE:
We recommend that you receive approval from your local league before removing the wrapper from your bat.
Brand: Easton Sports
Style: YBB18S4508
Web ID: 17ETSYS4502588201KBT
Rated 1 out of 5
by
akaPeanut
from
I Hate To Say it...
Do Not buy this bat! I'm a coach in a parks and rec league age group 12u. These are the bats supplied to us by the league . 3 bats 30, 31, 32 inch all of them drop 8s. Everyone of them have dented from normal use in a very short amount of time, under a month. One of them even bent a small amount midway of the bat. I got intouch with the other coaches and also the director of the league, all of them are doing the same thing. I really hate to leave a bad review, but we as parents spend alot of time and money for our kids to play ball, also to have good equipment. I hate if someone got stuck with something that they couldn't get thier money's worth out of it.
Date published: 2018-05-23
Rated 1 out of 5
by
allirgriff
from
Don't waste your money
I bought this to replace the same bat, it was the only bat the size I needed in stock at the store and we were at an out of town tournament. First bat had bent during a game. Thinking it must have been a defective bat I purchased it again. Second bat did the same thing in the game the next morning. Now I have 2 bent bats in my garage and had to spend more money to replace. Easton will definitely be getting a call from me! Unfortunately I can only seem to find the receipt for one and definitely don't want them to send me the same bat as a replacement. We'll see how it goes.
Date published: 2018-07-04
Rated 2 out of 5
by
jharbaugh53
from
Good value, subpar quality
My son purchased this bat with his birthday money and was very excited to have it for the upcoming season. However after a single practice and maybe a dozen well-hit balls, we noticed it was already dented. Easton has a 1 year warranty, which is nice, but be sure to contact an actual person at Easton before shipping to back for a replacement. I guess since this is an "entry level/low cost" bat, they only require an email with photos showing the damage. Don't waste any more money paying to ship it as the automated response suggests. I suspect this will be a common issue since it is already on of Easton's lowest rated bats.
Date published: 2018-03-28
Rated 5 out of 5
by
Momof2hitters
from
He's good with it!!!
Purchased this bat for my 11 year old son after checking reviews, following measurement recommendations, doing in store weight tests...he used it for player evaluations this past Saturday. He made contact with the ball every hit and on the last hit...he simply blasted the ball into the outfield. Looking forward to the season! Fyi to address changes with the bat and reviews shared... mama decided to purchase her boys 2 different bat sizes 2 5/8 and a 2 1/4 to support the boys in gauging what is needed to get the job done! My son likes this bat...says it is a comfortable and light swing. For the 2 1/4...he went with the Easton 350...will share upon him using it. Lol...dad ( that definitely knows the game better than I)says him hitting the ball is not the bat. I get it but mama wants all bases covered with new changes.
Date published: 2018-01-31
Rated 4 out of 5
by
Lil judge
from
So far, so good. For the price, no complaint
USA bats are an enigma this year. This bat is working for my son. He was hitting a -8 2 5/8 DeMarini last year and was dialed in. We were ready to move to a -5 but this bat swung well. He is more a power hitter than contact hitter. The bat is end weighted not balanced, good for his style but not for everyone. For the price it was worth the risk and he's very pleased. Just now it's not what would be called a balanced bat by design. We noticed no diff with the more expensive hybrids etc as everyone in the team has swung each other's purchase. Reserving a star to see how it does in game situation. These bats have a smaller contact area but I think that is by design. It's a bit bigger proportionally than the picture shows since he's using a 31 in
Date published: 2018-02-27
Rated 1 out of 5
by
randmeli
from
Broke during baseball practice!
At the beginning of the baseball season, I wanted to get my son a good bat. We went to Dicks just to see what they had. He tried a couple and really liked how this one felt. It was priced well below what we had intended to purchase, but he liked the look and more importantly he liked the feel when he made some practice swings. All was good until practice before the game last night. He hit the ball and it bent the bat! There is a dent from the ball and the whole bat has a curve to it. It's truly unbelievable! He's 13 in the senior youth league, but it's hard to believe he hit a ball hard enough to do that kind of damage. Now batless, we are torn between returning it or keeping it as a momento. It's not every day a kids bat gets warped from hitting a ball. Five stars for the look, five stars for the feel and 1 star for quality/durability.
Date published: 2018-05-02
Rated 1 out of 5
by
SuzB
from
Dents easily
We bought this bat a little over a month ago. My son has used it for typical practice and games for a 12u team, and it already has a dent in it. If you go look at purchase reviews for this bat there are quite a few people who are reporting that it dents and gets bent easily. We have owned several Easton bats in the past and have never had this problem before. Sadly we did not keep the wrapper that it came in so we cannot return it to Easton. I highly recommend if you do buy this bat, keep the wrapper and the receipt for it.
Date published: 2018-05-17
Rated 1 out of 5
by
Venom
from
It sucks
I bought this Easton bat about 2 months ago for my son. It has a dent only used it once for baseball practice, I will not recommend this bat to anyone
Date published: 2018-04-28