Easton S750 USA Youth Bat 2018 (-10)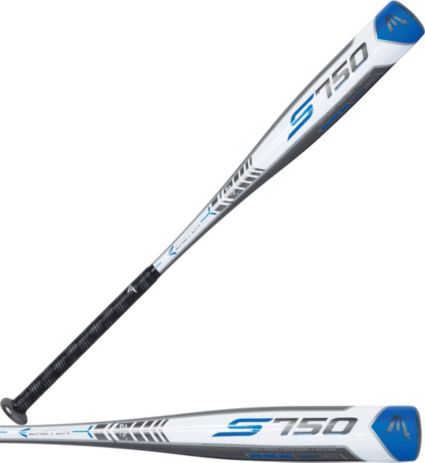 Easton S750 USA Youth Bat 2018 (-10)
is rated out of
5
by
105
.
This product is currently out of stock.
Please choose product options above
Please choose product options above
PDP Sticky bottom AddToCart Section - active and hide position
Designed with a durable aluminum barrel, the 2018 Easton® S750 USA Bat also includes an extended barrel design to enlarge the sweet spot.
Notice: This bat is approved for play under the new USA Baseball Bat Standard in 2018. Click here to learn more about the 2018 USA Baseball Youth Bat Standard Change.
Traditional Feel, Powerful Barrel:
HMX Alloy is made from durable aluminum to provide a traditional feel and excellent pop
X-tended barrel design delivers a larger sweet spot
31/32'' handle with increased cushion in the 1.4mm HYPERSKIN™ grip
Specs:
Drop: -10
Barrel Diameter: 2-5/8"
Barrel Material: HMX Alloy
Construction: One-Piece
Swing Weight: Balanced
Sport: Baseball
Series: S750
Year: 2018
Age: Youth
Certification(s): USA
NOTICE:
We recommend that you receive approval from your local league before removing the wrapper from your bat.
Brand: Easton Sports
Style: YBB18S750
Web ID: 17ETSYS7502581020KBT
Rated 5 out of 5
by
Fishingrn
from
Best bat for the price!
I bought this bat for my son because of the regulation changes. I have read reviews giving it 1 and 2 stars because their kids aren't big or strong enough to swing it. That's not the bat's fault, you need to buy a proper bat for your child. My son is only 8 and small for his age and can still crush the ball with this bat. All the bigger kids on our team use it as well and have no problem smoking the ball into the outfield. Are there better bats? Yes, but not for under $100. The barrel does taper down faster than the picture appears, though. Take your son with you to test how they feel. If this one feels good, you can't go wrong with buying it.
Date published: 2018-06-13
Rated 5 out of 5
by
Donnie Batman
from
One of the Better USA bats
We bought the 29" and both of my boys have been hitting really well with it. When compared to some of the $200 bats out there, this bat has comparable performance. For $99, you will NOT find a better bat. This bat is made of HMX alloy which was introduced in 2015 as Easton's best quality material. Great sound, good pop, solid feel, some vibration but less than I would expect of a one-piece. Bottom line- probably the best bat for the money. Shorter versions <29" might have a smaller barrel but 29" and up are good to go. Good luck!
Date published: 2017-12-06
Rated 4 out of 5
by
battleborn2012
from
Follow-up to "A Bit Misleading"
My 8 yr old son was super excited to get this for his birthday. After hitting only about a dozen balls with it he seemed very satisfied and it he seemed to be hitting the ball fairly well. We'll know better when we get on the field. I increased my star rating to four because the bat actually does perform pretty well, but I'm still a little disappointed with the barrel size on the 28". And FYI, I went to a Dick's somewhat nearby and the 29" and up do have an extended barrel like the photos show. Still not sure why the 28" is different. I would've bought a 29" but it was a log for my 8 yr old. He's roughly 4'5" and 50 lbs. The 28" he swings fine. I hope that helps those who are looking to buy this bat. For the money I think it's one of the better choices.
Date published: 2017-11-01
Rated 5 out of 5
by
G Dad
from
Top Rate Equipment
I bought this bat for my 10 year old son during a flash sale based on reviews. I bought the bat an inch longer than his current bat so that he could use it in the following season. He was playing in a summer league and was dying to use it. He took it to one of his games. Without having used it before, he walked up to the plate and crushed a pitch deep into the outfield. He said that the feeling of the bat was comfortable as if he had owned it forever. This bat is 1 inch longer but lighter than the bat he had been using previously. I highly recommend this bat.
Date published: 2018-07-25
Rated 5 out of 5
by
Grand slam
from
Only Easton worth buying this season 2018!
Great bat my 8 yr old is hitting further with this bat. His other bat is a USA Quattro, composite ($300) the kids on his team love this bat more! My friends kid has the Easton beast x and this bat smokes it. Don't waste money. The mid range bats are blowing the high end bats out of the water another really great bat is the Rawlings threat with a drop -12. These two bats are the only bats worth buying this season in my opinion.
Date published: 2018-06-20
Rated 3 out of 5
by
battleborn2009
from
A bit misleading
I bought this bat online and the photo and description of this bat make it look like it truly has an extended barrel. The photo makes it look like the bat starts tapering off around the "S" on the bat logo. However, when I got the bat I was a little disappointed to see that the 2-5/8 barrel goes from the end of the bat to the 0 on the S750 label. I wouldn't call that an extended barrel. I bought this for my 8 yr old son for his birthday, which is at the end of the month, so he hasn't used it yet. I can't comment on the performance, just the fact that the barrel of the bat isn't "extended" like the photos show and the description says. Maybe it's because we got the 28/18, I don't know, but I wish the bat looked like it does in the photos. I will revise my review after we actually use the bat to say how it performs.
Date published: 2017-10-20
Rated 5 out of 5
by
bdogchaz
from
Son Loves It!!
Needed to get my 6 y/o a new bat for LL (new 2018 USA bat standard). The options for a bat in his size (was swinging a 27/17 2 1/4 in barrel) were limited due to price discrepancies <$100 (1 choice or not 2 5/8 barrel) or >200+ (for a 6 year old!!). So I waited for this bat to come out (late Sept.) Hemmed and hawed at having to buy a bat that was a little too big (wishing it came in 27/17) and spending more than I really wanted to, when the price dropped I jumped at it! We have not been disappointed! My son is able to swing it fine with the balanced weight. Since it is a bit longer he does get a dragged a little on his follow through, but not during his swing. The first pitch he saw with it he drove it to the OF on the fly. He has done it consistently since, only able to do that a handful of times before! A quality bat that is going to serve him well the rest of Fall Ball and into the Spring LL season and most likely Fall 2018 and maybe even Spring 2019. I'm glad I bought the 28/18 he can swing it well now and he will be able to grow into it and gain even more control.
Date published: 2017-10-12
Rated 4 out of 5
by
JG5050
from
great mid price bat
Just took this bat out for its first real use. Good pop off of the large sweet spot. Alittle heavy for some of the kids on my team but they loved this bat compared to Rawlings bats. Way better then the Easton S350 and S550. You can hear the difference and see more flight on the balls.
Date published: 2018-02-16