Federal American Eagle Handgun Ammo – 50 Rounds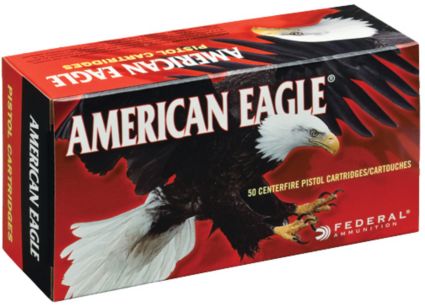 Federal American Eagle Handgun Ammo – 50 Rounds
is rated out of
5
by
64
.
This product is currently out of stock.
Please choose product options above
Please choose product options above
PDP Sticky bottom AddToCart Section - active and hide position
Product Information:
American Eagle® handgun ammunition is loaded with clean burning powders for flawless cycling. Made in the USA, this centerfire ammunition utilizes Federal® grade primers and brass for reliability above all else. Recommended for use with targets, the American Eagle® ammo provides quality and affordability, and offers ballistic capabilities. The Federal® American Eagle® Handgun Ammo comes in a box of 50 rounds.
FEATURES:
Federal® handgun ammo
Recommended for use with target shooting, training, and practice
Federal® grade primers and brass
Loaded with clean burning powders
Provides quality and affordability
Offer ballistic qualities
Available in a variety of calibers and bullet types
Centerfire ammunition
Made in the USA
Manufacturer's 1-year limited warranty
Federal
SPECS:
Style: AE9DP
Caliber: 9MM
Bullet Weight: 115 GR
Bullet Type: FMJ
Rounds in Box: 50
Velocity: 1180 fps
Style: AE380AP
Caliber: .380 Auto
Bullet Weight: 95 GR
Bullet Type: FMJ
Rounds in Box: 50
Velocity: 980 fps
Style: AE40R3
Caliber: .40 S&W
Bullet Weight: 165 GR
Bullet Type: FMJ
Rounds in Box: 50
Velocity: 1130 fps
Style: AE45A
Caliber: .45 Auto
Bullet Weight: 230 GR
Bullet Type: FMJ
Rounds in Box: 50
Velocity: 890 fps
Style: AE38K
Caliber: .38 Special
Bullet Weight: 130 GR
Bullet Type: FMJ
Rounds in Box: 50
Velocity: 890 fps
Style: AE357A
Caliber: .357 Magnum
Bullet Weight: 158 GR
Bullet Type: JSP
Rounds in Box: 50
Velocity: 1240 fps
Style: AE44A
Caliber: .44 Magnum
Bullet Weight: 240 GR
Bullet Type: JHP
Rounds in Box: 50
Velocity: 1230 fps
NOTICE: Under Dick's Sporting Goods policy, you must be 21 years old to purchase ammunition. Federal laws require purchaser to be a U.S. citizen or resident aliens. Some states and local laws may have further restrictions or require a permit or license to purchase ammunition.
Brand: Federal
Country of Origin: United States of America
Web ID: 15AMEU44MGNMXXXXXAMO
Rated 5 out of 5
by
Mr_Priest
from
Huge difference in my gun
I believe in shooting several different brands through my rifles/pistols as I can afford in order to find out which ones shoot the best for my particular weapon. I bought top of the line high velocity name brands and others along with American Eagle 240gr JSP for my 1894 44Mag lever action. There was no comparison at 50 yards using a solid lead-sled rest. The American Eagle 240JSP hit the same holes consistently. The others could only come within a half inch or further from the same holes. It's the only one I use in it now!
Date published: 2016-12-13
Rated 5 out of 5
by
Shawn
from
Target ammo ?
I dont think so.. I run this ammunition through both my Rugar Super Blackhawk Hunter 7.5 barrel and my Rugar 77/44 Carbine bolt rifle. I fairly easily keep this ammo at or under 2 inch groups at 100Yrds and about the same at 75Yrd in the pistol. I see no point for Deer Hunting in buying the more expensive ammunition when this stuff knocks deer down just fine. I will continue to to buy and Hunt Indiana deer with it untill someone offeres me something that works better for the same or less $
Date published: 2013-11-16
Rated 5 out of 5
by
Roland1911
from
My choice when in the woods
This is my choice for my S&W 686 when Im hiking in Black Bear territory or hunting. Fantastic penetration and fair enough expansion for the loading. American Eagle is great! Only a few cents more than Winchester White Box, but unlike Winchester, AE ALWAYS goes bang when you want it to. I will not shoot Winchester anymore because of QC issues Ive experienced.
Date published: 2016-02-12
Rated 5 out of 5
by
jimbob
from
works as it should...
Run about 40 rounds of this ammo and 35 of Winchester FMJ 95 in a M&P bodyguard 380...meant to be as cheap break in ammo....realized the Winchester was consistently 6-8 inch low on 30 feet...American Eagle was dead on bullseye and I was doing 2-3 inch 6 shoot patterns...wow...and this in break in mood...Also no failure to feed or stove pipes ...!!....Next I will test the 90 grain American Eagle !!!
Date published: 2014-04-27
Rated 1 out of 5
by
Ygor
from
This product is not good for the Taurus PT380
I recently went to a shooting range with my Taurus Pro Milli um 380 pistol. For comparison, I fired equal amounts, about 60 rounds, of each Remington nickel plated, Fiocchi and American Eagle 380 95 grain Ammo. With the Remington and the Fiocchi ammo, all went well. I wish I could say the same for the American Eagle. The striker hit the center of the primer for each attempted shot with few responses. Even with the Taurus' ability for strike two, no response on most attempts. I have used American Eagle Ammo of other calibers with great success and I do not know what the problem is with the AE380AP. Please respond Sincerely, Stephen Messinger
Date published: 2013-04-20
Rated 5 out of 5
by
Barraman1960
from
Great out of a Carbine
The stats they quote don't do justice to what this cartridge can accomplish out of an 18.5 inch barrel. Over 1800 fps and over 1100 fp of energy, at 10 feet from the barrel. And decent accuracy to 100 yards.
Date published: 2016-09-16
Rated 5 out of 5
by
JerryD
from
Good solid training ammo
I have run approximately 3000 rounds of this ammo through my Citidel full size 1911 and it has never failed me. No stove pipes, no jams, no failure to cycle. I would not for home/personal defense, but it's what I look for when I'm going to the range to keep my skills sharp.
Date published: 2014-10-06
Rated 5 out of 5
by
GaryE
from
About the best I've shot
I use the American Eagle 357 Mag. ammunition at the range over the years and for self defense. It is the best for accuracy and power I've shot for 357 ammo. The price is very affordable. It's my first choice.
Date published: 2016-01-23