Federal AutoMatch .22LR Champion Rifle Ammo – 325 Rounds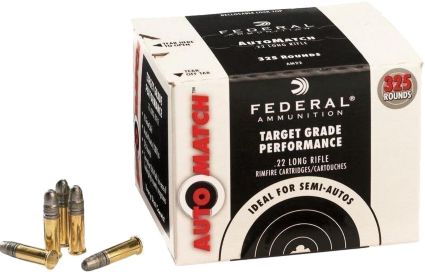 Federal AutoMatch .22LR Champion Rifle Ammo – 325 Rounds
is rated out of
5
by
307
.
This product is currently out of stock.
Please choose product options above
Please choose product options above
PDP Sticky bottom AddToCart Section - active and hide position
Product Information:
The Federal® Champion™ .22LR Rimfire Ammunition is a great solid load for training and hunting with your rimfire gun. With a 1200 feet per second velocity, it is perfect for 10/22 actions and other auto loading firearms. The convenient 325 round bulk pack provides ease in loading high capacity magazines for high volume shooting. The Federal® Champion™ Ammunition delivers great performance in 40 grain .22 long range loads.
FEATURES:
Brass casing
Quantity: 325 rounds
Model: AM22
It is Dick's Sporting Goods Policy that customers who wish to purchase firearms or ammunition of any type must be at least 21 years of age.
Brand: Federal
Country of Origin: United States of America
Web ID: 15FEDU22LRTMTCH32AMO
Tech Specs:
| Caliber | Weight (grains) | Bullet | Muzzle Velocity (ft/sec) | Ballistic Coefficient | Model |
| --- | --- | --- | --- | --- | --- |
| 22 LR | 40 | Lead Round Nose | 1200 | 0.138 | AM22 |
Rated 5 out of 5
by
shooter7
from
Am22=So far, GTG
Have over 100 boxes of these ordered over the last year from mult stores so, many different lot#'s etc and for me they've been very consistent tack drivers from ruger 10/22 and mossberg 715t as well. mossberg=iron sights at 50-75 yds; ruger= scoped 100-150yds; can do <1.5" groups with both. Recently tried them out to 300yds on 10" AR500 and after a few shots to settle in the scope hold point had fairly consistent 4" groups. ammo is also used in mult pistols and revolvers without issue. several thousand rounds fired and only 3 misfires so far. a little dirty though cleaner than others but hey, it is .22 rimfire after-all. I'm just a plinker and target shooter. So far very pleased with this ammo.
Date published: 2017-01-10
Rated 5 out of 5
by
Texdance
from
Good Stuff, no negatives
I am surprised to see any negative comments about this fine ammo. It is called "AutoMatch" on the black-and-white box, not to be confused with the lesser quality Champion 510 ammo which is good for plinking only. The AM22 AutoMatch is my go-to cost-effective round for bolt action rifles and auto pistols. Almost never jams or fails to feed. Capable of nice accurate .8 MOA groups at 50 ft, 25 yds, and 50 yds. I won't judge it beyond 50 yards because I can't read the wind that well. I have several thousand rounds stored away, I like it that much. Too bad prices are going sky high - when I first bought AM22 two years ago it cost $10.30 for a box of 325; then it went to $13.50, $14.50, $15.50 and now is about $18.00 if it can be found at all. Don't buy from the price gougers who are trying to charge $50 for a box of AutoMatch - wait and the ammo supply will reappear soon enough.
Date published: 2013-02-27
Rated 5 out of 5
by
JJ1022
from
Great bullet for the money
I originally thought this was a bad ammo untill I did a shoot out with 20 other brands on my bull barrel 10/22 and cz455. In my 10/22 it was in the upper half of bunch and top 3 with the bolt action. Over all it along with the American eagle brand .22 ( yes surprise there too) performed in the top 25% and top 2 for low cost bulk ammo. It lost out only too CCIs fed gold and eley. Not bad. Some pistols I had didn't cycle it well but those pistols also didn't cycle a lot of other brands.
Date published: 2013-08-02
Rated 1 out of 5
by
BobM1963
from
5% misfires, FTF/FTEs, Dirty
Picked up 3 boxes (325 each) of the AM22 Federal Target Grade "Performance" .22 lr ammo. In 4 magazines for my GSG 1911 .22 lr pistol, i had at least 3 failure to fires (nice bright brass strike mark on the casing!), multiple failure to feeds and 3 failure to eject. My pistol is clean and i have never had any other ammunition problems using multiple manufacturers. This ammunition also produced a substantial amount of smoke (DIRTY). this product has "Ideal for Semi-Autos" printed right on the box! Lot # IIGI77 (or 11G177). after 40 rounds, i will not shoot it again. Would work in a revolver or bolt action rifle maybe.
Date published: 2015-09-27
Rated 5 out of 5
by
bigbubba33
from
Federal Champion .22 40 gr target rounds
I own a few Ruger .22 cal target pistols and double/single action revolvers. Since I don't hunt, I just use the 40 gr lead rounds and rarely have a failure to feed or eject unlike some of the other 40 gr rounds I have tried. These are found at Gander Mountain stores and I highly recommend them. They are priced perfect for range users and plinkers like me. I have NEVER had one dud that failed to fire plus these are perfect for finicky semi auto pistols and rifles. Great rounds for the money!
Date published: 2011-12-27
Rated 5 out of 5
by
blackdog
from
best in my 1022 & BL22
Work very well in my 1022 and really shines in my Browning BL22 lever fun. I shoot this ammo in lever action silhouette matches and usually win (my losses are because I did poorly, not the ammo or rifle). Its starting to be available again...now I can practice more. Every .22 rifle/handgun is different - as supplies come back you can test to see witch is best for you...this is best for 2 of my rifles.
Date published: 2014-05-29
Rated 3 out of 5
by
Shorthair1
from
Checking out the first available ammo I could buy.
I purchased a 325 round carton of Auto Master today. It is the first American Made ammunition I have seen in a gun store in 6 years. I have used Federal Premium Match and Target loads for years. Federal Match ammo shoots 0.20 five shot 50 yard groups consistently in my Browning Model 52. I have not seen any on sale in my area for over 6 years. I don't know what the game is, but there is not any ammo in Salt Lake City or Northern Utah available. It you find an off brand ammo the price is beyond ridiculous. PLEASES TELL ME WHAT IS GOING ON. I HAVE READ REVIEWS IN MAJOR MAGAZINE AND THE AMERICAN RIFLEMAN. THEY ARE TRUE OF OUR AREA.
Date published: 2015-09-30
Rated 5 out of 5
by
kobalt
from
Broke the mould?
this is excellent ammo but my point is why is it so hard to find, everywhere you look it's backorder have you broke the mould?? Please FEDERAL restock the stores!!
Date published: 2013-09-28