Federal AutoMatch .22LR Champion Rifle Ammo – 325 Rounds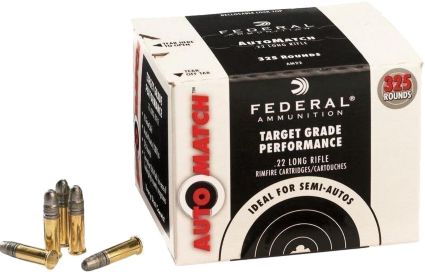 Federal AutoMatch .22LR Champion Rifle Ammo – 325 Rounds
is rated out of
5
by
225
.
This product is currently out of stock.
Please choose product options above
Please choose product options above
PDP Sticky bottom AddToCart Section - active and hide position
Product Information:
The Federal® Champion™ .22LR Rimfire Ammunition is a great solid load for training and hunting with your rimfire gun. With a 1200 feet per second velocity, it is perfect for 10/22 actions and other auto loading firearms. The convenient 325 round bulk pack provides ease in loading high capacity magazines for high volume shooting. The Federal® Champion™ Ammunition delivers great performance in 40 grain .22 long range loads.
FEATURES:
Brass casing
Quantity: 325 rounds
Model: AM22
NOTICE: Under Dick's Sporting Goods policy, you must be 21 years old to purchase ammunition. Federal laws requires purchaser to be a U.S. citizen or resident aliens. Some states and local laws may have further restrictions or require a permit or license to purchase ammunition.
Brand: Federal
Country of Origin: United States of America
Web ID: 15FEDU22LRTMTCH32AMO
Tech Specs:
| Caliber | Weight (grains) | Bullet | Muzzle Velocity (ft/sec) | Ballistic Coefficient | Model |
| --- | --- | --- | --- | --- | --- |
| 22 LR | 40 | Lead Round Nose | 1200 | 0.138 | AM22 |
Rated 2 out of 5
by
Jersian
from
Really not that great, even if it is affordable
I've used many boxes of this ammo in my Ruger 10/22 and Ruger American Rimfire. Neither of the rifles love it. The 10/22 jams frequently, and the Rimfire has had rounds fail to fire on multiple occasions. For a more reliable Federal round, I have moved on to the Federal .22 LR LRN Rifle Ammo Bulk Pack – 275 rounds, as it seems to work much better in both rifles.
Date published: 2017-10-17
Rated 3 out of 5
by
Petesil2
from
Great price
I've been using Federal Automatch in both my Ruger Mark lll 22/45 pistol and my Ruger 22 rifle for a couple of years. I found them to be pretty reliable and relatively trouble free for bulk pagaged inexpensive ammo. I have found my more recent purchase to seem to have more issues shooting reliably though. Not certain why but I'm finding more extraction failures and more misfires than I have experienced before.
Date published: 2017-08-16
Rated 3 out of 5
by
GtrPkr
from
Good price and quality name but many rounds underpowered
This Federal Ammo is a good price at Dick's but I've run into many underpowered rounds that are barely able to cycle the slide on my pistol. This has happened about 10% of the time, and it happens consistently with this ammo. Sorry Federal
Date published: 2017-09-27
Rated 1 out of 5
by
Crix
from
Not Good for Semi-Automatic Pistols
Bought 3 boxes (on sale) and found that they were not a good fit for my Walther P22. I experienced multiple failures to feed and multiple failures to eject when I used it in my Walther P22.
Date published: 2017-02-21
Rated 1 out of 5
by
VGEHTS
from
Great ammo when fresh,older ammo will FTE/FTF
First few individual boxes of ammo purchased worked great and appeared to shoot clean. My 3 week old S&W 22 Compact eats these like candy and chamber/barrel looks clean. Then.....One week later.......a local gun store has bricks an cases of this stuff on sale. I bought a case "10 bricks" ,@325 rounds a brick. Shoot about 4 bricks a week. With this now recent purchase,I have had nothing but FTF/FTE if not on the first round,but at least ever three/four rounds of this ammo. And it appears to smoke heavier than normal. Hey Federal....? Wat's up wit dat? This recent purchase SUCKS LOUD! Could it be that it's old? Case/boxes don't appear damaged in anyway,as in crushed or wet. And ammo can't be returned...... Lot # 1HK123 Copy right date on bottom of box 2008 Is their some sort of expiration of your ammo or is your quality control out of hand??? I bought a separate brick with copy right date 2016 and no more problems.....so it's not the firearm.
Date published: 2017-03-06
Rated 5 out of 5
by
WWJS
from
Great value. Reliable, fault-free ammunition.
Feeds in our semi-automatic rifles flawlessly. Fires very clean - very little residue (not like Thunderbolt). Makes for a fun afternoon.
Date published: 2017-04-27
Rated 1 out of 5
by
Cannondale
from
Consistent Jams
I recently started shooting an old J.C. Higgins Model 30 that had been sitting for 30 years. My old Remington ammo never jammed. I shot about 50 rounds of that old ammo. Then I purchased 4 325 round boxes of the Federal AutoMatch. I never realized how differently ammo could behave. I've shot about 100 of these and they fail to properly load the next round or even eject the casing 50% of the time. I thought it might be the condition. So I cleaned and lubed the gun today. It made a small improvement. But I bought new Remington Gold and Winchester Super X and shot 100 jam free rounds. I also shot a variety of other ammo that's been sitting for more than 30 years without a single problem. Only the Federal AutoMatch jams. Can't return it so I'm putting 1 AutoMatch as the last shot each reload. Should last me at least another 30 years unless I buy a gun that might actually work with this junk.
Date published: 2017-12-10
Rated 5 out of 5
by
JFK Henna
from
Great Target Round -- Great Price
I've used these in both my .22 caliber rifle and pistol, both H&K weapons, both with magazine feed. I rarely have a jam, I'd estimate like 98% of rounds fire, only a small percent don't. Very good practice round, inexpensive for firing off hundreds of rounds of fun on the range. Use these rounds for practice and keep the higher end, hollow point stuff dry for when you really need them.
Date published: 2017-09-13