Fitness Gear Pro Utility Weight Bench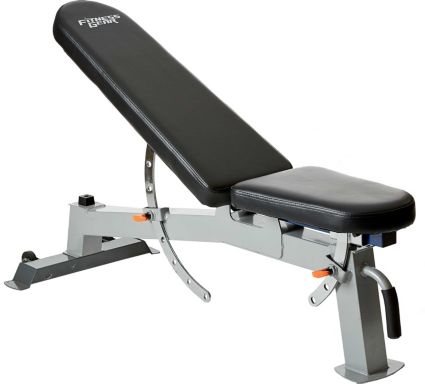 Fitness Gear Pro Utility Weight Bench
is rated out of
5
by
84
.
This product is currently out of stock.
Please choose product options above
Please choose product options above
PDP Sticky bottom AddToCart Section - active and hide position
This item requires specialized installation which, if selected, may require a separate appointment from the delivery date shown during checkout.  The assembly date and time of appointment will be scheduled once delivery is in process. The delivery date shown at checkout is an estimate of the initial delivery date only
Product Information:
Durable and versatile, the Fitness Gear Pro Utility Bench features a heavy-duty steel frame and adjustable eight-position back pad, allowing you to perform a variety of strength training exercises in the convenience of your home.
Cross-Functional Design

8-position back pad offers a customizable workout (flat, decline and incline positions)
Quick 3 level adjustment seat system


Durable Construction

Heavy-duty steel construction with durable coat finish supports lifetime usage
Comfortable high density foam backrest with reinforced double stitched seams


Additional Details

Assembled Dimensions: 54'' L x 22.4'' W x 17.8'' H
Maximum Weight Capacity (user weight + weights): 600 lbs.
For residential use only
Compatible with the Fitness Gear Pro Full Rack or Half Rack (not included)
Brand: Fitness Gear
Country of Origin: Imported
Style: STE00402
Web ID: 16FGEUFGPRTLTYBNCWGHA
Rated 4 out of 5
by
Head0927
from
Great Weight Bench
I bought this bench to go with my 2017 fitness pro half rack that i got for $229 (that's another story that worked out in my favor) and this bench seems very solid and is good length for me im 6'3 210lbs. Definitely feels like it can support the 600lbs it claims unlike some other benchs that only supports 350-400lbs which is pointless IMO. The only reason it doesn't get 5 stars is b/c when i was unpacking it i seen rust dust coming from the holes and it's still pretty new so I don't feel it's been proven to get 5 stars but i'll give an updated review in 6 months. Does seem to be very solid and has potential to be a great bench.
Date published: 2017-02-19
Rated 3 out of 5
by
jcon21
from
Almost There!!
I bought this a little over a month ago. Assembly is easy and only takes about 20mins. It also only requires a few common tools. Unfortunately, I could not get the seat to sit straight. I don't know if it was the seat or the mounting plate, but it was definitely crooked. Other than that the bench felt very solid. While trying it out for the first time my shoulder blades kept sliding off the back on one side and the pad corner kept poking underneath. The back pad was just too narrow for my shoulder blade width. After that and the crookedness of the seat I decided to return it. I actually ended up buying a bowflex 4.0 weight bench instead. It fit me much better, and everything fit perfectly and was straight. Also felt like a better quality product. The pads on the Fitness Gear were nice and thick, but too narrow and crooked.
Date published: 2017-05-09
Rated 5 out of 5
by
reid361
from
Best Bench At This Price Ever...
I purchased this bench (fitness gear) to go with my garage gym last month for $150 at Dick's. After looking for a bench that can incline, decline and be sturdy for a big lad like myself (Holds 600 lbs), I found this bad boy. No doubt about it that it is sturdy and able to handle my 6'1" 210 lb. body. Wide for my back, it rolls easy and adjusts easy. You can put this together in about 2 min if you wanted to. Benches better or close to this will run you about $400 and up, so, Unless you just want to blow money, this is the bench you need.
Date published: 2018-02-07
Rated 5 out of 5
by
HotBiker
from
AWESOME VALUE!
Recently bought this from Dick's Sporting Goods in Frisco, TX ($150 on sale) after doing LOTS of research and looking at several different ones in various stores. Needless to say, I was VERY impressed when I saw this in person; it exceeded my expectations! It's every bit as good as some I saw priced at $500-600. Very well engineered; well packaged in box; very easy to assemble (15-20 min. including reading the well-written instructions). The best thing though was the QUALITY. This baby is very heavy duty and could certainly be used in a light commercial gym application. No doubt, it will last me a lifetime in my home gym, even with heavy use. ONE TIP: Use a little blue Locktite (thread locker) an all the bolts before screwing them into the receptacles. Do the same for the two pull-out seat adjustment rods (outside threads only!) and you'll never have to adjust or tighten them again. GREAT QUALITY! GREAT VALUE!
Date published: 2018-02-07
Rated 5 out of 5
by
DennisLee
from
Doesn't slide around!
This bench is secure! I don't know how people can say this bench slides all around while they use it! As you can see by this video, I am putting all my weight plus the weight of the barbell and plates on the top of the incline while I do my Barbell Curls and this thing doesn't move or tip over. It is solid! My only guess is that whoever wrote those bad reviews, must have been doing a bench press with their bottom 2 feet in the air so it is probably a good thing that the bench was moving on them because, if not, they would have probably injured themselves eventually with their bad form. I actually took back a $50 bench that I bought at Walmart and then I bought this bench instead and I couldn't be more happier. There is no way I could have even attempted to do the Barbell bench curls on that $50 bench. Great buy for me!
Date published: 2018-08-31
Rated 4 out of 5
by
Rick61
from
Nice all around flat, incline and decline bench
I wanted a FID bench. A lot of benches on the market do not decline, are not rated for much weight, or way out of my price range. This bench has a good 600 pound rated capacity, adjusts easily between decline and 90 degree incline, and has three seat positions. Some reviews complain that the adjustment pin needs to be screw out and removed to adjust the seat. Not true on mine, so maybe a running improvement in design. The adjustment pin does screw in, but the actual adjustment can be made by pulling the spring loaded tee handle. It has 8 back positions and the previously mentioned 3 seat positions. The padding is thick, but firm. The back width is perfect for my size, but my wife says it's too wide. She is pretty small in stature though, less than 5 feet tall. I'm 6'3. One of my concerns/complaints is the height of the back. It's plenty long in the flat position, but due to the design, which drops the bottom of the back about 4" below seat height in the 90 degree position, the top of the back comes no higher than the base of my skull. I'd have liked it a bit higher for some more head support in the full upright position. Some of the reviews also complain about the larger gap between back and seat in the flatter positions. I actually like the larger gap, so it's kind of a personal preference thing. The wheels on one end, and a handle on the other make it easy to move around. I've read complaints about it sliding around during use, but my floor is rubber, and I've not had that issue. One improvement they could make is to add a small foot/leg at the seat end. It currently sits on a 6 or 7 inch wide pad that allows a slight amount of "teetering" movement. I've actually only noticed this as I've leaned to one side or the other to pick up some dumbbells. One positioned in the seat and in a sitting position, feet about shoulder width, it seems pretty stable. The other end has a 21"wide foot for stabilizing, so it feels pretty stable in the flatter positions where most of the lifted weight is at that wider end. It was easy to assemble with 4 bolts in the back, three in the seat, and two in the wide foot. You'll need a metric wrench and an Allen wrench for assembly. The bench was $149.00 on sale, an additional $20.00 off if purchased online and picked up in store, then I used $10.00 Scorecard bucks on top of that. Very good price for a well made bench.
Date published: 2019-02-13
Rated 5 out of 5
by
Marty315
from
Very good light commercial bench
I just purchased this bench and was able to assemble it in less than 1/2hr.; had to try it out right away and it preformed very well. If anybody is looking for an afordable abjustable bench this is the on for you, in looked at several commercial benchs that cost up to $500.00 (on average) and this bench is definitely in the same class and 1/2 the cost. Marty
Date published: 2017-05-06
Rated 4 out of 5
by
Bobo163
from
Professional Quality
This bench is pretty much like you would see in a gym. It's very sturdy, easy to assemble and has smooth transition of the seat and back. So far I am very pleased with this product. The rollers make moving and storing the bench a charm.
Date published: 2017-08-29