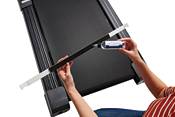 Fitness Gear Treadmill Belt Maintenance Kit
ENHANCING FEATURES:
Helps reduce noise
Helps reduce motor and walking belt wear
Helps prolongs time between repairs
Helps remove dirt
Contains XX oz bottle with lubricant applicatior for easy use
Made with odorless, non-toxic 100% Silicon
To use, apply 1 oz of lubricant after every 20 hours of treadmill use
INSTRUCTIONS:
1. Power down and unplug the power cord for the treadmill.
2. Remove the lubricating foam rod, and the lubricant bottle.
3. Apply a small amount of silicon lubricant on both sides of the foam rod (0.5 oz on each side of the foam rod). Be sure to apply enough to cover the foam rod that will make contact with the running belt.
4. Slightly lift one side of the running belt and slide the foam rod under the running belt.
5. Slide the foam rod the entire length of the running belt from front to back. Ensure that the foam on the foam rod contacts both the running deck and the running belt.
6. Remove the foam rod from the treadmill.
7. Plug in the power cord and power on the treadmill.
8. Start up the treadmill on the lowest speed and allow the treadmill to run for 1 minute. This will allow the lubricant to be spread throughout the running deck.
9. When complete, store the foam road in the provided plastic sleeve and store away in a cool, shaded area until next use. It is recommended to clean the foam rod with dish detergent after every few uses.
Country of Origin : Imported

Brand :

Fitness Gear
Web ID:

21FGEUTRDMLLLBRCNMSC

SKU:

20958842