Flying Arrow Archery Toxic 6-Blade Fixed Broadhead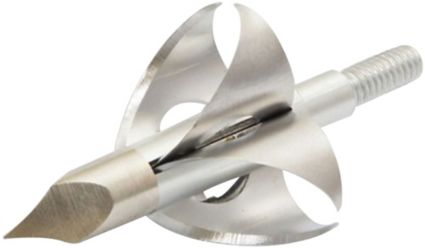 Flying Arrow Archery Toxic 6-Blade Fixed Broadhead
is rated out of
5
by
264
.
This product is currently out of stock.
Please choose product options above
Please choose product options above
PDP Sticky bottom AddToCart Section - active and hide position
Product Information:
It only takes one hit with the Toxic™ Broadhead to make your hunting trip one for the ages. 3 deep-penetrating pairs of curved blades and a chisel tip utilize RCD Radical Core Decompression Technology and Meatworm Technology™ to make lethal, 7/8 in. wounds that produce remarkable blood trails. With nearly 5 in. of cutting surface, the Flying Arrow Archery Toxic™ 6-Blade 100 Grain Fixed Broadhead is sure to kill quick.
FEATURES:
Fixed blade broadhead
Meatworm Technology™ helps make remarkable blood trails
RCD Radical Core Decompression Technology delivers highly lethal wounds
Chisel tip for instant piercing
Open-flex plus single beveled edge allow blades to flex when encountering bone
Roughly 5 inches of cutting surface
Quantity: 3 pack
Model: 70143
SPECS:
Model: 70143
Blade Number: 6 (three pairs of 2 curved blades)
Grain: 100
Cutting Diameter: 7/8 in.
Brand: Flying Arrow Archery
Country of Origin: United States of America
Web ID: 15FARUTXCBRDHD100ARO
Rated 5 out of 5
by
Wal5hy
from
Just take a good look at them!!!
Just imagine the three razor sharp, curved blades spinning into your next kill. These curved blades will tear into your kill making what I can see a devastating hole creating significant blood loss unlike anything the competitors have to offer.Expanding blades can fail. Fixed will do the job sure. But TOXIC offer something new and exciting to the sport of bow hunting. And if you can get these on the scales to see there weight in grain compared to your regular broad head I think you will be surprised to see your 100 grain broad head isn't 100 grain where these are. That might not mean much to you but it means that the pride in the work the people of TOXIC shows in there production
Date published: 2016-05-27
Rated 4 out of 5
by
RandNJ
from
Be careful when siting in!
While these broadheads are very devastating as I've taken many deer with them, it must be noted that they drop more than a similar weighted field tip. At 20 yards, the Toxics drop 3" more than a field tip. This is significant so I advise sacrificing one of the broadheads when sighting in and get replacement blades (offered by the flying arrow web site) to make sure you're spot on.
Date published: 2017-11-23
Rated 5 out of 5
by
Jskelton
from
Awesome Broadhead
I have been shooting the Toxic broadhead for four years now. Great arrow flight, no planning, amazing design of the head creates coring wound channels with devasting results. Great blood trails for quick recoveries. Very durable and easy to replace blades.
Date published: 2017-02-21
Rated 1 out of 5
by
Mitch
from
Flys terrible
Bought these for the new season. Did my research and read up on em for a long time before I finally made my purchase. I've shot at least 6 deer with this toxic broad head and they have all gone in different directions.. They also bend SUPER easy! I threw them in the trash. Went with a rage 2 blade hypodermic, nailed a doe.. Didn't go but 20 yards. So far rage is the only broad head I found that actually flys true to my field tips.
Date published: 2014-11-08
Rated 5 out of 5
by
Doc T
from
The deer dropped in place
The first time I ever shot this head, the deer dropped in place, quivered a few times, and was done. It left a devastating hole. Sure beats chasing blood trail through the woods at twilight.
Date published: 2017-09-11
Rated 1 out of 5
by
Anonymous
from
Why not to buy Toxic Brodheads
I bought these Brodheads right before the 2017 bow hunting season in Wisconsin after hearing about how good they were and I have had nothing but troubles with them. I did kill a doe with them but only had blood because she snapped my arrow with her shoulder. On November 4th, I shot a giant 14 pointer and never found it. I hit him in the lung but because these Brodheads are not meant to pass through, we had no blood and never found the arrow. These arrows are not meant to do anything besides put a hole in the deer.
Date published: 2017-11-30
Rated 2 out of 5
by
SteveyP
from
awesome blood trail no reward
before anyone says wel he just cant track yes i may only be 24 but ive been hunting and tracking since i was 7 so i do have plenty of experiance lol so now on to the review. Honestly these broadheads are great.... but they are odd to say the least. I bought a pack of them after reading MANY reviews of how great they are and figured id give them a try they fly true and leave a devastating blood trail however thats where things get weird the blood trail from the three deer that i hit did not start where i hit the deer but about 10-15 yards away, but man once it was flowing it was flowing, BUT after about 50-75 yrs if the deer was not down it was gone the blood trail turned into a cold case and vanished into thin air. dont get me wrong i love these broadheads because of the MASSIVE blood trail they leave but if the deer doesnt go down quick good luck finding it.
Date published: 2016-10-20
Rated 5 out of 5
by
greatwhite1974
from
BEST broadhead, EVER !!
I've hunted most of my life. I've tried most of the big named replaceable blade heads, and never been thrilled, so I've used one piece heads. Then last year I tried Toxic Broadheads. I was impressed with the rapid blood loss resulting in quicker kills. Bone was no longer an issue even with double shoulder or rib hits. The 'Meat Worm' technology means no more "razor" cuts to close up !! Even my Step-Son who works for DNR has switched to Toxic Broadheads ! These things are AMAZING !!! Can't wait to see what Flying Arrow Archery comes up with next !!!!!
Date published: 2016-06-02