FootJoy Original Retro Golf Shoes
The price of the product might be updated based on your selection
{ "warrantyData" : [ { "ProductSKU" : "18208800", "ProductUniqueId" : "3058050", "warrantySKUS" : [ ] }, { "ProductSKU" : "18208801", "ProductUniqueId" : "3058051", "warrantySKUS" : [ ] }, { "ProductSKU" : "18208802", "ProductUniqueId" : "3058052", "warrantySKUS" : [ ] }, { "ProductSKU" : "18208804", "ProductUniqueId" : "3058053", "warrantySKUS" : [ ] }, { "ProductSKU" : "18208806", "ProductUniqueId" : "3058054", "warrantySKUS" : [ ] }, { "ProductSKU" : "18208808", "ProductUniqueId" : "3058055", "warrantySKUS" : [ ] }, { "ProductSKU" : "18208811", "ProductUniqueId" : "3058056", "warrantySKUS" : [ ] }, { "ProductSKU" : "18208813", "ProductUniqueId" : "3058057", "warrantySKUS" : [ ] }, { "ProductSKU" : "18208814", "ProductUniqueId" : "3058058", "warrantySKUS" : [ ] }, { "ProductSKU" : "18208816", "ProductUniqueId" : "3058059", "warrantySKUS" : [ ] }, { "ProductSKU" : "18208819", "ProductUniqueId" : "3058060", "warrantySKUS" : [ ] }, { "ProductSKU" : "18208805", "ProductUniqueId" : "3058063", "warrantySKUS" : [ ] }, { "ProductSKU" : "18208809", "ProductUniqueId" : "3058065", "warrantySKUS" : [ ] }, { "ProductSKU" : "18208810", "ProductUniqueId" : "3058066", "warrantySKUS" : [ ] }, { "ProductSKU" : "18208812", "ProductUniqueId" : "3058067", "warrantySKUS" : [ ] }, { "ProductSKU" : "18208815", "ProductUniqueId" : "3058068", "warrantySKUS" : [ ] }, { "ProductSKU" : "18208817", "ProductUniqueId" : "3058069", "warrantySKUS" : [ ] }, { "ProductSKU" : "18208818", "ProductUniqueId" : "3058070", "warrantySKUS" : [ ] }, { "ProductSKU" : "18208820", "ProductUniqueId" : "3058071", "warrantySKUS" : [ ] }, { "ProductSKU" : "18208827", "ProductUniqueId" : "3058075", "warrantySKUS" : [ ] }, { "ProductSKU" : "18208828", "ProductUniqueId" : "3058076", "warrantySKUS" : [ ] }, { "ProductSKU" : "18208829", "ProductUniqueId" : "3058077", "warrantySKUS" : [ ] }, { "ProductSKU" : "18208830", "ProductUniqueId" : "3058078", "warrantySKUS" : [ ] }, { "ProductSKU" : "18208831", "ProductUniqueId" : "3058079", "warrantySKUS" : [ ] }, { "ProductSKU" : "18208832", "ProductUniqueId" : "3058080", "warrantySKUS" : [ ] }, { "ProductSKU" : "18208833", "ProductUniqueId" : "3058081", "warrantySKUS" : [ ] }, { "ProductSKU" : "18208834", "ProductUniqueId" : "3058082", "warrantySKUS" : [ ] }, { "ProductSKU" : "18208835", "ProductUniqueId" : "3058083", "warrantySKUS" : [ ] }, { "ProductSKU" : "18208836", "ProductUniqueId" : "3058084", "warrantySKUS" : [ ] }, { "ProductSKU" : "18208838", "ProductUniqueId" : "3058085", "warrantySKUS" : [ ] }, { "ProductSKU" : "18208840", "ProductUniqueId" : "3058086", "warrantySKUS" : [ ] }, { "ProductSKU" : "18208839", "ProductUniqueId" : "3058088", "warrantySKUS" : [ ] }, { "ProductSKU" : "18208843", "ProductUniqueId" : "3058090", "warrantySKUS" : [ ] }, { "ProductSKU" : "18208844", "ProductUniqueId" : "3058091", "warrantySKUS" : [ ] }, { "ProductSKU" : "18208845", "ProductUniqueId" : "3058092", "warrantySKUS" : [ ] }, { "ProductSKU" : "18208846", "ProductUniqueId" : "3058093", "warrantySKUS" : [ ] }, { "ProductSKU" : "18208847", "ProductUniqueId" : "3058094", "warrantySKUS" : [ ] }, { "ProductSKU" : "18208848", "ProductUniqueId" : "3058095", "warrantySKUS" : [ ] }, { "ProductSKU" : "18208849", "ProductUniqueId" : "3058096", "warrantySKUS" : [ ] }, { "ProductSKU" : "18208850", "ProductUniqueId" : "3058097", "warrantySKUS" : [ ] }, { "ProductSKU" : "18208853", "ProductUniqueId" : "3058099", "warrantySKUS" : [ ] }, { "ProductSKU" : "18208854", "ProductUniqueId" : "3058100", "warrantySKUS" : [ ] }, { "ProductSKU" : "18208855", "ProductUniqueId" : "3058101", "warrantySKUS" : [ ] }, { "ProductSKU" : "18208856", "ProductUniqueId" : "3058102", "warrantySKUS" : [ ] }, { "ProductSKU" : "18208857", "ProductUniqueId" : "3058103", "warrantySKUS" : [ ] }, { "ProductSKU" : "18208858", "ProductUniqueId" : "3058104", "warrantySKUS" : [ ] }, { "ProductSKU" : "18208859", "ProductUniqueId" : "3058105", "warrantySKUS" : [ ] }, { "ProductSKU" : "18208860", "ProductUniqueId" : "3058106", "warrantySKUS" : [ ] }, { "ProductSKU" : "18208861", "ProductUniqueId" : "3058107", "warrantySKUS" : [ ] }, { "ProductSKU" : "18208862", "ProductUniqueId" : "3058108", "warrantySKUS" : [ ] }, { "ProductSKU" : "18208863", "ProductUniqueId" : "3058109", "warrantySKUS" : [ ] }, { "ProductSKU" : "18208864", "ProductUniqueId" : "3058110", "warrantySKUS" : [ ] }, { "ProductSKU" : "18208865", "ProductUniqueId" : "3058111", "warrantySKUS" : [ ] }, { "ProductSKU" : "18208870", "ProductUniqueId" : "3058115", "warrantySKUS" : [ ] }, { "ProductSKU" : "18208871", "ProductUniqueId" : "3058116", "warrantySKUS" : [ ] }, { "ProductSKU" : "18208872", "ProductUniqueId" : "3058117", "warrantySKUS" : [ ] }, { "ProductSKU" : "18208873", "ProductUniqueId" : "3058118", "warrantySKUS" : [ ] }, { "ProductSKU" : "18208874", "ProductUniqueId" : "3058119", "warrantySKUS" : [ ] }, { "ProductSKU" : "18208875", "ProductUniqueId" : "3058120", "warrantySKUS" : [ ] }, { "ProductSKU" : "18209031", "ProductUniqueId" : "3058123", "warrantySKUS" : [ ] } ] }
PROTECTION PLAN
(optional)
Info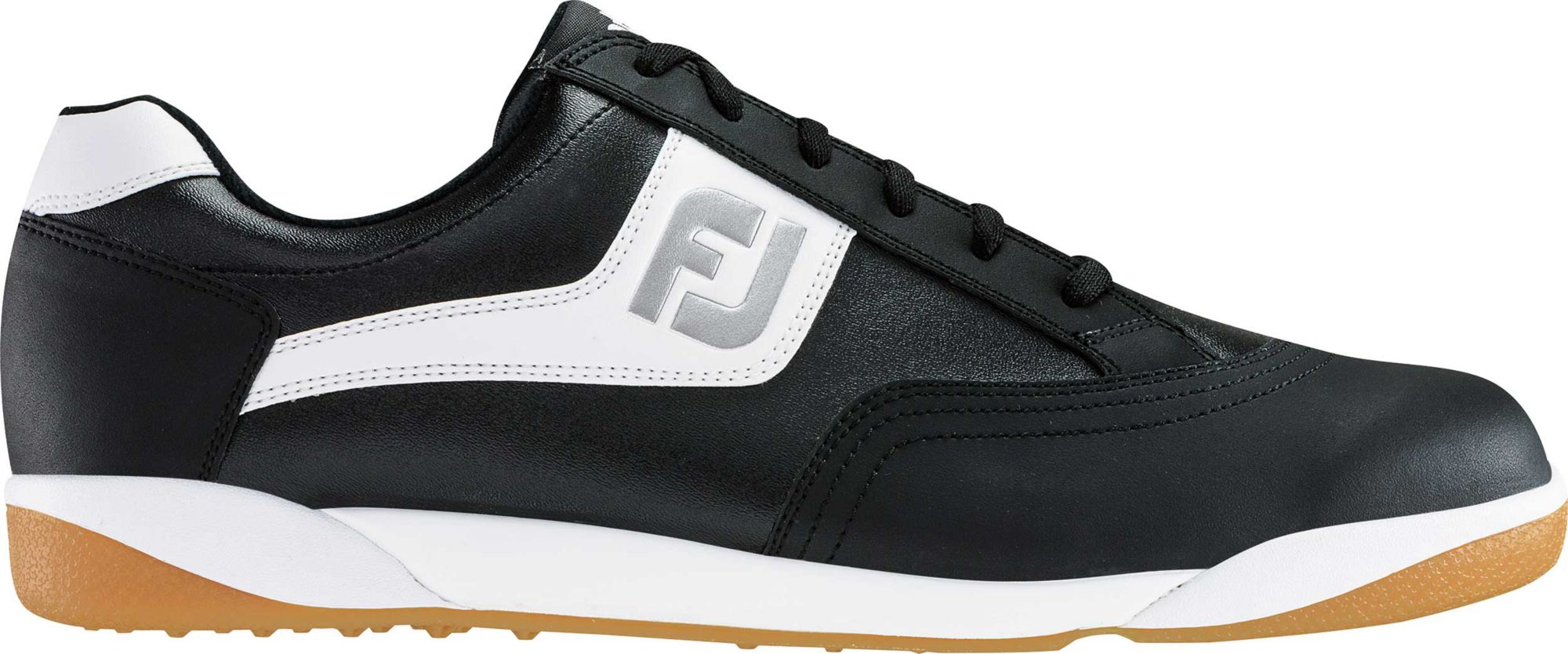 FootJoy Original Retro Golf Shoes
Selected Option Not Available to Ship
Selected Option Not Available For Pickup
PDP Sticky bottom AddToCart Section - active and hide position
This product is currently out of stock.
Please choose product options above
Please choose product options above
Product Information:
Seamlessly transition from the course to the street with FootJoy Original Retro Golf Shoes. Casually styled uppers constructed of waterproof synthetic leather material help you turn heads while maintaining complete comfort during play. Lightweight cushioned fit bets create a comfortable underfoot environment by dampening shock with each step. Proprietary DuraMax rubber outsoles with integrated traction elements provide a reliable, versatile grip.
FEATURES:
Designed to elevate performance while providing unique throwback style
Synthetic leather uppers constructed of soft, easy care material offer the look and feel of leather
Lightweight cushioned fit beds provide extreme underfoot cushioning and support by dampening shock
Contour Last features a full rounded toe, full forefoot and standard instep/heel to match shape of foot
Proprietary DuraMax rubber outsole features integrated traction elements for versatile grip
Manufacturer's Warranty: 1-Year Waterproof
Brand: FootJoy
Country of Origin: Imported
Style: 45345Z,45345W,45346Z,45346W,45347Y,45347W
Web ID: 17FJYMFJRGNLRTRWHGSH