Gaiam Grippy Yoga Mat Towel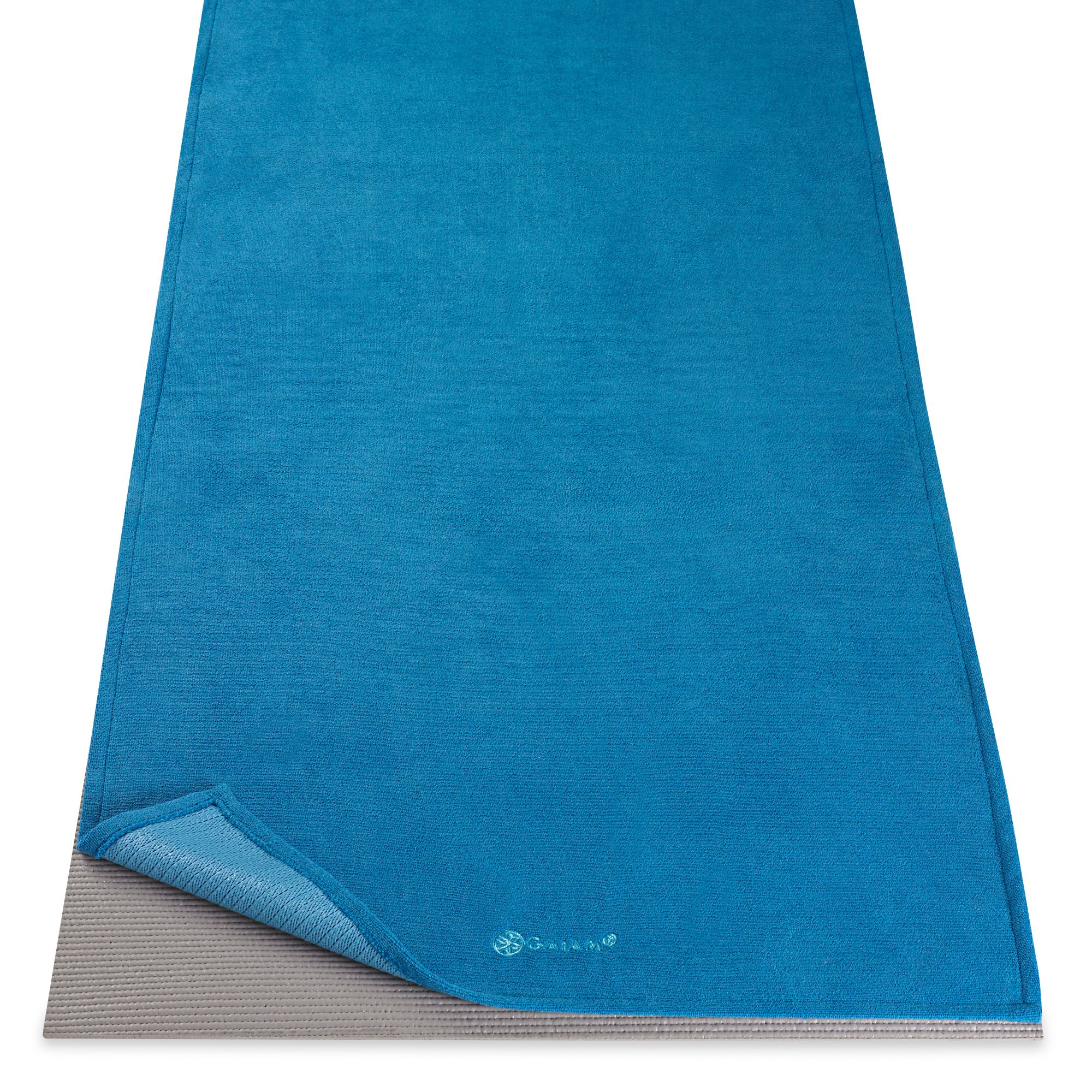 Loading Images...
Gaiam Grippy Yoga Mat Towel
is rated out of
5
by
31
.
This product is currently out of stock.
Please choose product options above
Please choose product options above
PDP Sticky bottom AddToCart Section - active and hide position
Product Information:
The Gaiam® Grippy Yoga Mat Towel will feel like an extension of your mat and stay out of your way during intense flows and poses. Made with an absorbent microfiber top layer with a strong non-slip backing made to keep your towel in place, this towel is perfect for hot yoga and more traditional practices.
Non-Slip Yoga
Moisture absorbent towel with non-slip backing
Dries in half the time of ordinary towels
Sized to fit directly on top of your yoga mat
Microfiber is hypo-allergenic
Web ID: 18GIMUYGMTTWLGRPPEAC
Rated 1 out of 5
by
RandyA
from
Your old one was better
I have been using your Grippy Yoga Mat Towel for years. I had tired many different ones and this one was the best. It did not slide around or bunch up on the mat and it could thrown in the washer and dryer. I'm sorry to say that your new version is far inferior. The top layer of fabric separates from the bottom layer leaving a "bubble" type effect so the towel does not lay flat. Also, the sides tend to roll in. And this version can not go in the dryer. I have tried several of the colors just to make sure it was not a problem with one particular towel, or one color, but they all do this to one degree or another. It's very disappointing as you had the best towel on the market for hot yoga, but not anymore
Date published: 2016-05-10
Rated 1 out of 5
by
Bikram john
from
Not so grippy
Received this towel as a present and I use it daily in hot yoga classes. The top layer is very absorbent which is good, but it seems to have a mind of it's own and moves all over the place during class. I seem to spend an inordinate amount of time moving it back into position . It's quite frustrating. The top layer seems to move independently of the bottom layer and doesn't really seem to be the same size as the bottom layer so it is always in a state of being creased .I left a comment on the Australian webpage but didn't get a response . I have tried to add a photo but each time the page freezes.
Date published: 2016-02-25
Rated 1 out of 5
by
Br62
from
Doesn't work well
This is made in two plys - terry cloth top and non-skid back, which results in multiple problems. For one, it becomes thicker after a wash and doesn't lay flat. The two plys are attached with a quilt-like stitch that causes wrinkles, puckers, and lumps. The two plys move across one another causing bunches and not lying flat. The seam around the outside is bulky and puckers. It needs constant fixing during a class. Some of the quilted stitching holding the two plys together has come loose. The care instructions recommend 'dry flat.' Just not interested in a towel that needs special care like that and can't just be thrown in the dryer. $35 is too expensive for this poor product.
Date published: 2014-11-09
Rated 5 out of 5
by
Namaste62
from
A must for Bikram Yoga
This towel is a must for Bikram lovers! Before I purchased this, I was slipping and sliding on my mat with a regular towel (which would also bunch up on the mat and distract me from my practice). This towels doesn't move no matter how wet it gets. LOVE IT!!!!
Date published: 2013-02-13
Rated 3 out of 5
by
Rei
from
Very good if you sweat a lot
I sweat a lot, and I love going for 1.5hrs hot yoga classes. This towel really serves me well as it's thick and absorbent and the rubber underlay adds an additional barrier between the class mat and my skin. I'd like to think this serves as an additional hygiene barrier. I have been using this for about 6 months now and my towel surface separated from the rubber bottom only after i forgot to fold it and put it in a net for washing. I normally either hang or flat dry it. Prior to forgetting the net, towel had no issues whatsoever. Even the separation is a minor issue as once placed on the mat, there are no problems. The only negative about this mat is it is bulky. If you go to a studio far from home or you're not driving, this is troublesome to lug around.
Date published: 2017-10-09
Rated 1 out of 5
by
meg7
from
Awful!!!!!
I had what I thought was the same towel that I had purchased previously at a retail store. I loved it for the grip & absorbency (I do hot yoga). I had returned the previous one because the rubber backing had begun to deteriorate and exchanged it for this new one. The new one is not made as well - the top towel layer is not stitched to the rubber backing and thus shifts, stretches and bunches under my feet during class. Totally no good!! I would have thought that it was defective but I bought two different colors and they are both made the same way. VERY disappointing!!!
Date published: 2015-12-21
Rated 1 out of 5
by
Nelson 9
from
Don't waste your money
Save your money, don't waste it on this awful yoga towel. Awful product, and shameful Gaiam "customer support." I was surprised that this yoga towel fell about after 2 uses. I had been using a cheap off-brand towel for years (started to smell), and thought I would try this one as an "upgrade." See the picture, the corner of the grippy backing totally frayed and disconnected from the rest of the towel. I contacted Gaiam customer support. They said they were not willing to provide any support. Totally didn't care that their product had a defect, even though I contacted them within 30 days of my purchase.
Date published: 2018-08-29
Rated 5 out of 5
by
ChrisJ2
from
Great product
This towel is excellent for yoga beginners and intermediates who find their feet slipping off their mat during their practice. It is light- weight and durable. I even roll it up to place it under my knees for extra cushion when I'm in positions that put too much strain on my knee joints.
Date published: 2014-05-29