Gaiam Strong Core & Back Kit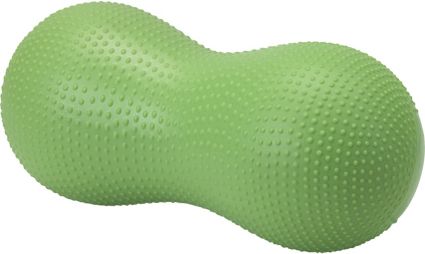 Gaiam Strong Core & Back Kit
is rated out of
5
by
53
.
This product is currently out of stock.
Please choose product options above
Please choose product options above
PDP Sticky bottom AddToCart Section - active and hide position
Product Information:
Whether you're seeking an ab workout or a massage for your back, the Gaiam® Strong Core & Back Kit helps your develop your midsection and stretch your back with the textured Anti-Burst CoreFit Ab Ball and workout DVD.

Stretch and Strengthen
Unique peanut-shaped Anti-Burst CoreFit Ab Ball for rolling out your back and core exercises
Small textured dot pattern to massage your muscles
Alleviates back soreness and tension
Engages and tightens your core as you exercise
Equipped with the Strong Core and Back Workout DVD
Includes bonus downloadable Back Pain Relief Workout

Key Details
Core and back kit
Comes with Anti-Burst CoreFit Ab Ball for rolling out your back and core strengthening
Equipped with the Strong Core and Back Workout DVD
Includes bonus downloadable Back Pain Relief Workout
Gaiam
Brand: Gaiam
Country of Origin: Imported
Web ID: 16GIMUSTRNGCRBCKKEAC
Rated 5 out of 5
by
Katagal
from
Peanut Ball is shaped and weighted just right
My husband and I are very athletic and use several rolling devices (foam roller, Yamuna balls, pinky balls) and we love the "peanut ball"!!! I lead classes to manifest the flow state and other extraordinary capacities for improved athletic performance and overall health and wellness (Sustainable Whole Body Training). I have created a routine with the peanut ball. I would also like to see you develop a double peanut roller (like a foam roller). I love the shape and the routines are fun and energizing!!! I have used it to facilitate core stability, shoulder alignment, hip release and thoracic spine flexibility.
Date published: 2014-05-05
Rated 5 out of 5
by
Kilo
from
Helpful for Back Support when traveling
For years I have done daily exercises for back issues. I use a larger exercise ball for some of the activities. When I am traveling whether visiting family or for work rather than foregoing some of the exercises this little peanut does the trick. Convenient for traveling, I can deflate and bring the pump with me or just put in the bag. It takes up very little space. I sometimes use it for back support on long drives to prevent me from slouching. For something so small, it is quite sturdy to support the weight that placed on it. I like it and would recommend it to others for back and core exercises.
Date published: 2012-04-28
Rated 4 out of 5
by
Sharon
from
Very impressed - such fast workouts.
I am an exercise professional (classical ballet teacher) but struggle to give myself time for self care. This is an excellent, intelligent, focused workout - and to my astonishment took only 10 minutes plus another ten minutes for the two workouts. Even I can manage ten minutes for "myself", with no excuses!! Thank you Gaiam! Two items: - Cannot find the downloadable BackRrelief workout as mentioned at the start of the DVD on the menu page - has this been discontinued? - Any chance you would let me know what music you have used for the background? It is so upbeat and yet non-intrusive and it really helped focus me!
Date published: 2018-01-02
Rated 5 out of 5
by
Jane
from
Excellent product!
In my thirty plus years of teaching, preparing for lessons & grading copious amounts of homework; one can only imagine the condition of my neck! This product gives needed support for my neck while sleeping, driving (esp.) long trips, as well as, relief for my back. I bought this for my husband, son, two friends who are also teachers! Now I'm buying six more to give as gifts! If you plan to use it for neck support do not pump air to capacity; stop to check that it is a comfortable width for your neck. Strengthen your core & relieve your neck discomfort! It works!
Date published: 2017-08-27
Rated 5 out of 5
by
Blanchetta
from
Dog Loved It Too Much
It will be a bit hard to go without my green peanut ball for a week. I've used it daily since it was delivered to me several months ago and my health has improved in ways I never thought possible. You can get good strategic decompression with this small, thoughtfully shaped ball. I even take it with me when I go to my sit down job. So easy to carry in large handbag. Unfortunately, my dog thought he'd try it too. Well, it's definitely not dog bite proof. I'm ordering 3 more just in case I forget and leave it on the floor again.
Date published: 2012-03-15
Rated 5 out of 5
by
loveca69
from
Best Purchase ever!!!
I call this wonderful thing my peanut -lol I had back surgery in 2008 & have not been able to do crunches since then. I had given up & one day I received a catalog from Gaiam.... I love anything that has to do with being healthy & there it was "my peanut". I looked & thought about it not sure if it would do the trick. I am more than just happy, after 3-1/2 yrs I am able to comfortably do crunches with no back pain. I have just started but use it every day & feeling great!!
Date published: 2012-05-10
Rated 3 out of 5
by
lisafl
from
Great therapy ball - cheap pump!
I really liked using this ball , however the pump it comes with broke after just 1 use. When I examined the pump a bit closely I saw that it's made out of the cheapest material you can find. While I appreciate the convenience of having the pump included with the ball, if this is the quality you are planning to have, my advise is to exclude the pump from the package all together. Or if you need to increase the price of the ball by $1-$2 to improve the quality of the pump, than do so but for heaven's sake don't include this joke of the pump with the ball! It is very frustrating to attempt to inflate the ball only to realize that the pump is broken after 1 single use. I can guarantee that users will be less dissatisfied with the ball knowing that they are not fulled into believing that they get 'a deal' by having 'a complimentary' toy-pump included with it.
Date published: 2013-09-24
Rated 4 out of 5
by
klm1
from
Great...but Gaiam should fix DVD setup
This is a great core workout, that I often use as my warmup for exercise. It is gentle though you can also do more vigorously. The instructor is clear and likeable. My only complaint is that as a Gaiam-produced DVD you can't fast forward through about 4 minutes of advertisements at the beginning of the DVD. Basically, once they give you the medical disclaimers, you should have the option to skip right to the workout menu, but the disk won't let you. Frustrating!
Date published: 2014-01-17