GameFace GF76 Airsoft Gun - Black/Clear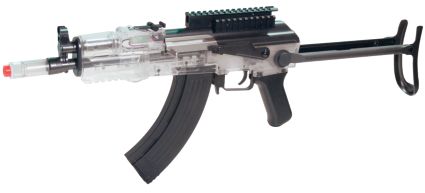 GameFace GF76 Airsoft Gun - Black/Clear
is rated out of
5
by
120
.
NOW: $

89.98

- $119.99
(

14%-35%

off!)
WAS: $139.99*
This product is currently out of stock.
Please choose product options above
Please choose product options above
PDP Sticky bottom AddToCart Section - active and hide position
Product Information:
The GameFace GF76 AEG Carbine Airsoft Rifle shoots 6mm plastic BBs and features full or semi-automatic options. The attached high capacity magazine is excellent for airsoft competition. It uses a rechargeable NiMH battery to power its wave of BBs. With muzzle velocities of up to 375 fps, you can be sure to spray areas quickly.
Brand: Gameface
Country of Origin: United States of America or Imported
Web ID: 16GFCUGMFCGF76GCRSAG
Rated 4 out of 5
by
Obelisk
from
Solid AEG
I picked up this rifle earlier in the week as a back-up for my game last night. On the normal battery, it's a bit iffy - but my review is based on it using a Tenergy 7.4v LiPo battery.On the LiPo, this gun is quite excellent. Full auto rate of fire is quick and sure to startle someone. It also has good range and good accuracy, even out to extremes. The only gripe I have is the hi-cap magazine. It works well, but I would've been happier with a mid-cap.Overall, a solid budget rifle. Easy to use, and fun to run around with.
Date published: 2017-01-21
Rated 5 out of 5
by
KrakenOfAirsoft
from
Nice So Far
My friend had this and got it for christmas and he loves it. It shoots fast and has meh accuracy, but the accuracy is good enough. Really cool, feels heavy and nice, looks sweet, has a rubber grip. Tactical rails get in way of sights, but they are most likely removable. Has a plastic gearbox, but its probably the best dang plastic gearbox ever. Sometimes doesnt fire, but in a war didn't jam. Feels great shooting, and it doesnt make any whining sound. Awesome feeling trigger and selector switch. If accuracy was a little better this would be a godly gun. Good job crosman, you hit a home run with this one.
Date published: 2018-01-01
Rated 5 out of 5
by
Anonymous
from
Love it
Keeps the rats away for sure ... Great product would love a download for it so I can learn how to change the the guts out if ever needed but great right out the box stock! Is there an upgrade for the motor to get more fps? I'm a scope kinda guy but the irons on this are great for good amount of distance.. So I removed the tri rail and put a piece a rubber in the holes and added a bipod on the front so she stands up nice n ready waiting on some action. My first airsoft gun and am very pleased to have this product. I will definitely be buying more! Thank you
Date published: 2017-05-11
Rated 5 out of 5
by
Omega037
from
Fantastic starter gun
I bought this gun this February and am very satisfied its accuracy and amazing range it is amazing its small but dependable and long battery life BUT I had issues with the motor and battery when charged it would not fire it works fine now though. Second, the clip is easy but unreliable i constantly had to wind and shake it will sometimes dryfire when loaded then fire again. Third, hopup works very well but not very good for fine tuning it is very hard to move smoothly all in all FANTASTIC gun. [This review was collected as part of a promotion.]
Date published: 2017-05-18
Rated 5 out of 5
by
Daniel
from
This gun is awsome
I bought this for my son for an indoor field. We shot around 500 bb's in the backyard to break it in and then took it to the airsoft field. The measured velocity was 325 fps with 0.20 g bb's which is perfect for the field as the max is 350. My son loves it. This is a great gun for indoor fields or close quarter battles where it will match the performance of much higher priced guns.
Date published: 2017-01-19
Rated 5 out of 5
by
GulfcoastSkirmishers
from
3 Still Working + 1 New
Purchased 3 last year and everything works on all three. Purchased another for guests. Same reliability. All 4 are black models. .12 work great as do .20g. Full auto is more reliable at times but it seems more about ammo. Took advice of other players and upgraded to Tenergy 1400mah batteries and wow very effective in improving accuracy and consistent range. Compact for running through woods in skirmishes, accurate 65-70ft, great suppressing fire platform.
Date published: 2016-12-30
Rated 5 out of 5
by
CatnipAddiction
from
Reliable Airsoft AEG
I got one of these rifles at DICK's Sporting Goods a little over four years ago. I've used this in many Airsoft skirmishes using 25 gram BBs and never had any issues with it at all. Over the years it has taken a beating on the folding stock which started to move around alot and I ended up just taking the thing off after attempting to fix it. I recently got a 2500 round drum mag and a for it and works great for a supportive role haha.
Date published: 2017-03-19
Rated 5 out of 5
by
Elliot211
from
Great gun overall gun
I bought this product about a year ago and I am still very happy with it. It has a long battery life, good rate of fire, and decent accuracy. Here are my complaints 1. Because it has 3 rails, when I mounted a red dot sight on it it shoots about 2 inches low. It would be better if the rail system was right down on the gun 2. When you take the mag out with BB's in it, about 3 or 4 fall out of the chamber and fall everywhere 3. The strap mounts are nice and sturdy, but the strap it comes with is uncomfortable and it hangs at an angle because both the loops are on one side. If you are looking to bring this into combat, I would recommend getting a padded strap. Overall, it is a great gun and I never regretted purchasing it.
Date published: 2018-08-13