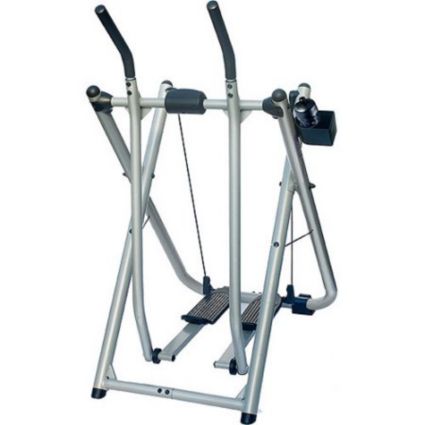 Gazelle Freestyle Glider
is rated out of
5
by
66
.
This product is currently out of stock.
Please choose product options above
Please choose product options above
PDP Sticky bottom AddToCart Section - active and hide position
This item requires specialized installation which, if selected, may require a separate appointment from the delivery date shown during checkout.  The assembly date and time of appointment will be scheduled once delivery is in process. The delivery date shown at checkout is an estimate of the initial delivery date only
Product Information:
Glide your way to better fitness on the Gazelle Freestyle Glider. This versatile glider offers ten low-impact exercises within one workout. Trim and tone your entire body through gliding motions that target your arms, back, thighs, calves and glutes. The workout computer lets you track a variety of results from speed to calories burned, while the thumb grip pulse monitors heart rate. The Freestyle increases your energy and strengthens muscles.
FEATURES:
Versatile, steel glider for more challenging aerobic workout
Features patented, dual-action split suspension for greater range of motion
Low-impact workout for less pressure on joints
Ideal for beginner to advanced fitness levels
Offers 10 different workouts within one workout
Thumb grip pulse monitor for easy heart rate tracking
Extra-wide, non-skid foot platforms for extra comfort and stability
Five-function workout computer with feedback functions (speed, distance, time, calories burned, heart rate)
Includes 2 Workout DVDs (Total Body Workout, Tony Little's Buttkickin' Workout)
Nutrition Guide to jump start healthy lifestyle
Warranty: 1 year
Model: GFRSTCAT
Gazelle
Click here for additional information relating to the Manufacturer's Warranty.KEY SPECS:
Maximum User Capacity: 300 lbs
Display: Five-function workout computer
Maximum Stride Length:
Heart Rate Technology: Built-in thumb pulse monitor
Built-in Fan: No
Handlebars: High-density foam handlebars
Pedal Size: Extra-wide, non-skid foot platforms
Accessories: 2 Workout DVDs, Nutrition Guide, 22 oz. water bottle and holder
Frame: 2.25" diameter steel construction
Frame Materials: 85% steel, 6% plastic, 9% carton and packing material
Folded Frame Dimensions: 66" L X 33.5" W X 10.5" H
Unfolded Frame Dimensions: 44" L X 33.5" W X 53.5" H
Product Weight: 51.9 lbs
Web ID: 18TGYUGZLLFRSTYLXNFM
Rated 4 out of 5
by
Very disappointed, AGAIN
from
SQUEAKS ALREADY!!!!
We thought after so many years on the market, someone would have figured out how to fix the squeaking problem. Our last two (bought several years ago)squeaked so bad that we donated them. Because exercising on this machine is easy, My husband thought he would buy me another one for Mother's Day. He thought, "Surely, the squeaking problem has been fixed. WRONG!!!!! It started sqeaking a lot sooner than the older models, almost immediately! I HATE IT BUT CAN'T AFFORD TO KEEP GIVING THESE AWAY *AND* NO AMOUNT OF LUBE/OIL/GREASE STOPS THE SQUEAK!!! arrrrgh!
Date published: 2013-06-13
Rated 5 out of 5
by
Chalcedony
from
AND it works out the arms!
I bought my machine nearly 20 years ago. I've been using it off and on, but more now that I have been diagnosed with diabetes (about a year ago). An unexpected outcome of using this machine has been the strength building in my arms. Before I started up again, I struggled and could not manage buying and transporting the 50 lb of dog food we would buy for our dog. Less than a year later, I managed pulling from the bottom shelf, putting in the cart, and carrying several yards into the house with no difficulty. I'm over 50, but this workout has been a huge strength builder, and helped tremendously with my health.
Date published: 2016-07-24
Rated 5 out of 5
by
luckylady64
from
Overall conditioning
is exactly what I wanted in an exercise machine! I have a treadmill/stepper, had a treadmill, have tried various home equipment over the years but always end up hurting myself then I would stop. This is the only one that can be used according to what your daily body needs are. I am 68 have always been active but had a heart attack 5 years ago then sort of let up. I don't wish to GIVE UP though & that's where this Gazelle comes in. I LOVE the feeling I have when my 20 minutes is completed. I am working up to 30 minutes but taking it slowly. Thanks, Tony!
Date published: 2014-04-29
Rated 5 out of 5
by
Pgaines52
from
I bought this for my wife, she kept hinting, things about all what it could do to help her. to be able to exercise with her arthritis, being in her knees and her low back it has even been difficult for her to take shot walks in our neighbor hood. I watched a video on it. I saw where the gazelle glider could help her in her long dream of being able to do what she hoped for. It arrived on time as promised, in shipment and all the parts and instructions were included, It was very easy to assemble, I am much pleased with this product and this company. Thank you, Paul Gaines
Date published: 2014-06-07
Rated 5 out of 5
by
Lana
from
Awesome
This is the best workout, started eating right, and the results are amazing....I have told friends, and they are getting there soon, I'm 57 and love this so much, work out 30 minutes,everyday and eating right, I have never felt better, I wish I had bought this sooner, losing inches and loving it. In a month 15 pounds, that is great... All need to buy this product. It's for real. Now doing 30 minutes 2 times a day, let's see how well I do. I'm from Arizona and to hot to walk outside, so listening to music and just gliding along is awesome. Lana Auxier Mesa,Az
Date published: 2014-07-07
Rated 5 out of 5
by
Lynne
from
Good Product for the Price
Good product for the price. I don't work out much, but I have been using my Gazelle every day since I've gotten it. My clothes are fitting better, so it must be working. It's easy to use, very smooth motions, and you feel it in your legs and arms after a workout. It's nice to see how many calories have been burned and what my heart rate is. The only con is that the left side cable wants to squeak after a while and it gets a bit annoying. Other than that, it's a great product and well worth the price.
Date published: 2013-06-13
Rated 5 out of 5
by
DeemagicK
from
Fun stuff!
The Gazelle is a fun piece of equipment, if nothing else. It's virtually no impact, and gentle enough for all users, while offering a decent workout. It works in a small apartment as well as a large home. It's a bit heavy for folding and unfolding purposes, and it could really use a clamp or some sort of locking mechanism to keep it from dangerously unfolding while you're storing it. It is a bit pricey though, and there are similar items on the market for a lower price. I can't personally vouch for their quality, but they are out there. Overall, I'd recommend the Gazelle to others.
Date published: 2014-02-20
Rated 3 out of 5
by
Bob
from
Very loud when operating
This is my 3rd Gazelle. The first 2 were great. Our new one is very loud no matter how we adjust it. Not satisfied with this model at all. There were no instuction with it that addressed the loud issue. 2 of our friends purchased the same model recently and don't have the noise issue. Please let me know what we can do to quite it. Thank you.
Date published: 2013-06-14